The 5 Best RV Water Filters and Why You Need One [2022]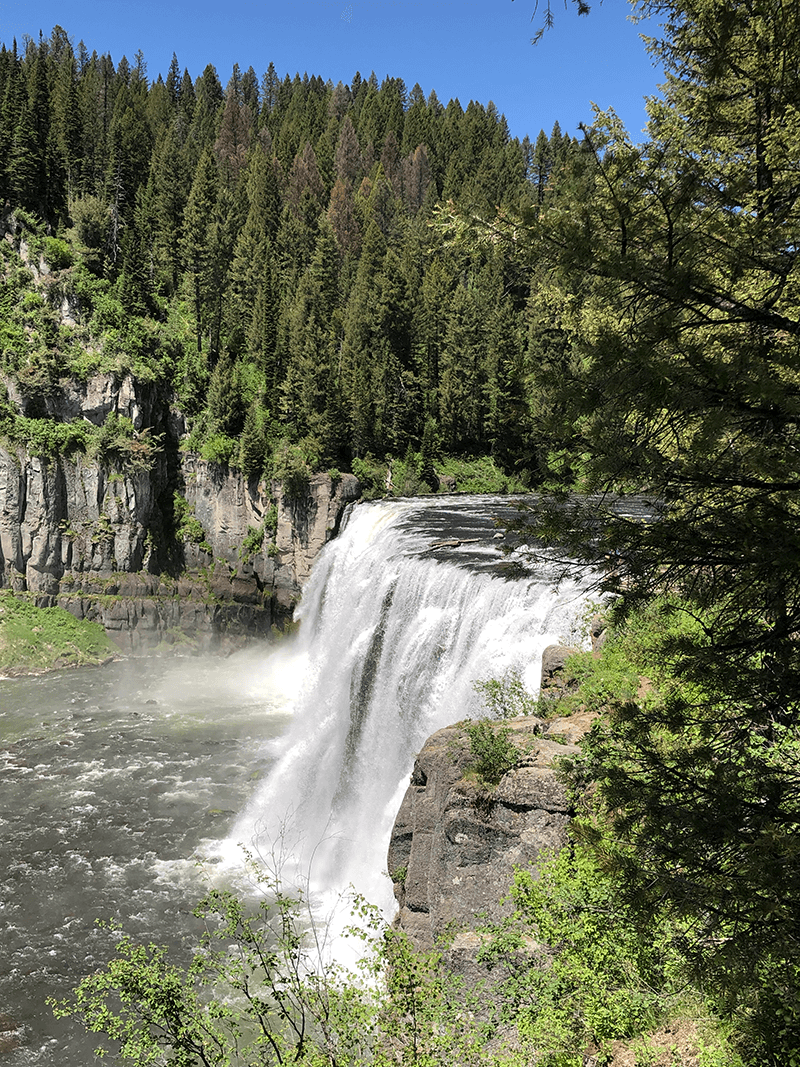 Clean fresh water is essential to a healthy lifestyle and so I went right away as a new RV owner that I would require some kind of water filter system for my Airstream. At home I have a US Pure Water Filter which is a reverse osmosis (RO) process. Except for distillation, RO is the only known process which can effectively remove many types of impurities including toxic metals, fluoride, asbestos, pesticides and microorganisms.It also oxygenates the water, which gives it a fresh taste. Naturally I wanted a similar unit for my RV.
If you purchase through our partner links, we get paid for the referral at no additional cost to you! For more information, visit my disclosure page.
Water Intake for RVs
When you visit a State or National Park campground or a private RV campground, they typically have a water source for your RV to hook into to have a direct flow of water to your interior faucets. In traveling around the country I know from personal experience and from research that not all water sources are created equal. Water quality varies which a bit and in some places can even be toxic.
My Personal Story in finding the Best Water Filter
I actually have 2 water filters in my RV setup. An inline one that connects from the campground hose bib to my water hose and this filters out a certain levels of bacteria and sediments. I have a Camco 40043 TastePure RV/Marine Water Filter with Flexible Hose Protector | Protects Against Bacteria | Reduces Bad Taste, Odors, Chlorine and Sediment in Drinking Water
Since I have a Home PURE Reverse Osmosis Water System, when I bought my Airstream Caravel I knew that one of my first equipment purchases would be a water filter. But which one?
Top 3 of the Best RV Water Filters
List of the 5 Best RV Water Filters
#1 BEST REVERSE OSMOSIS RV WATER FILTER SYSTEM
The Travel Berkey Water Kit
Hands down this travel size water filter system was by far my first choice for many reasons. This is the perfect water filter system for RVers especially when Boondocking because it is gravity fed and does not require water pressure or electricity to operate. This is the same system used by the Red Cross when going into areas with non-drinkable water.
Pour water in the top chamber and enjoy the cleanest drinking water possible from the bottom chamber. The 2 filters included will filter 6,000 gallons of water, this is easily 7+ years before they need to be changed.
Reverse osmosis filters are the most technologically advanced type of filter and they're capable of producing nearly 100% pure water. They rely on a semi-permeable membrane that can block all particles that are larger than the size of a single water molecule. This also makes them very effective at removing arsenic, fluoride, perchlorate, hexavalent chromium, and nitrates from your water.
The one thing they can't remove is chlorine. So if you do opt for a reverse osmosis filter, make sure it also includes some form of carbon element for the removal of chlorine.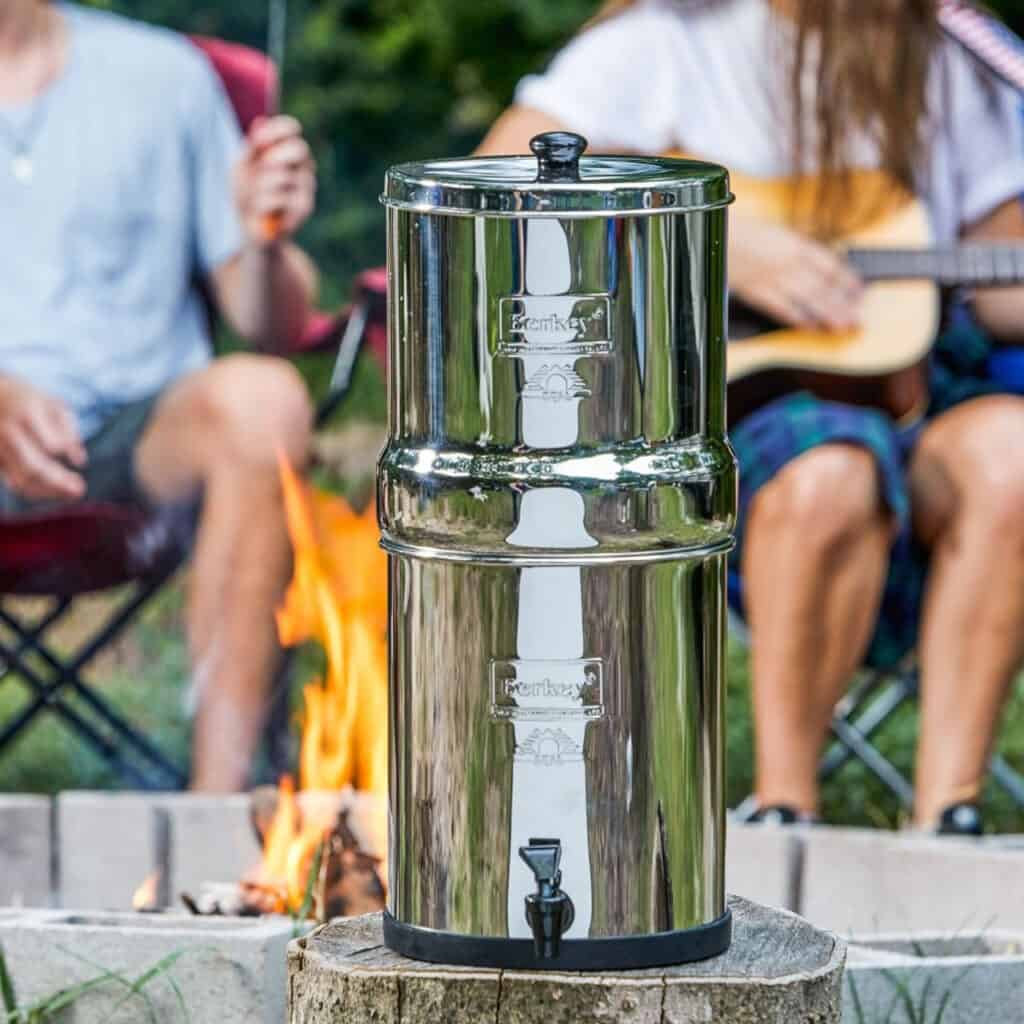 #2 BEST INLINE RV WATER FILTER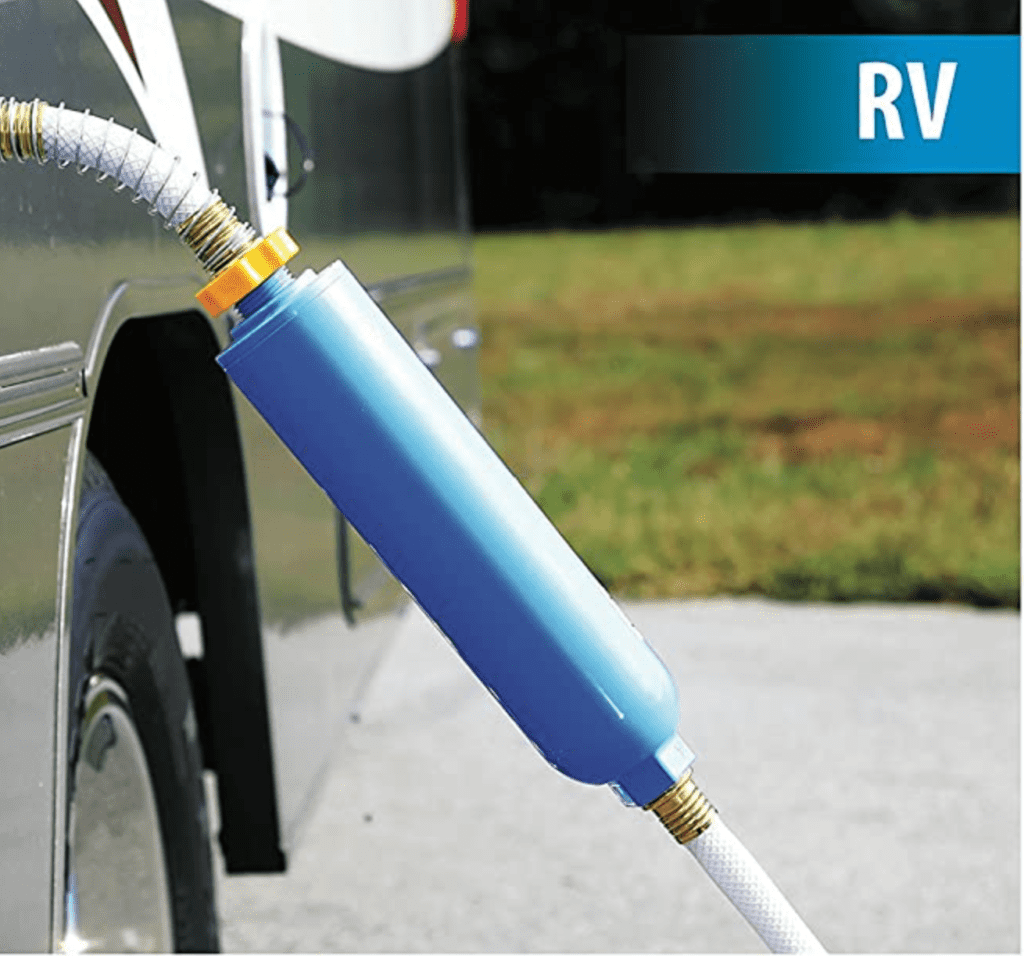 BEST INLINE RV WATER FILTER
Camco 40043 TastePure RV/Marine Water Filter
with Flexible Hose Protector | Protects Against Bacteria | Reduces Bad Taste, Odors, Chlorine and Sediment in Drinking Water
#3 BEST PREMIUM RV WATER FILTER SYSTEM
Clearsource 2 Canister Onboard RV Water Filter System
Built for RVers, the Clearsource OnBoard RV water filter system easily installs under your sink or utility bay inside your RV. It delivers better water quality and better water flow than most systems.
The unit has built in PEX fittings which keep things sanitary, and will stand up to years of use.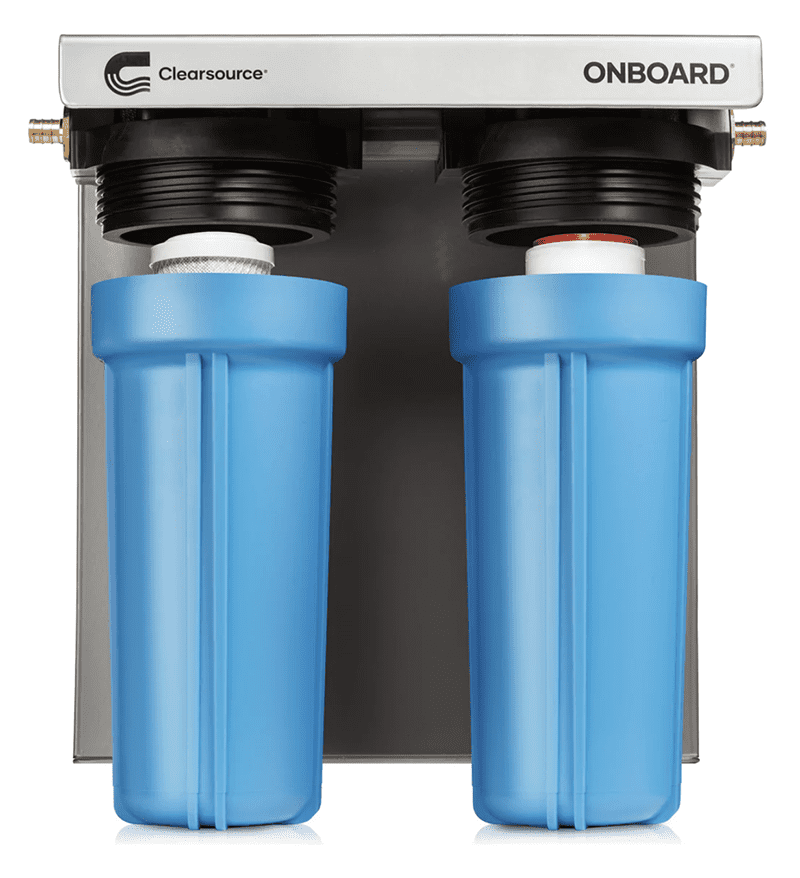 #4 BEST BUDGET INLINE RV WATER FILTER
Culligan RV-800 Exterior Pre-Tank Recreational Vehicle Water Filter
The Culligan RV-800 recreational vehicle water filter connects easily to campers, trailers, motor homes or boats with its 12 in. flexible hose and slim design. With the high flow rate and quick fill this filter will reduce chlorine taste and odor, sediment and bacteriostatic. Fits standard hose fittings and has a filter cartridge life of up to 2,000 gal. T
#5 BEST TANKLESS REVERSE OSMOSIS RV WATER FILTER
iSpring RO500AK-BN Tankless RO Reverse Osmosis Water Filtration System
is a very popular system that's been used in thousands of homes and RVs. It's easy to install, and delivers great tasting water at a fraction of the cost of buying bottled water.
The iSpring Tankless Reverse Osmosis Water Filtration System comes with everything you need to set it up. It includes the faucet, all hoses, pipes, filters and hardware you'll need to hook it up to your existing faucet.