Discover the Hidden Gem of Kayaking to Emerald Bay: A Journey of Adventure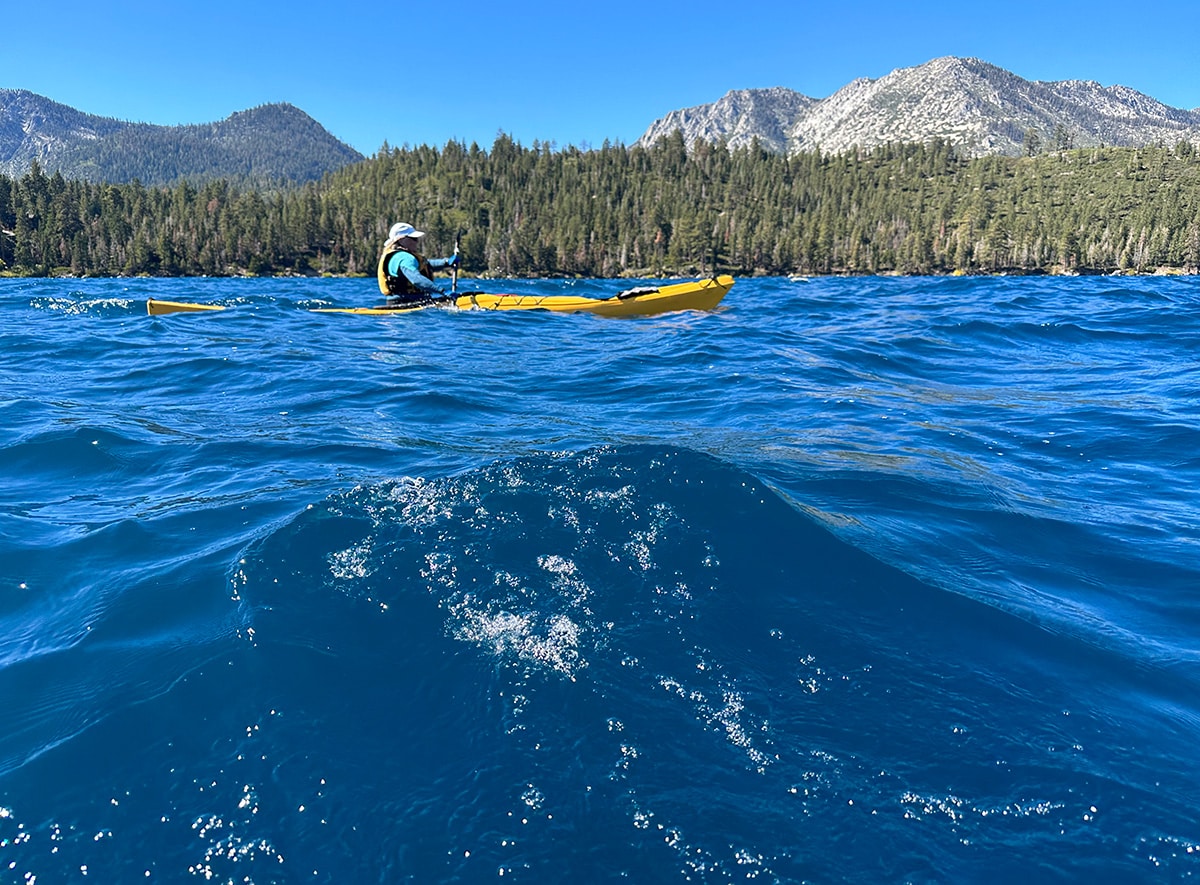 Nestled amidst the breathtaking beauty of Lake Tahoe's pristine waters and surrounded by the rugged majesty of the Sierra Nevada Mountains, kayaking to Emerald Bay is an adventure that promises a remarkable blend of natural wonder and outdoor excitement.
Emerald Bay, a true gem of Lake Tahoe, beckons adventurers with its crystal-clear azure waters and the iconic Fannette Island gracing its center. Whether you're a seasoned paddler seeking an exhilarating journey or a novice explorer looking to immerse yourself in the unparalleled beauty of this alpine paradise, kayaking to Emerald Bay offers an unparalleled opportunity to experience one of the most captivating and awe-inspiring destinations in the United States.
Join us as we embark on an unforgettable journey through this captivating emerald sanctuary, where every paddle stroke reveals a new layer of the region's natural splendor and historical intrigue.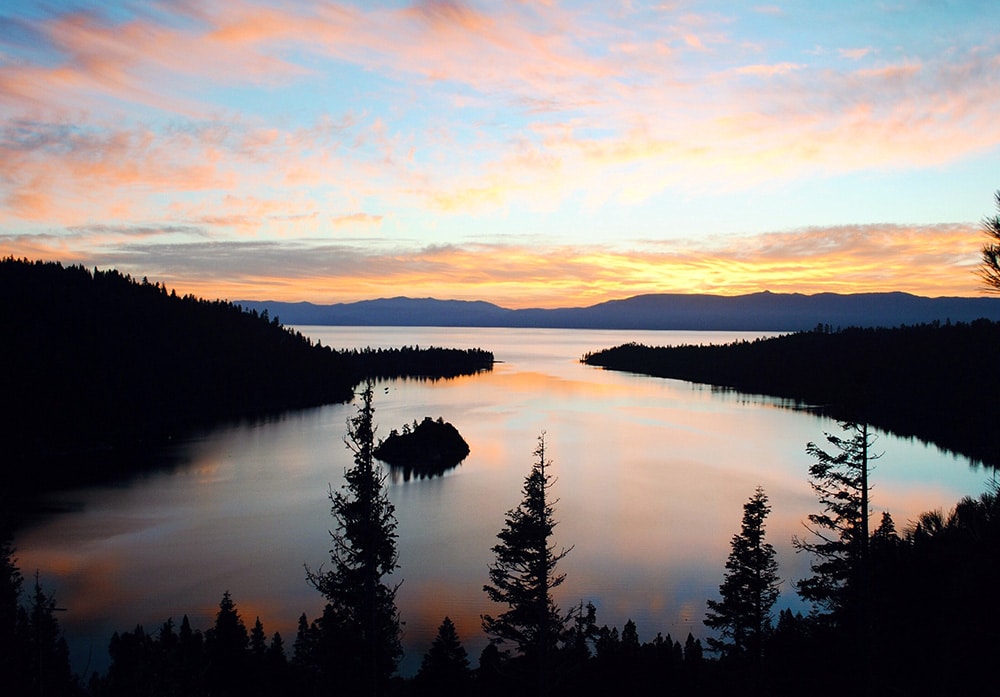 Where is Emerald Bay?
Emerald Bay is a renowned natural wonder nestled within the stunning landscapes of Lake Tahoe, which is located in the Sierra Nevada mountain range of the United States. More specifically, it can be found on the southwestern shore of Lake Tahoe, a large and exceptionally clear freshwater lake straddling the border between California and Nevada.
This iconic bay is situated within the boundaries of Emerald Bay State Park in California, making it easily accessible for outdoor enthusiasts and travelers. Its geographic location amidst the Sierra Nevada's majestic peaks and the pristine waters of Lake Tahoe contributes to its allure as a captivating destination for kayaking, hiking, and immersing oneself in the unparalleled beauty of this alpine paradise.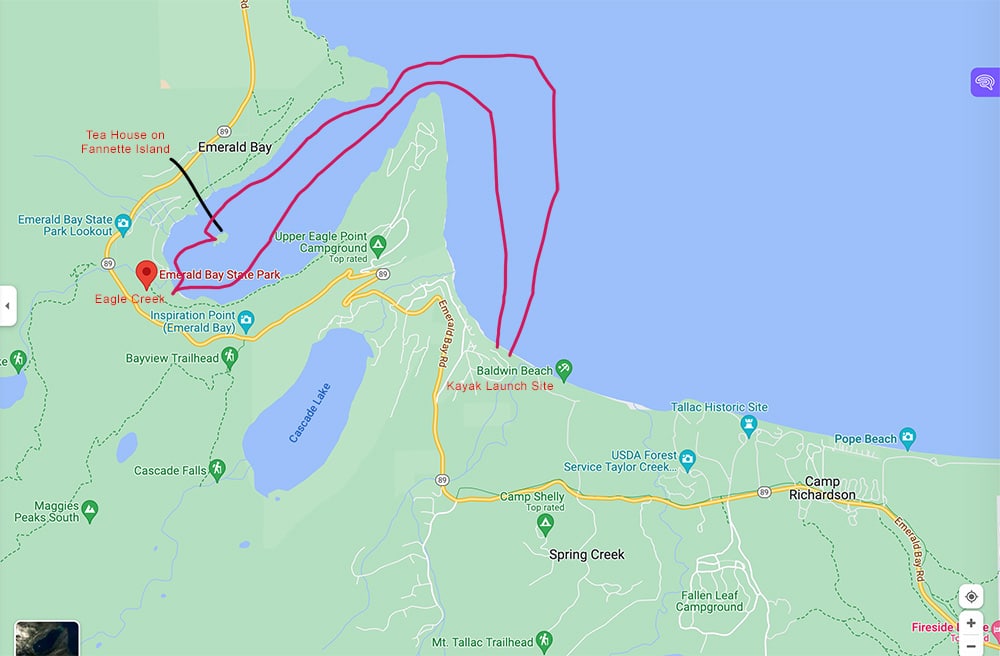 Kayak Launch Sites
We paid our $10-day use fee and parked in the parking area right on the shore at Baldwin Beach. Further East, Kiva Beach also has a sandy kayak beach launch. Early October had cool nights in Lake Tahoe but beautiful, clear, 60-degree days.
The best thing about kayaking or being on the water in the fall is that almost everyone has closed their Lake Tahoe summer homes and gone home for the winter. This meant that we saw or heard very little motorboat traffic the entire time we were there.
Winds are typically out of the North but sometimes from the East, as we encountered on our return trip. We were prepared with immersion kayak gear, but the water temperatures were manageable at around 60 degrees.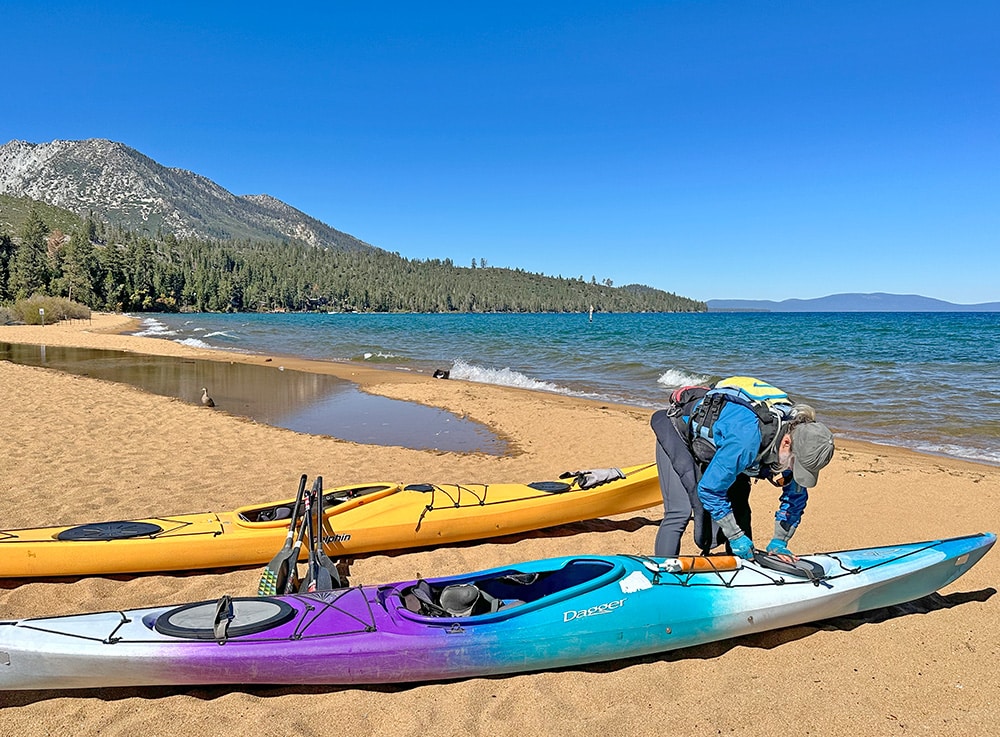 Nature is All Around You
Emerald Bay, situated on the southwestern shore of Lake Tahoe in the Sierra Nevada, is a place of profound natural beauty and historical significance. As you set out on your kayaking adventure, you'll find yourself surrounded by the towering pines and firs that carpet the mountainsides, their reflections dancing on the lake's mirror-like surface. The journey to this enchanting destination takes you through crystalline waters ranging from tranquil to exhilaratingly windy, making it a captivating experience for kayakers of all skill levels.
One of the most iconic features of Emerald Bay State Park is the majestic Vikingsholm Castle, a 38-room castle along the Emerald Bay shore. It's a Scandinavian-inspired mansion tucked away amidst the forested shores. This architectural gem provides a glimpse into Lake Tahoe's history and serves as a testament to the timeless allure of this area.
Paddling around Fannette Island, you'll encounter the ruins of a stone tea house perched on the island's summit, adding an element of mystery and intrigue to your journey. The Fanette Island tea house was built in the 1920s by Lora Knight, the former owner of Vikingsholm. The island is a part of Emerald Bay State Park. It is accessible only by boat, canoe, or kayak.
We stopped on Fannette Island and hiked up to the top, where the teahouse is perched. What a spectacular view of the entire Bay. The structure offers a 360-degree view of Emerald Bay. Sitting on the South side of the rock wall warmed our chilled bodies.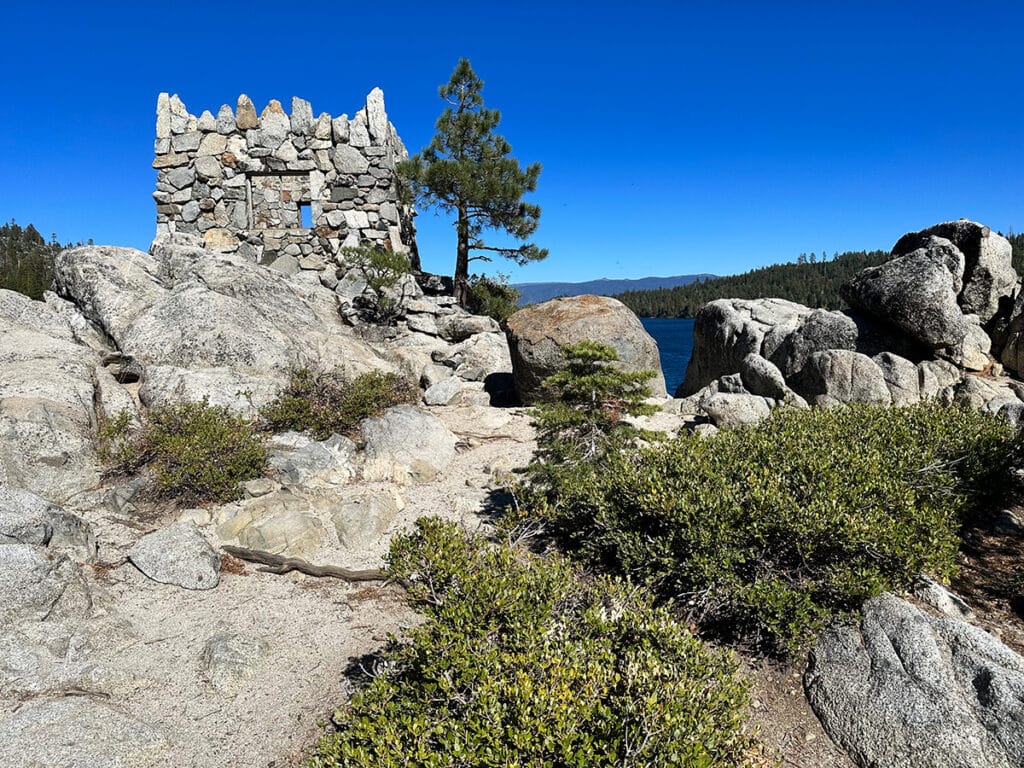 Whether you're drawn to the area's rich history, the opportunity to explore underwater marine life, or to soak in the breathtaking views of the bay's azure waters against the backdrop of the snow-capped Sierras, kayaking to Emerald Bay promises an unforgettable experience.
There's no better way to take in the lake or Emerald Bay and all its vibrant colors than to take out a kayak, a stand-up paddleboard (SUP), or hop on a boat. We brought our kayaks, but you can also rent kayaks and SUPs at Baldwin Beach or Emerald Bay Beach.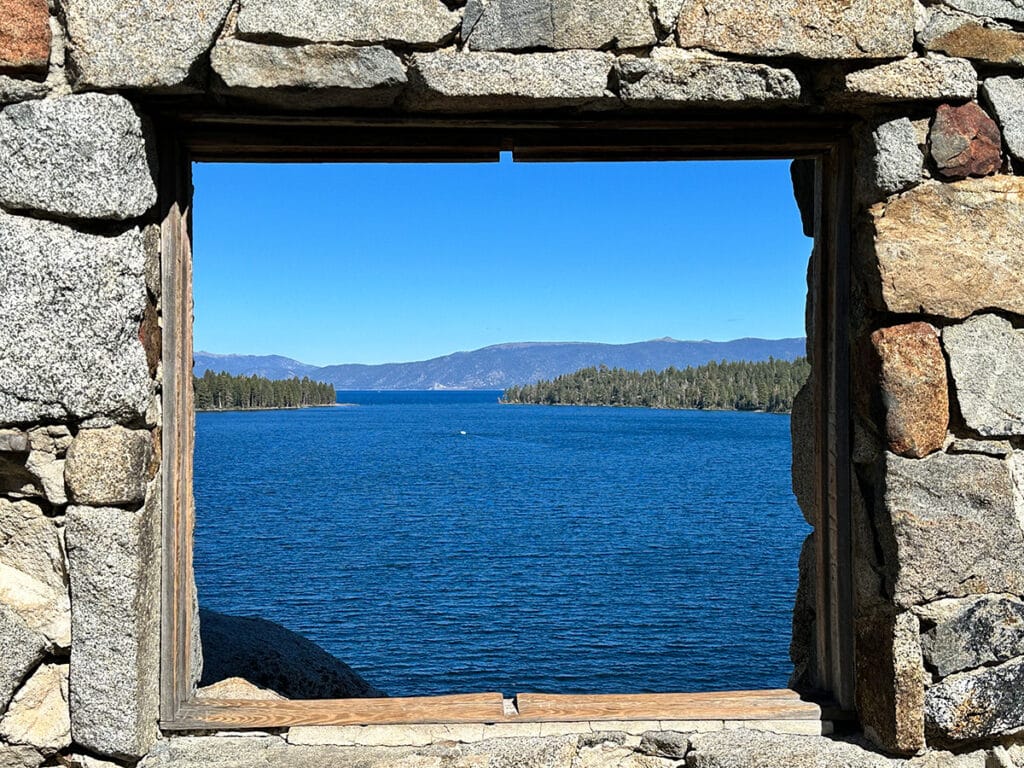 This glacially carved inlet is known as the crown jewel of Lake Tahoe. Emerald Bay was declared a National Natural Landmark in 1969. The bay's deep, clear blue waters are unlike any other part of the lake and offer amazing views of the surrounding mountains and waterfalls.
Paddle your way into the bay and tour Vikingsholm Castle, holding features reminiscent of 11th-century stone churches in southern Sweden. Pack and enjoy lunch on one of the bay's many small, secluded beaches!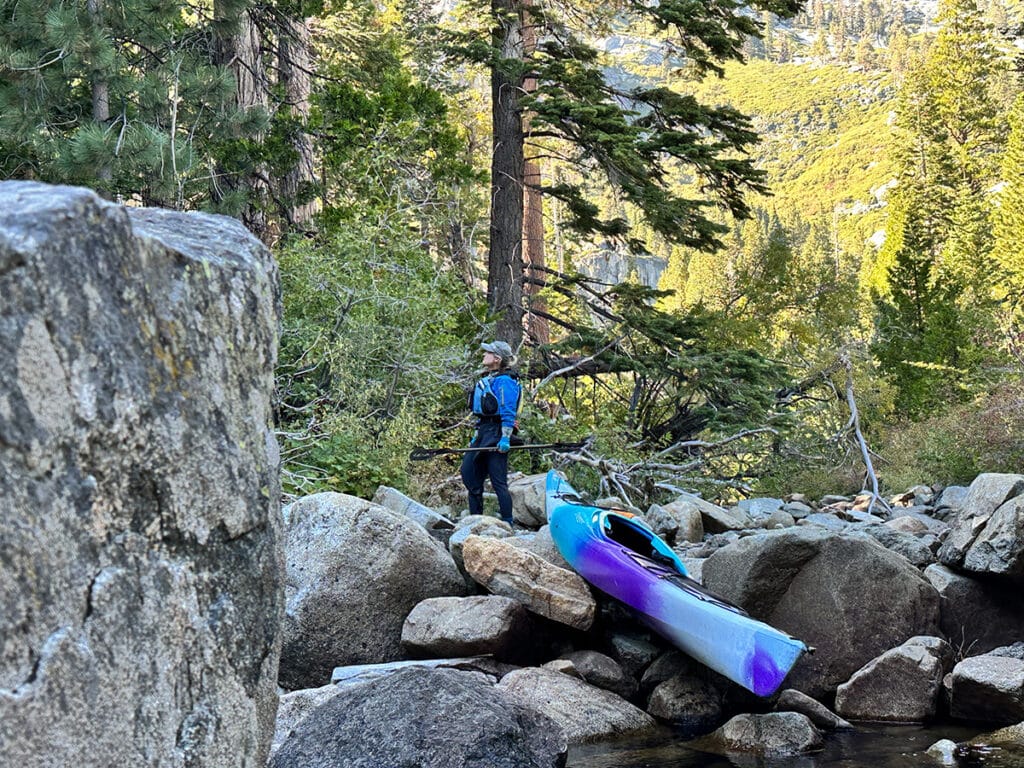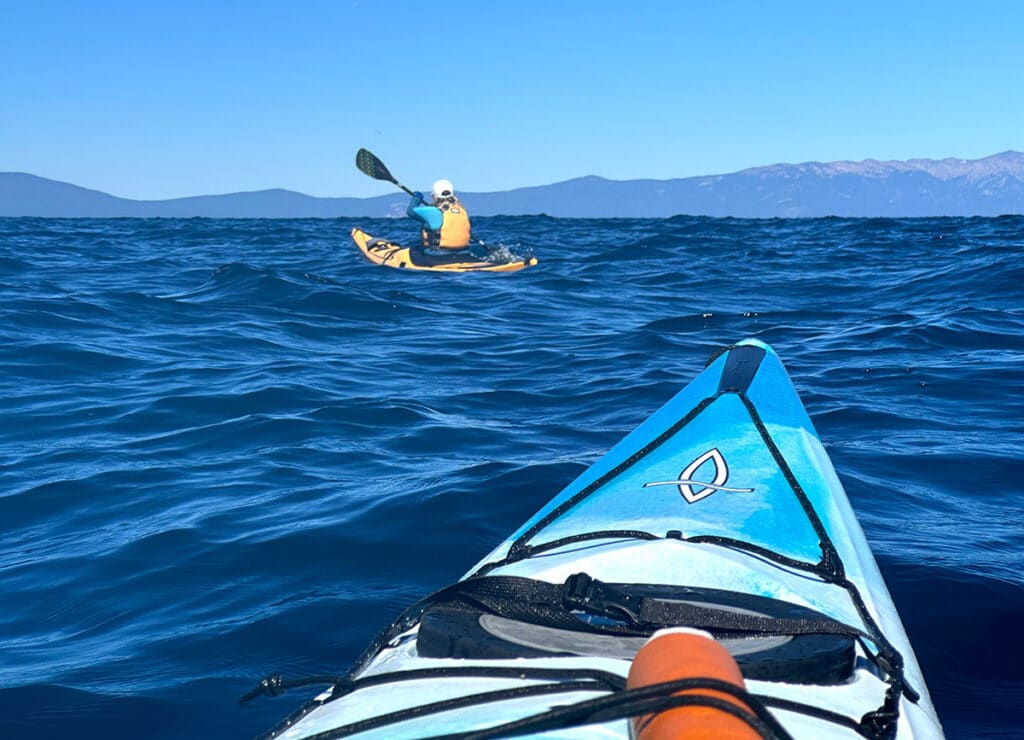 Photography from a Kayak
I love to capture photographs from a kayak, but it requires careful preparation, especially when using an iPhone and protecting it from water exposure. First and foremost, ensure you have a reliable waterproof cover or case for your iPhone. These are essential to safeguard your device from splashes and potential submersion. Place your iPhone inside the waterproof cover, ensuring it's securely sealed before embarking on your kayaking journey. Next, consider using a floatation device or lanyard to tether your iPhone to your person or kayak, preventing accidental drops into the water.
To enhance your photography experience, experiment with different angles and perspectives while paddling. Steady your kayak, engage the camera's grid mode for balanced composition, and use both hands to capture sharp, stable shots. The tranquility of the water often provides excellent opportunities for reflective shots, so take advantage of mirrored surfaces to create captivating images.
Lastly, be mindful of lighting conditions. The golden hours of sunrise and sunset can cast a warm and enchanting glow on your surroundings. Adjust your iPhone's exposure settings to capture the dynamic range and colors accurately, and consider using additional accessories like polarizing filters to enhance the quality of your shots. Taking these precautions and being creative can capture breathtaking moments from your kayak while keeping your iPhone safe and secure.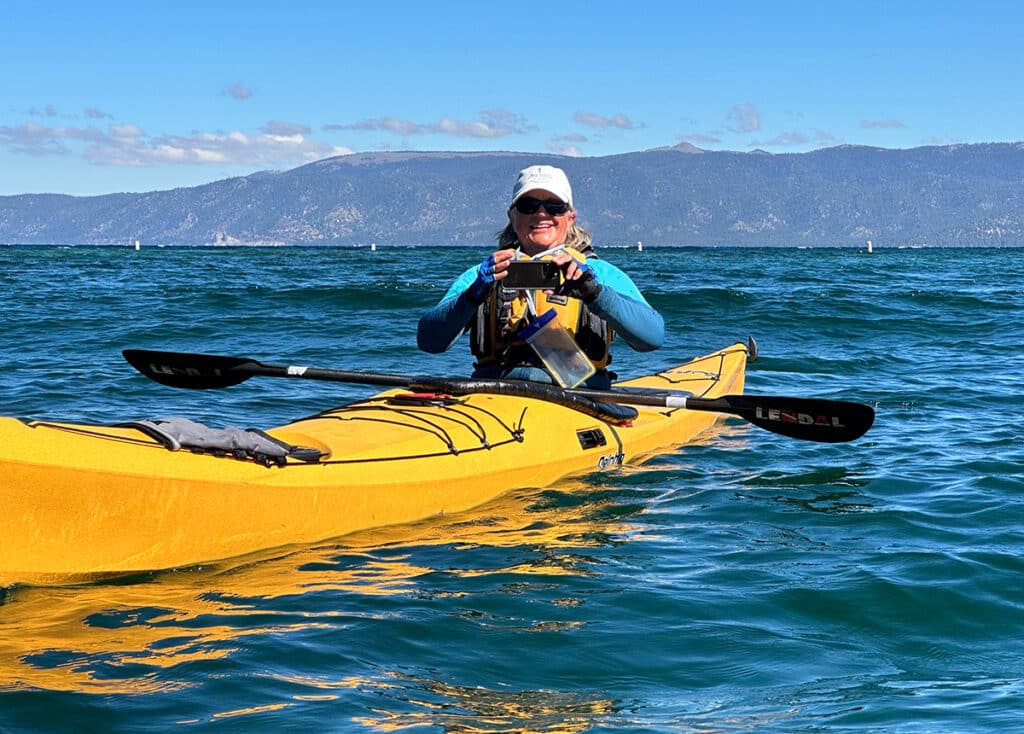 The Top Places for Lake Tahoe Kayak Rentals & Tours
Lake Tahoe, with its pristine waters and stunning alpine scenery, is a kayaker's paradise, offering a wealth of opportunities for exploration. If you're seeking kayak rentals and guided tours to make the most of your Lake Tahoe adventure, here are some of the top places to consider:
Lake Tahoe's South Shore has a wide range of places that offer kayak rentals to suit every type of adventurer. Whether you're looking for a kayaking tour with a group of friends or a solo adventure to do your exploration, you'll find it on the South Shore.
Tahoe Adventure Company: Based in Lake Tahoe's North Shore, Tahoe Adventure Company offers a variety of kayak rentals and guided tours. Their knowledgeable guides will lead you to iconic spots like Emerald Bay, Sand Harbor, and more. Whether you're a beginner or an experienced paddler, they have options to suit all skill levels.
Kayak Tahoe: Situated in South Lake Tahoe, Kayak Tahoe provides rentals and guided tours for kayakers of all abilities. Their guided tours often include informative narratives about Lake Tahoe's ecology, history, and geology, adding an educational aspect to your adventure.
Clearly Tahoe: For a unique kayaking experience, Clearly Tahoe offers clear-bottom kayaks that allow you to see Lake Tahoe's captivating underwater world as you paddle. They operate out of several locations around the lake, including Sand Harbor and Tahoe City.
Wild Society: Operating out of Tahoe City, Wild Society offers guided kayak tours focusing on wildlife viewing and nature appreciation. Explore quiet coves and hidden beaches while learning about the region's diverse flora and fauna.
Adrift Tahoe: If you're looking for a customized kayaking experience, Adrift Tahoe offers private tours tailored to your preferences. You can choose your departure point, itinerary, and desired kayak.
Lake Tahoe Kayak Rentals: Located on the South Shore of the lake, this rental shop provides a wide selection of kayaks, including singles and doubles, as well as stand-up paddleboards (SUPs). You can rent equipment and explore Lake Tahoe at your own pace.
Waterman's Landing: Situated in Carnelian Bay, Waterman's Landing offers kayak rentals and guided tours focusing on water sports, wellness, and environmental stewardship. Join their experienced guides to paddle along Lake Tahoe's scenic shoreline.
Whether you rent a kayak or embark on a guided tour, Lake Tahoe offers an exceptional backdrop for your outdoor adventure. These top spots ensure that you'll have access to quality equipment, experienced guides, and the opportunity to explore the natural wonders of this iconic alpine lake from the tranquility of your kayak.