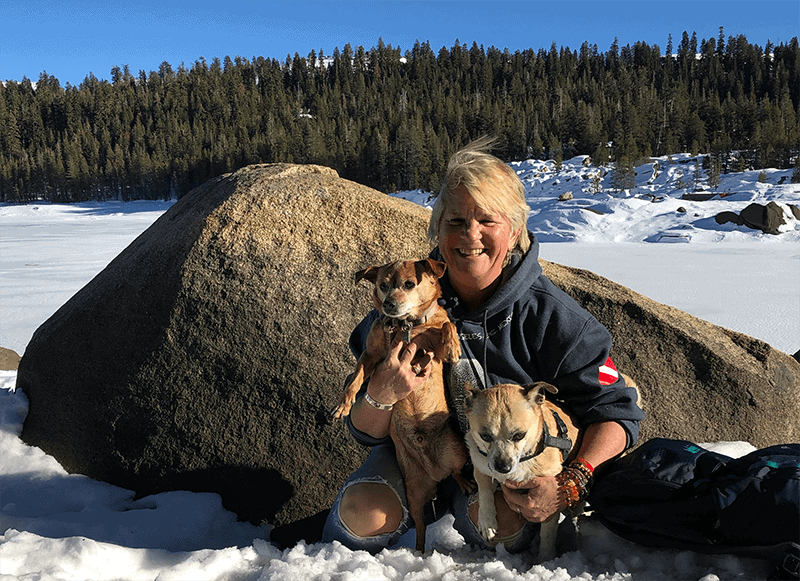 Hi! I'm Deborah Dennis.
I've been a traveler, adventurer and a photographer all of my life. This blog is the current iteration of my life's journey as a solo woman traveling in an Airstream with her two rescue pups.
In 2021, after a lifetime of travels in the world I decided to slow down, buy an rv and take the back roads across America. As a solo woman traveler, I wanted to bring my two small rescue dogs along and stop and visit friends and family along the way. America is still an awesome country and on this trip, I discovered a world of amazing people, places and things which I'd love to share with you in this blog.
I hope you find inspiration, wonderful stories, amazing people I've met and knowledge and gear to set you on your own life's travel path.
Enjoy and Safe Travels.
Deb, Wally Boy & Lottie Da
The Beginning of my Adventures:
A Remote Digital Nomad Lifestyle
Here are some of the steps in my personal travel story. I hope they resonate with you and help to inspire you to seek out your own life's path.
I started the idea for this Airstream adventure during the pandemic. In early 2020 I started planning my remote RV lifestyle. At the time I had no idea what RV I would buy or how working on the road would be for extended periods of time.
I was and still am a UX Design Consultant and I have worked for myself for over 10 years. Sometimes I would contract for large tech companies in the Bay Area such as Visa and Intel but in the last 6 years I joined a specialized tech recruiting firm where I was "vetted" as a UX expert and so I was offered well paid contracts all over the country. Most were remote work but sometimes I was flown in to offer my services for a few days or week. I enjoyed a very flexible lifestyle as many knowledge workers do in that I could work any hours to get the main substance of my work done as long as I reported in for meetings during their work hours. So when Covid hit my lifestyle didn't change much at all. I was already living the "remote work life".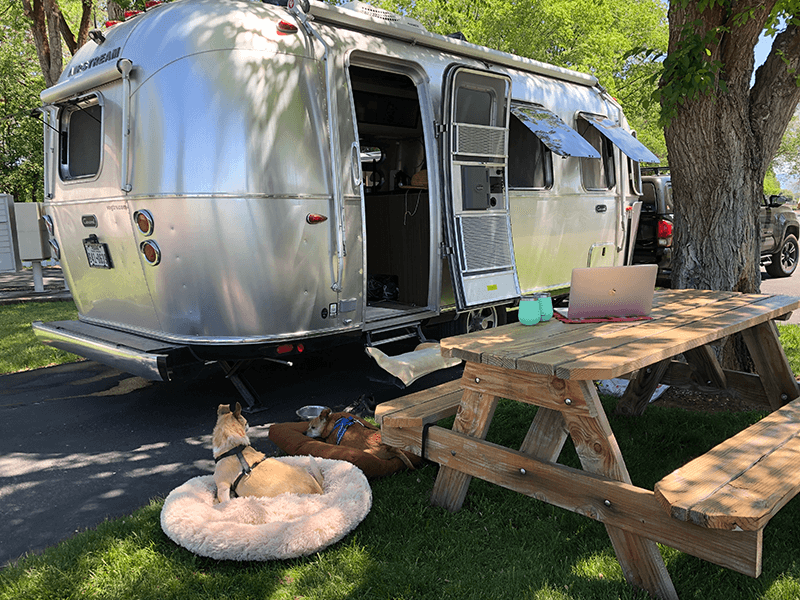 My first remote office rv camping spot in Northern California in 2021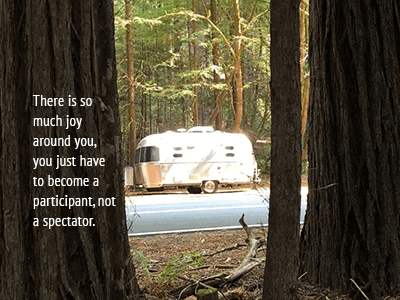 Practical Steps to Making my Trip Happen
By September of 2020, I had borrowed my friend Ford F-150 truck that she had used to pull her Lance RV and then I rented an Airstream through Outdoorsy from a local guy here in the Bay Area. I had never towed anything before, but everyone said how easy it was. You'll get used to backing up they said. Yes I did learn to back up, but it took some practice and If I can do it so can you. I brought along a friend on my first journey and we traveled up the Coast of California and into Oregon. Unfortunately it was during horrific wildfires and the skies were ablaze in red haze and smoke. It clouded our trip but also gave it perspective on why travel in an rv was a good alternative to flying around to your destination.
There was something about the slow pace of travel in an rv, much like cruising in a sailboat that made me appreciate the depth and breath of this country. I had done road trips before but this way of life where I could set up camp, unhitch the Airstream and then go explore the countryside was something I had dreamed about for a very long time.
When I was deciding how to travel I did explore the van life idea thinking that the low profile and the accessibility to more remote areas would be what I wanted. But when I sat down to look at my needs I decided that a travel trailer was the way to go.
By January 2021 I had bought a new tow vehicle a used low mileage Tacoma Toyota 2019 [Article: The 10 Best Tow Vehicles and why]. Deciding on my my rv turned out to be a clear choice for who I am as well.
My Freelance Lifestyle has enabled my travel adventures
I started my career as a Product Designer at Apple Computer, where I worked for almost 9 years. Apple Computer has been for the last several decades the leader in designing many of the best products in the world. Given that foray into the tech world, I can easily say well designed products have always been at the forefront of my professional world.
My career as a UX Designer has been to design delightful & easy to use products from the get go. I am also hired now more than ever to make the User Experience even better and more seamless in very complicated products such as financial services and healthcare applications.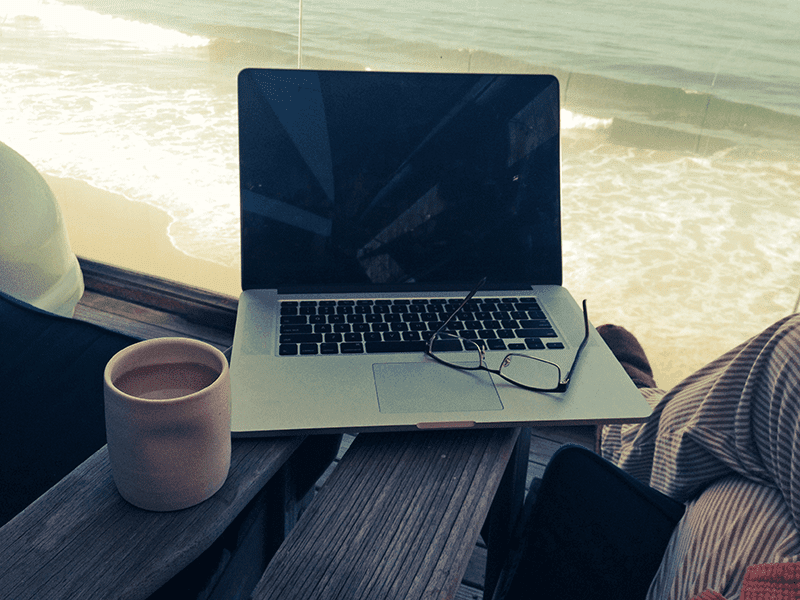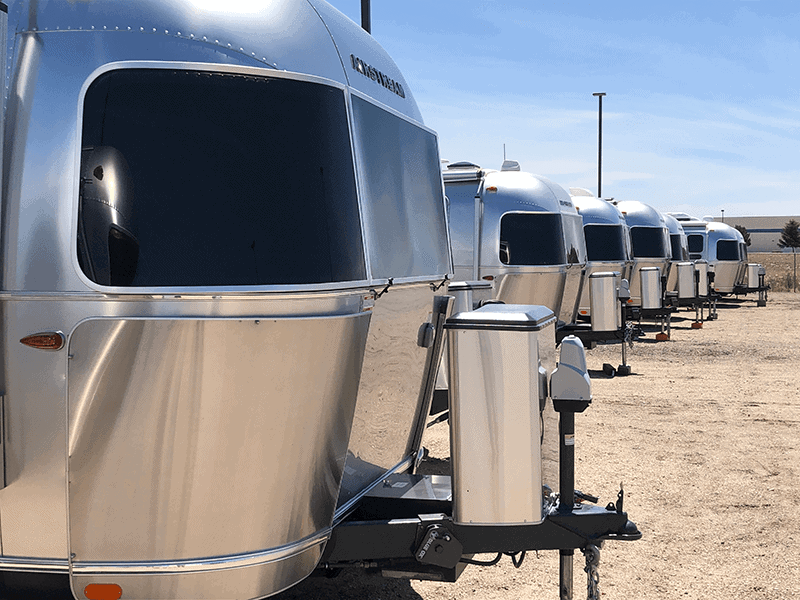 Deciding to Buy an Iconic Airstream
Given my background as a Product Designer, I decided that an Airstream with its iconic travel brand and history of intrepid adventures around the world was the travel trailer for me.
But finding a used or even new Airstream in 2021 was no easy task. I went to a dealer and the wait was 3-6 months for a brand new travel trailer but supply issues could always come into play. A friend had turned me onto RV Trader of people who were selling used rv's and she found the perfect one for me but it was in Texas! I called up Ken in Texas and talked about his Airstream which he had driven only 500 miles on one short trip so it was essentially brand new. We decided that I would fly down there with a cashiers check and purchase the Airstream and come back later and tow it home.
So in January 2021 I flew to Austin, Texas and became the proud owner of a 2020 Caravel 22 ft AirStream Travel Trailer. By February, I was ready to drive from The SF Bay Area down to Austin to pick up my Airstream and drive it home. My timing was a fateful choice because I ran smack dap into the now infamous Texas Ice Storm of 2021 and got stranded in a hotel along Highway 10 in West Texas for 5 days. Eventually the ice melted and my trip resumed and I managed to get my new purchase home.
Downsizing my Life & Hitting the Road
So did I mention that I also had decided to rent out my house, and drive all the way across the country and back. Indeed. The next several months involved downsizing, packing, getting my will made, finding tenants for my home, planning my route and making reservations at campsites, signing up for services like Harvest Hosts & Campendium and etc.
Blog Article: " The 5 Best RV Water Filters and Why You Need One [2022]"
[Article:" The Ultimate Guide to Finding Out of the Way RV Campsites."]
[Article: "How to Plan the Perfect RV Road Trip"]
[Article:" How to downsize your life and hit the road.']
[Article:" The Best iPhone Accessories and How to Use Them."]
[Article:" My Favorite Camera is an iPhone, Tips & Tricks for Shooting Awesome Photos."]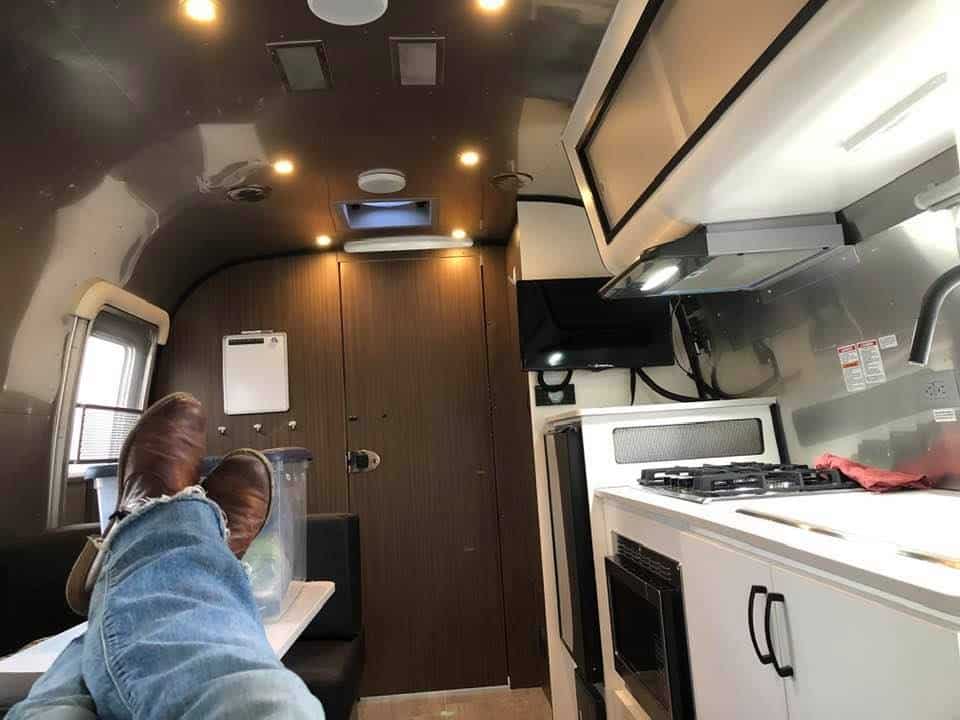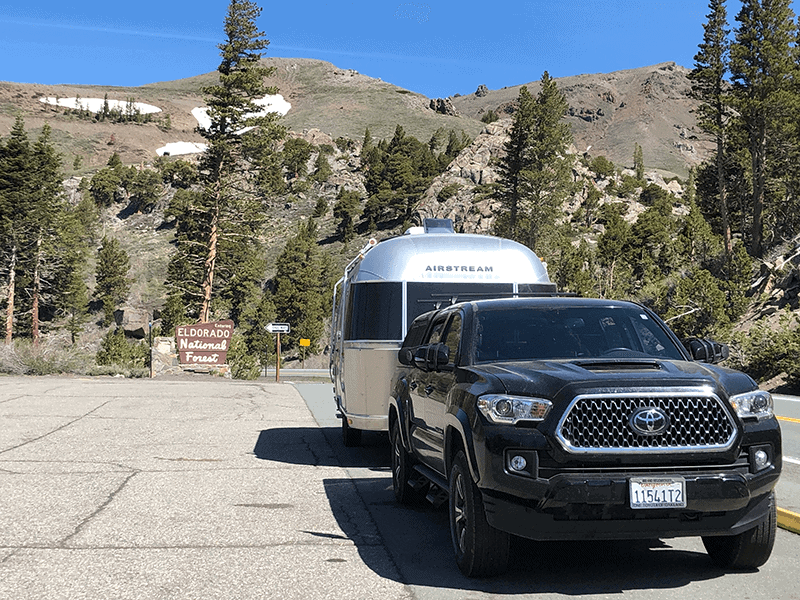 My Airstream Road Trips
In 2021 we were on the road for over 5 months and over 14,000 miles. We started in Northern California and crossed the country to the shores of Maine and then back again. This year, in 2022 we will be on the road about 4 months and stay mostly on the West Coast exploring and living in areas closer to home.
[Article:"12 Things I Learned by Visiting Small Family Farms on my RV Trip"]
[Article: "After my 15,000 mile road trip here's what I learned about solo RV Travel."]
[Article:"The 20 Best Slow Travel Adventures, hidden and 'off the grid' destinations."]
My Life Experiences
My life experiences also shape and texture who I am. In the last 25 years, I've mentored aspiring design leaders, spent over a decade traveling the world playing on top level women's rugby teams, became a self taught photographer and have recently immersed myself in the craft of multimedia storytelling. I've designed my own house, and also my 425 sq ft cottage where I live when I'm not traveling.
Always an adventurer, I've tracked black rhinos in Zimbabwe with EarthWatch scientists, been a certified SCUBA diver since I was 16, lived on a sailboat in Tonga, am a certified bareboat skipper, and paddled hundreds of miles in outrigger canoe races. I feel the most alive and empowered in the natural world.
I have engaged in an often obsessive pursuit of knowledge of the natural world and humans effect on our planet. Now I grow my own food and live a low impact lifestyle in a tiny cabin in the woods.
I believe that real fulfillment in life comes when we learn to access our innate Divine gifts and then share those gifts with the world.
Namaste.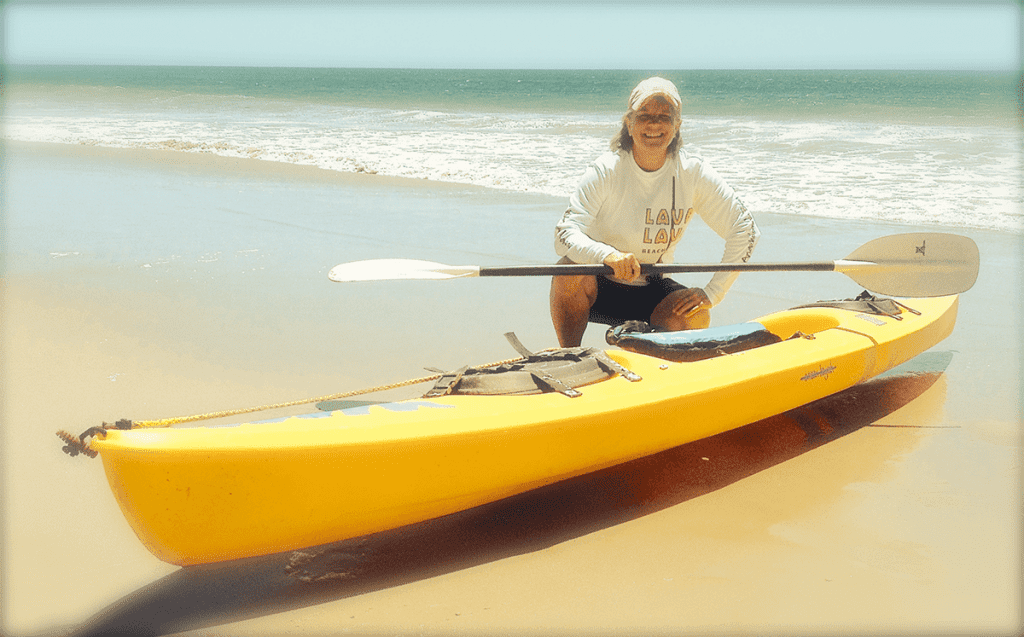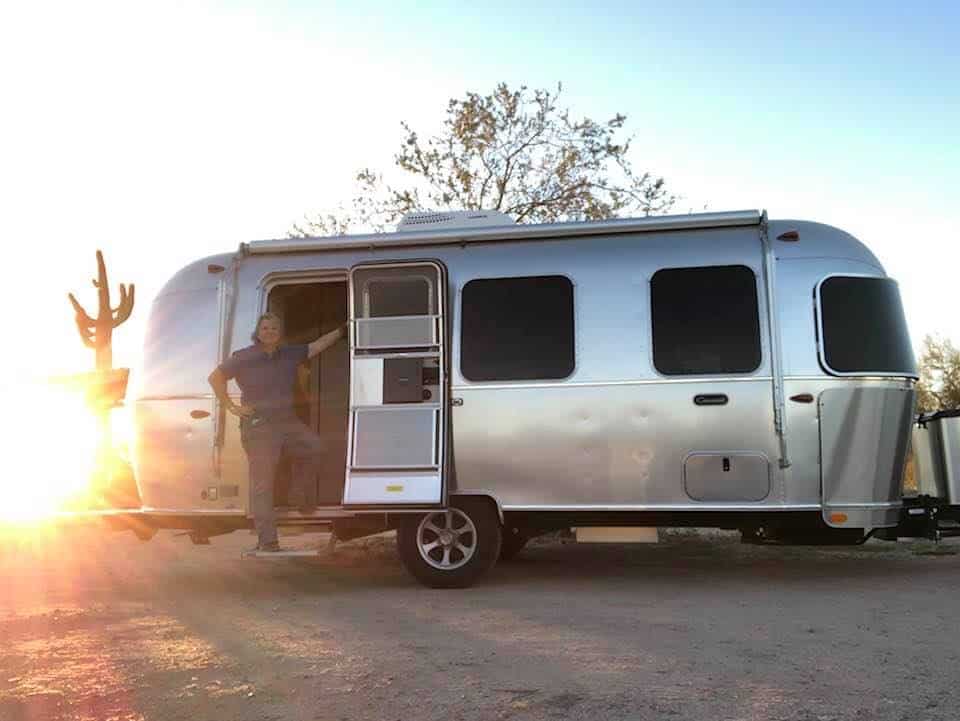 My Solo Travel Inspiration
Audrey Sutherland was an American solo adventure traveler, kayaker, teacher, and author. She was best known for her solo adventure boating and swimming feats and her books documenting the feats. She has been described as a "pioneer" among women doing solo adventure travel. One of her better known books was Paddling North, which documented her 850-mile solo kayak journey in Alaska at age 60.
Audrey Sunderland books recorded her adventures, becoming guides for generations of solo travelers. She encouraged readers never to wait for the right opportunity or the right person to travel with — just go.
Once, when asked by the travel writer Paul Theroux why she traveled alone, she replied: "I don't. I have three people within me — the paddler, sizing up the conditions. The critic, nagging me and telling me I'll never make it. And the writer, standing back and trying to remember it all."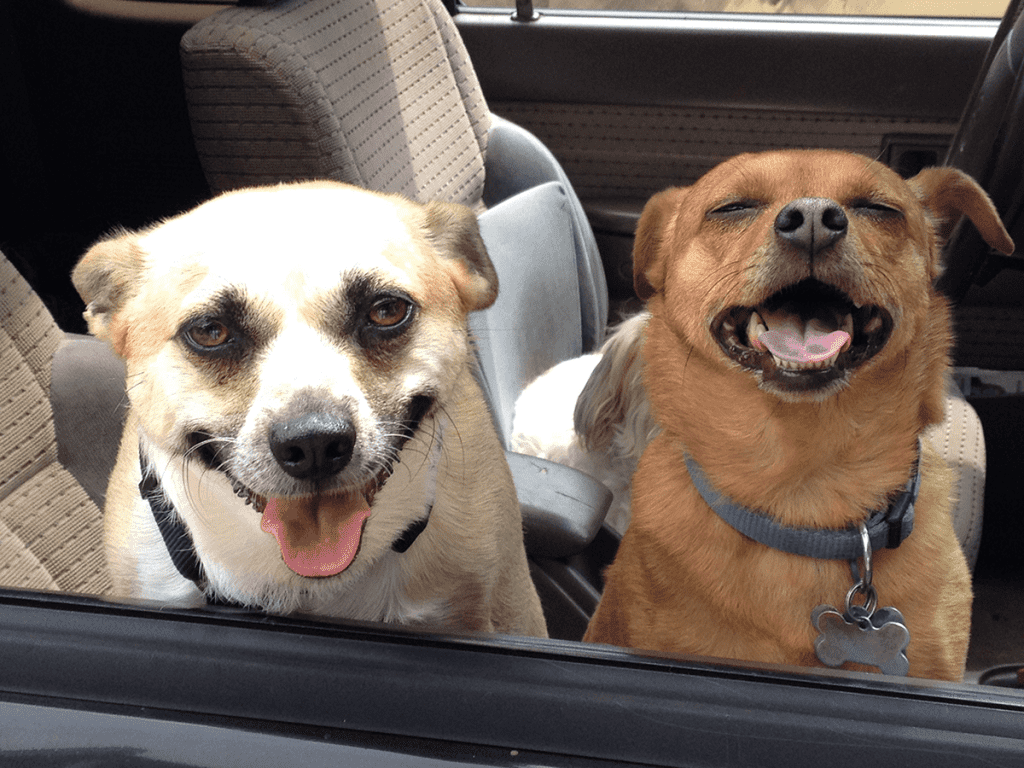 Travels with Charlie, my blog inspiration
The name of my blog Travels with Wally, was inspired to John Steinbeck's 1964 Travelogue "Travels with Charlie". His book depicts a 1960 road trip around the United States made by Steinbeck, in the company of his standard poodle Charley.
My 2021 and beyond road trips are in the company of my loyal sidekicks, Wally Boy & Lottie Da. They are always excited to get to our destinations, and they never complain. I just wish they could do some of the driving!
"I was born lost and take no pleasure in being found"

John Steinbeck, Travels with Charley, In Search of America 1964