21 RV Travel Apps That Are Super Helpful For Your RV Trip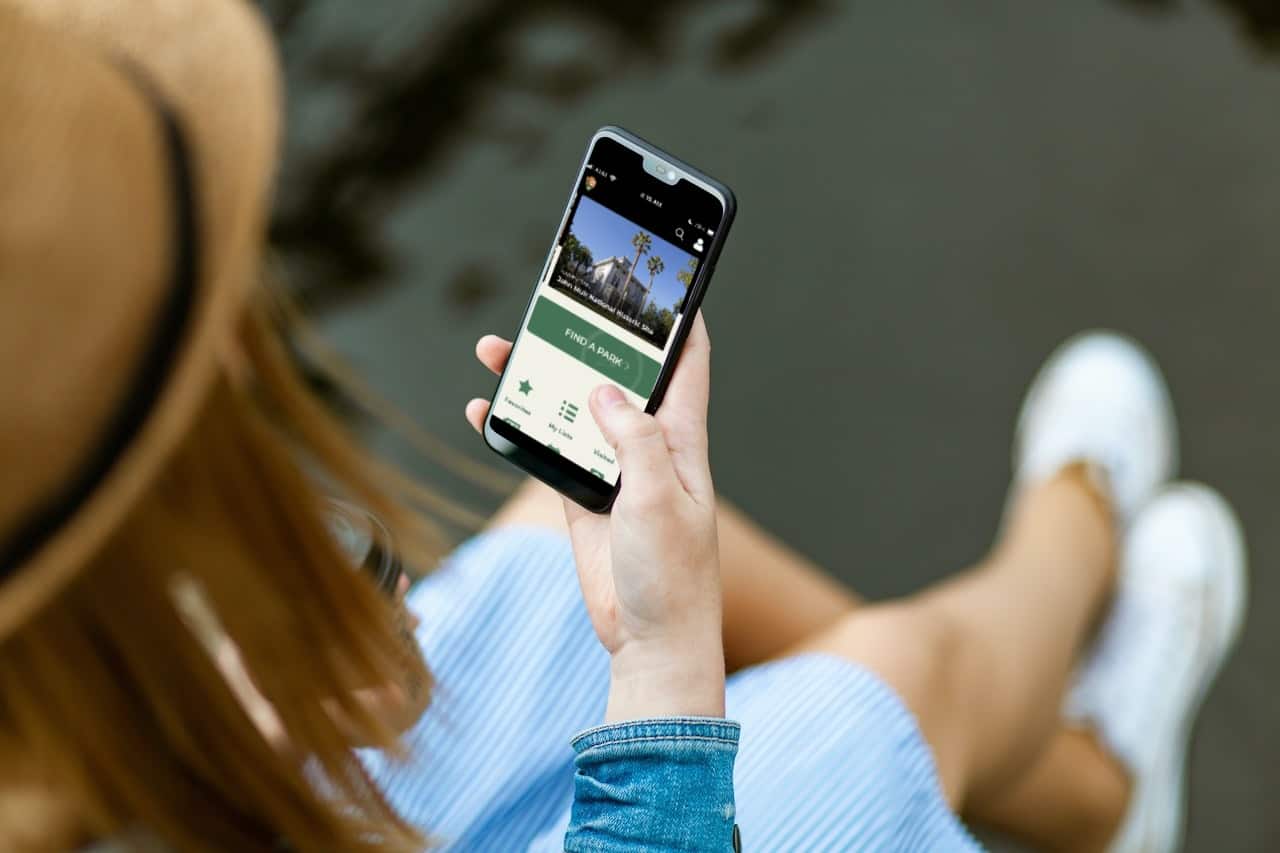 With the advent of technology, RV travel has become even more convenient and accessible. There are now more apps than ever before that can help RVers plan their trips, find campgrounds, and keep track of their travels.
My most significant task as a solo RVer while driving cross country was finding good RV-safe routes and available campsites. It was a substantial part of my daily routine, and as an RV newbie, I had a lot to learn.
Try these 21 travel apps to help you have the best experience in finding the perfect route to your amazing destination and staying connected on the road.
This post may contain affiliate links. If you purchase through our partner links, we get paid for the referral at no additional cost. For more information, visit my disclosure page.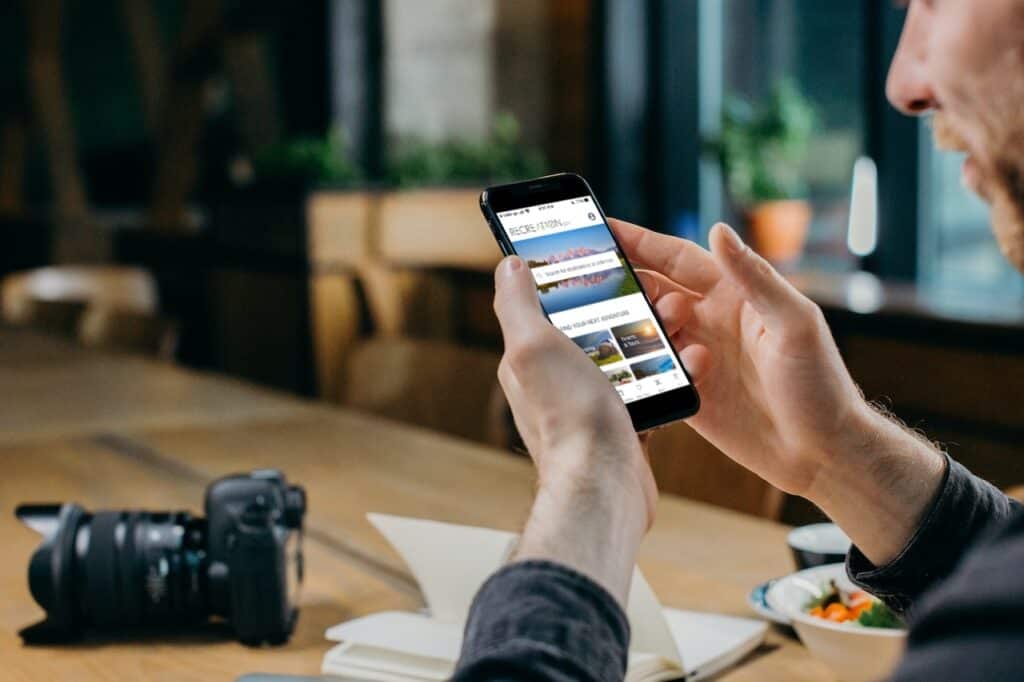 The 21 Best RV Travel Apps to Help with Your Trip Planning
The most important step in planning the perfect RV trip should begin with planning the trip itself. Many navigational apps, such as Google maps, are intended for use in your car — not in an RV. A successful RV trip begins with determining a safe route based on your RV's specifications. Luckily there are many apps available for planning your RV route.
1. RV Trip Wizard (the free version of RV Life Pro)
The RV Trip Wizard app offers an interactive trip planner with dozens of features to simplify your next RV trip. RV Trip Wizard lets you quickly navigate with RV maps to easily access RV park sites (with reviews by CampgroundReviews.com), overnight parking options, fuel stops, restroom facilities, dump sites, and other facilities. RV trips wizard helps you find exciting and enjoyable activities along the road.


2. RV Life Pro
RV Life Pro is a comprehensive app that provides information on RV parks, campgrounds, and RV services. RV Life Pro members receive unlimited use and access to many valuable tools and services, including the RV Trip Wizard app.
This app includes a route planner, gas calculator, and weather forecasts. RV Life Pro is an excellent resource for RV travelers who want to find the best RV parks and campgrounds along their route.
A subscription to RV Life Pro will give you access to RV Trip Wizard, RV Safe GPS, Camping Reviews, and Maintain My RV.
Get A Deal on RV Life Pro
RV Life Pro is packed with so many great features. Get a 25% Discount RV Life Pro subscription.


3. Road Trippers
The Roadtrippers is a free app that helps you easily navigate from point A to point B. When you use an RV GPS app such as the RV Life app or Roadtrippers Route Planner, you will only end up on roads suitable for your RV. Google Maps may be great for car travel, but sometimes it can lead you down the wrong path in an RV.
With an RV GPS app, you set the destination, the starting point, and what kind of RV or tow vehicle you have, and the app will create your best route.
If you're looking to explore different areas during your travels, it can help you find exciting attractions anywhere. With its color-coded categories such as 'Outdoors & Adventure,' 'Family Fun,' and 'History & Culture,' plus detailed descriptions of famous places in each category, it's easy to discover new destinations while on the go. Also, it is possible to compare fuel prices and schedule your stay!
4. Harvest Hosts
Harvest Hosts offers a membership program to allow RVers to camp over 4176+ incredible small business locations such as farms, wineries, or attractions across the U.S.
You pay a nominal fee ($79/yr) for a yearly access subscription, allowing you to find and book these unique camping locations. You are also expected to purchase at least $20 worth of whatever the host farm or winery has to sell.
Harvest Hosts was one of my favorite apps to use when I was on my cross-country trip as a new RVer. I camped my Airstream on alpaca farms and learned how the animals live, are sheared, and how their wool is spun into yarn.
I loved being able to buy local homemade alpaca clothing and gifts from each of these hosts. I also stayed at wineries, on blueberry farms in Pennslyvania, and camped in picturesque apple orchards in NY. There are so many great hosts to choose from and I could choose the ones that allowed me to bring my dogs!.
---

---
5. Boondockers Welcome
Boondockers Welcome is now included in the Harvest Hosts membership but can also be purchased separately for $79/yr. These are private host families, and 70% of Boondockers Welcome hosts offer hookups for RVers. You can access all of their 3365+ incredible remote hosts across the US and Canada with your Harvest Hosts membership.
6. Campendium
Campendium is an excellent app for finding free and low-cost camping options, including boondocking sites, dispersed camping areas, and other unique camping locations. With its comprehensive database of user-generated content, you can easily find a place to park your RV and enjoy the great outdoors.
With the Campendium app, you can get ideas for great remote camping and hiking places to explore. The site attracts more than 2,000 visitors daily, offering a steady flow of updated and informative reviews and photographs.
I receive their email newsletter highlighting cool places in remote areas nationwide that I may want to explore someday.
7. iOverlander
iOverlander is an app specifically designed for overland travelers, providing information on camping, water, and other essential services. This app also includes a community-driven database to get first-hand recommendations from fellow RV travelers.
8. RV Parky
This app is a comprehensive resource for RV travelers, providing information on over 20,000 RV parks and campgrounds, reviews, photos, and reservations.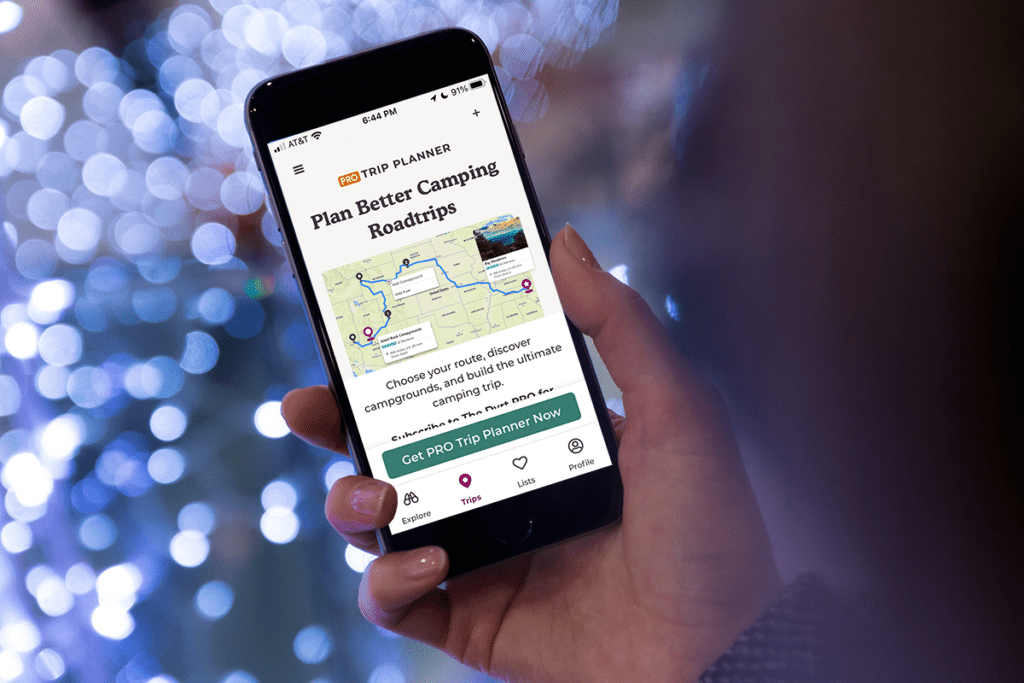 9. The Dyrt
The Dyrt makes the planning of your journey easy. The Dyrt lets you easily locate over 42,000 ranked campgrounds for your journey.
You can now get text alerts for reservations at sold-out campgrounds. The Dyrt Alerts scan sold-out campgrounds and send a text message to your phone when a campsite opens.
10. The Dyrt PRO
With a Dyrt PRO upgrade, you get access to maps that can help you find free camping on Public lands maps; find free dispersed camping on BLM and USFS Land. You can use offline, cell service, and road trip maps. The Pro version also gives you discounts of 10% – 40% off at PRO campgrounds nationwide with no extra booking fees.
After the typical seven-day free trial, you can enjoy The Dyrt PRO for $35.99 a year.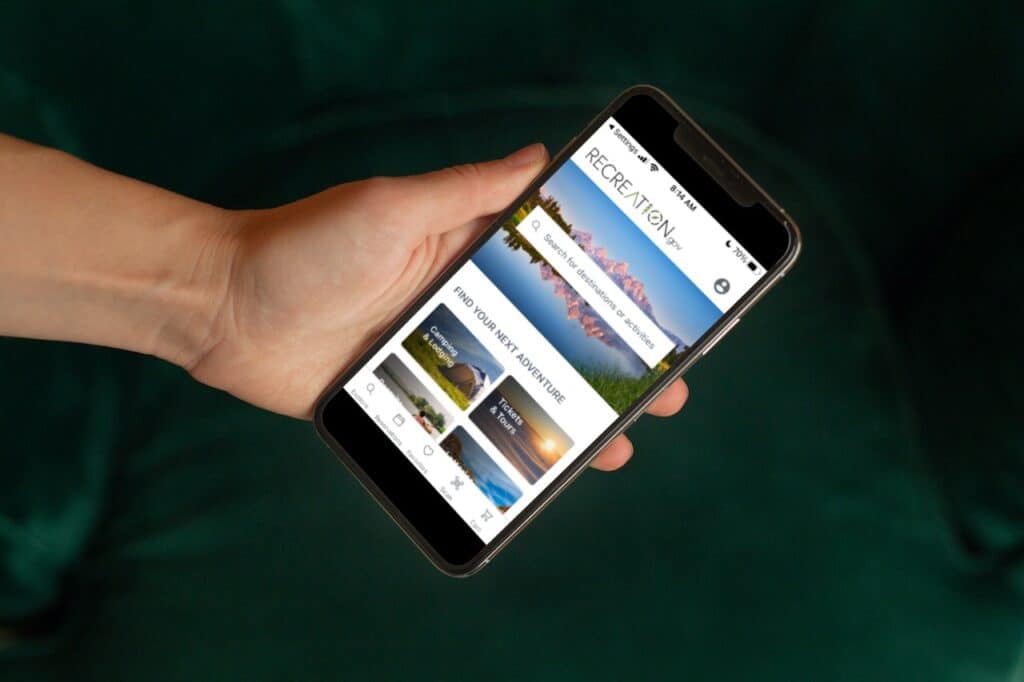 11. Recreation.gov
Discover the wonders of our country's National Parks while you travel, and then book your camping spot with Recreation.gov. Find over 3600 sites across the country. From booking a weekend getaway to planning a cross-country road trip, the Recreation.gov app helps you find and reserve campsites, review location details for your trip, and quickly access information on past and upcoming reservations. There is information on campsites in the National Parks but no user-generated reviews.
The Recreation.gov app also lets you claim a campsite when you arrive at a camp spot. If you didn't make a reservation in advance, you can use the scan & pay feature to pay directly from your mobile device for first come, first served campsites.
12. Reserve America
I used ReserveAmerica's mobile app for trip planning and to search for available camp and RV sites, yurts, cabins, and more in the state, federal, and private parks and campgrounds across the U.S. This is the proprietary service for state-operated camping in 32 states. Search by location, date, or amenities, and display search results on a map. View campground details, reviews, and photos at every campground listed.
13. Allstays Camp & RV App
Allstays ($9.99) is a popular camping app that lets you search over 37,000 campgrounds and filter places and services with or without the internet. Unlike many other free camping apps, Allstays provides value with attractive features like offline search and a large RV and tent camping database. You can search their listings by amenities such as hookup types, amps, big rigs access, club discounts, laundry, propane, pet-friendly, RV dump station, age-restricted, and big rigs.
Extensive filters help you find exactly what you want, from resorts to parking lots to gas stations. You'll even find pet hospitals, grocery stores, coffee shops, and retail stores. You can find overnight stays for your RV at Walmarts, Sams Club, Costcos, casinos, Elk Lodges, and more. The app has data on truck stops with amenities, stores such as Camping World, REI, and Cabelas, RV dealers and services, rest areas, and welcome centers.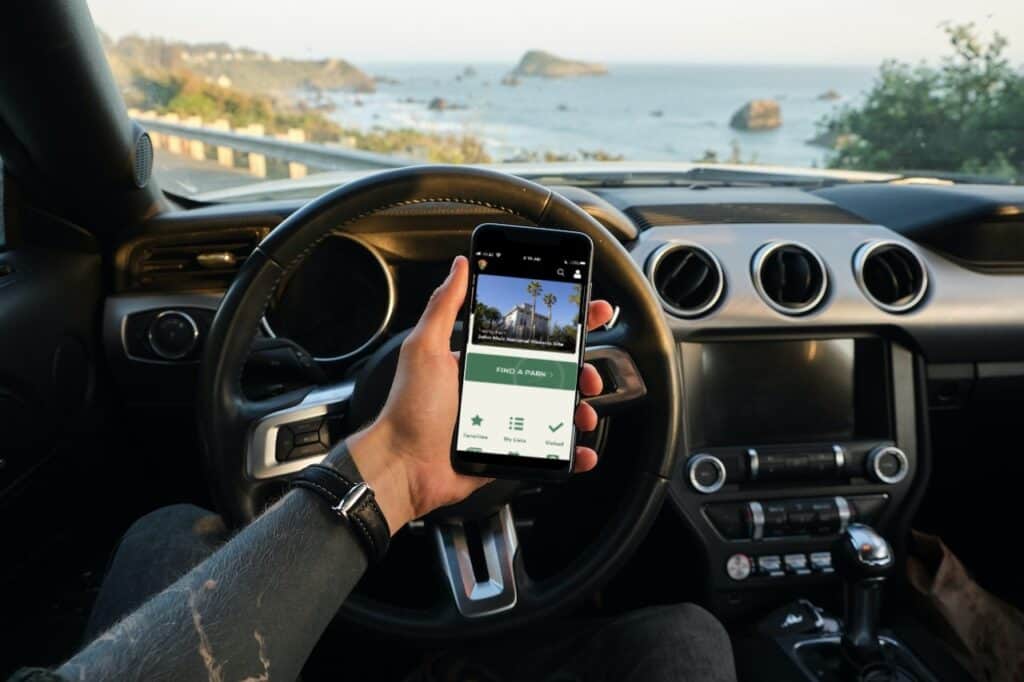 14. RV Parky
RV Parky is an RV Park directory built by a full-time RV'er with the help of the RV community to help fellow RV'ers on the road. RV Parky claims to be Earth's largest collection of camping and recreational sites. Like most other apps, this is another RV app offering user comments and photo guides that help make RV trip planning more enjoyable.
15. Campspot
Campspot is a free app online marketplace for premier RV resorts, family campgrounds, cabins, glamping options, and more across North America. It distinguishes itself through its quality inventory, instant booking with real-time availability, lowest guaranteed pricing, and no membership fees. Its "choose to lock your site" option allows travelers to book the actual campsite within their desired campground.
16. NOAA Weather App
Weather apps let you understand the weather wherever you plan on traveling. So you can travel around a location if the weather seems bad or be prepared for storms or extreme temperatures. These apps can even be helpful when it comes to alerting you to weather conditions, giving you an easy way to find shelter.
Weather apps are essential to RV travel because of climate change. I found this NOAA weather app invaluable in calculating my route based on the inclement weather I was heading into on my travels.
In Arizona, the radar on the NOAA weather app showed me exactly when I would encounter the strongest winds ahead of me, allowing me to exit the highway before I got blown over!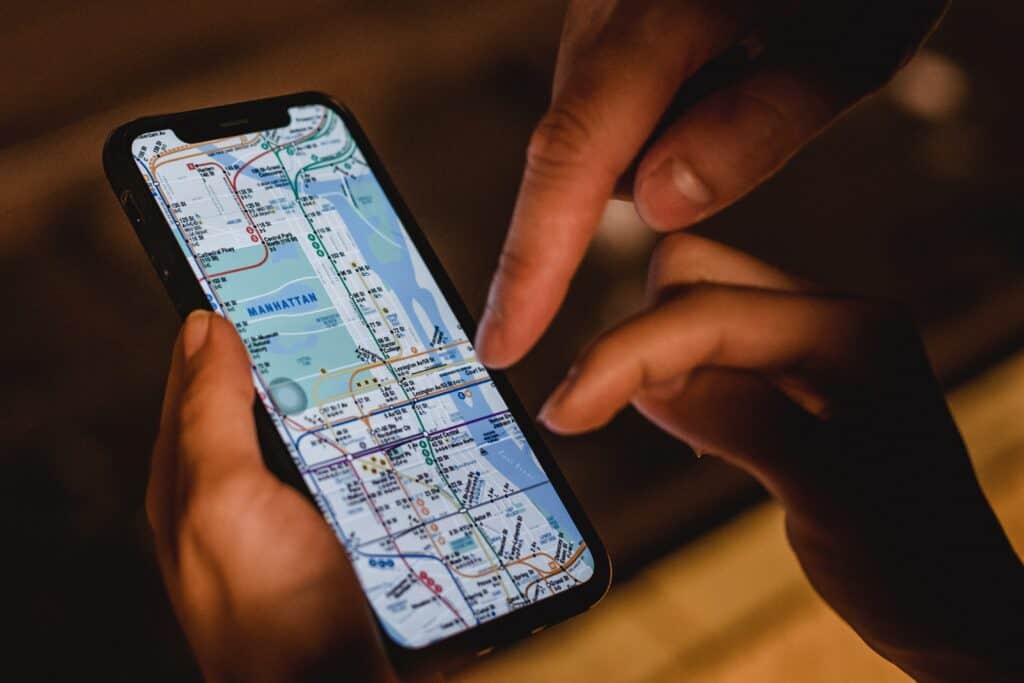 17. The Weather Channel App
With extreme weather on the rise, RVers must be prepared for storms, hurricanes & wildfires, and high winds. This RV app will show you daily forecasts, and you can receive live radar updates, storm alerts, & local precipitation updates along your route.
They provide live Doppler radar maps, storm watch alerts, and a hurricane tracker that can warn you ahead of time of severe storms, heavy rain, heat waves, or an incoming flood.
18. Ultimate RV Checklist
The set-up and breakdown of an RV camp have lots of moving pieces and parts, and as a beginner RVer, I needed help remembering everything. RVers created this RV app to help take the stress and uncertainty out of tearing down, setting up, and moving your RV from the campground to the campground.

Select your vehicle and truck towing vehicle; a fully customizable list will walk you through the necessary tasks. It's priced at $1.99 for both Android and iOS versions. Whether renting an RV for the first time or living full-time on the road, this app will remove the pain from arrival and departure.
19. RV Dump Station App
This app costs $0.99 and shows over 7,090 RV dump stations throughout the US. and Canada. Includes rest areas, truck stops, KOAs, campgrounds, and more. Dump station locations are displayed even when offline.
Many of the other RV apps listed above also include dump stations, but this one is dedicated to them and might be money well spent.
20. Gas Buddy App
The Gas Buddy app is certainly not just for RVers but is a welcome tool for finding the cheapest gas stations along your route, especially in these times of rising gas prices. The app shows you where the lowest-priced gas stops are along your way. The app's marketing message brags, "For over 20 years, GasBuddy has saved users over $3.1 billion."
This app allows you to save money at the pump by unlocking exclusive deals and rewards and completing fun challenges to win free gas.
21. Google Maps
I've included Google Maps here on this list though I would NOT recommend it for RV trip planning as your primary tool. It will not account for your RV's height, weight, or length, so you must watch your route for low-hanging bridges and tight mountain switchbacks. The app sometimes took me on back road shortcuts unsuitable for even my small travel trailer.
I used the app for general route planning since I can add multiple stops. I also like the satellite feature to see where a gas station entrance or campsite entry is and if I have to make a left turn or navigate a tight windy road.
What is the best RVing app?
The best RVing app is RV Trip Wizard, which provides detailed and accurate trip planning tools and resources to help you plan the perfect camping adventure. It includes interactive maps, campground ratings and reviews, access to campground amenities, trip routing, fuel cost and weather forecasts.
You can also save your favorite trip routes and campsites for future reference. features that help you plan your travels, find the perfect campsite, view road conditions, contact roadside assistance, and more. With so many options available, each offering different advantages and features, it's important to do some research in order to find an app that suits your needs – whether you're looking for simple navigation tools or detailed travel planning capabilities.
How do I plan an RV-friendly route?
Planning an RV-friendly route involves taking into consideration the size and weight of your vehicle and any additional equipment you may be hauling. In addition, use these RV apps to research the roads you plan to travel along to ensure they are suitable for your vehicle, as some roads may have sharp turns or steep grades that could make them difficult for larger RV's.
Finally, when planning an RV-friendly route, take into account any amenities that you may need such as rest stops and campgrounds. Research these locations ahead of time so you can plan pit stops along your journey.
Conclusion
RVing can be a great way to explore the outdoors and travel in comfort. But it's important to have the right tools on hand to ensure that your journey is successful and stress-free. That's why finding the best RVing app is essential for any camper or adventurer. The best RVing apps are packed with features that help you plan your travels, find the perfect campsite, view road conditions, contact roadside assistance, and more.
With so many options available, each offering different advantages and features, it's important to do some research in order to find an app that suits your needs – whether you're looking for simple navigation tools or detailed travel planning capabilities.
In addition to these apps, many other resources are available for RV travelers, including online forums, blogs, and social media groups. By using these resources and these apps, you can be assured that your RV trip is as enjoyable, safe, and convenient as possible. So, whether you're a seasoned RV traveler or just starting, download some of these apps and confidently hit the open road!