How to Find Free RV Campsites: Exploring America's Hidden Gems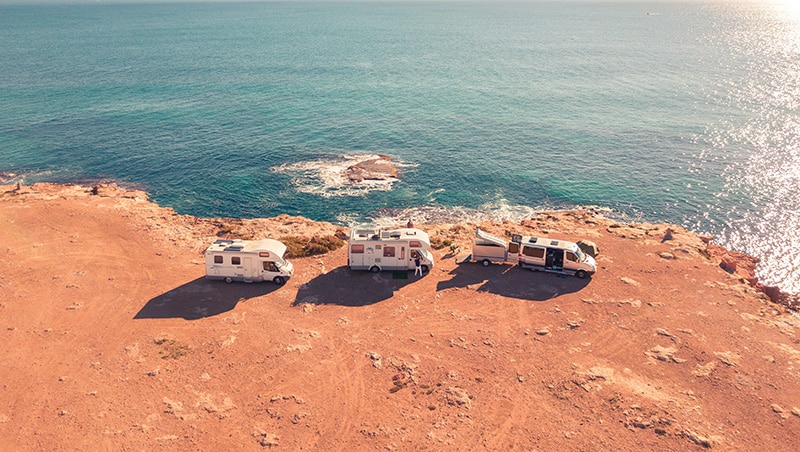 Free RV campsites are a traveler's dream come true – if you can find them.
The enticement of taking off on the highway, with the ability to investigate America's varied terrains without draining your wallet, is incomparable. Increasing demand from more RVers is raising the prices at private RV parks.
Since the COVID-19 pandemic, RV parks and camping popularity has increased in recent years, with people seeking outdoor vacation options. There are around 53,722 RV parks and campgrounds in the United States, of which 78% are privately owned and getting more expensive as more RVers hit the road.
If you've been dreaming about an affordable adventure, rest assured that cheap or free RV camping for free offers just that – an opportunity to connect with nature while keeping costs low.
So how do you find the best safe free RV camping where you want to go?
What are Free RV campsites?
Free RV campsites, boondocking, or dispersed camping, are designated areas where RVers can park and camp for free. Unlike traditional campgrounds that charge a fee for amenities and services, free RV campsites offer a more primitive and budget-friendly camping experience.
Many RV enthusiasts find themselves at a loss when locating these hidden gems. Or they are overwhelmed by the sheer number of them to choose from. The uncertainty of which are safe can be daunting and may even deter some from embarking on their dream journey.
Many of these sites are often found on public lands managed by agencies such as the Bureau of Land Management (BLM), the United States Forest Service (USFS), and the National Park Service (NPS). Some private properties and businesses may also offer free overnight RV parking through programs like Boondockers Welcome and the membership site Harvest Hosts.
Free RV camping allow adventurous travelers to connect with nature, explore off-the-beaten-path locations, and experience the beauty of the great outdoors without the financial burden of traditional camping fees.
Reasons You Need to Embrace the Freedom of Free RV Camping
The world of free RV camping is a treasure trove for adventurers seeking an affordable way to explore America's diverse landscapes. For travelers looking for a unique way to explore America's diverse landscapes, the Bureau of Land Management (BLM) and National Forests offer a wealth of public lands ripe for free RV camping.
These sites are not just cost-effective alternatives to developed campgrounds or expensive RV parks; they offer unique opportunities for travelers who yearn for solitude or wish to connect more deeply with nature. Plus, some of these spots often come equipped with basic amenities such as picnic tables and fire rings – although it's always wise to be prepared and bring the necessary off-grid RV camping gear when planning extended stays at these locations.
Free RV campsites have become increasingly popular among RVers for several compelling reasons. They offer a sense of freedom and independence, allowing travelers to choose their camping spots and avoid the constraints of reservations and campground rules.
Moreover, free camping allows RVers to immerse themselves in untouched landscapes, away from crowded tourist destinations. The peace and solitude of these campsites create a unique and unforgettable experience, fostering a closer connection with nature. Additionally, free boondocking & dispersed campsites provide a fantastic opportunity to save money on accommodation costs, enabling travelers to extend their adventures and visit more destinations.
However, it's essential to be self-sufficient and practice responsible camping to ensure these free sites remain available for future generations of road trippers.
How to Find and Access Free RV Campsites
Finding free campsites requires a bit of research and resourcefulness. Dispersed camping guidelines typically include information on camping distances from water sources, stay limits, fire regulations, and waste disposal procedures.
Here's a list of Free Camping Resources:
Apps to Find Free Camping
When I searched online recently, just using the free Campendium app listed over 10,000 free camping sites across the U.S.
The Dyrt Pro app lists over 5000 + free RV camping locations across the U.S.
FreeRoam App is a 501(c)3 non-profit seeking to connect campers with nature in a sustainable way.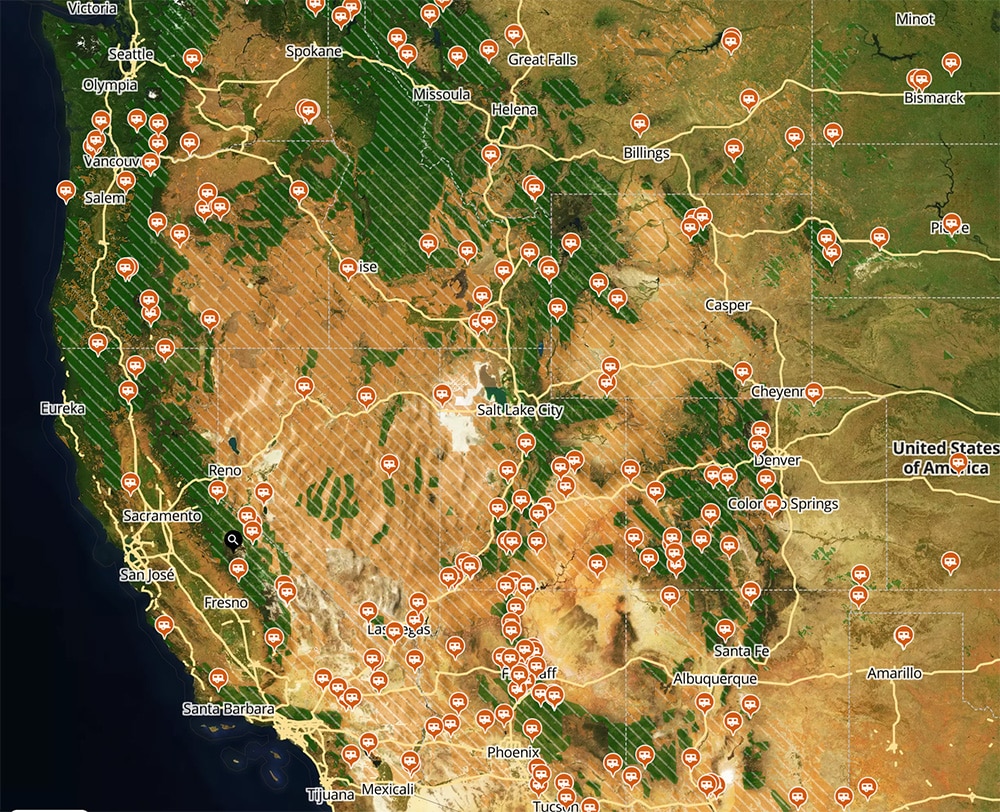 Free Campsites on Public Lands
Bureau of Land Management (BLM), one agency that oversees public lands, manages approximately 245 million acres across America. Dispersed camping is allowed in a significant portion of this land, which offers flexibility, allowing you to choose your preferred spot within designated areas rather than being confined to specific campsites.
When camping on public lands, it's crucial to consult the managing agencies' websites and familiarize oneself with the specific rules and regulations.
National forests also provide ample opportunities for free RV camping under management from the U.S. Department of Agriculture's Forest Service. With nearly 193 million acres spread over 43 states, countless great places exist for perfect dry boondocking experiences amidst pristine natural settings.
Tips For Successful Free RV Camping On Public Lands
Prior Research Is Key: Ahead of finding places to camp, it's crucial to do preliminary research using resources like freecampsites.net or compendium, which provides detailed information about potential spots and user reviews to help make informed decisions regarding parking arrangements.
Contact Local Ranger Stations: Besides researching online sources, reaching out directly via phone call visitation local ranger stations could yield valuable insights into current weather & fire conditions, road accessibility, and fire restrictions, ensuring compliance with rules set forth by respective land management authorities.
In his book "Deep Survival," Laurence Gonzales has numerous examples of people who ventured into the wilderness without consulting local resources and had dire consequences.
Keep Safety in Mind: As a solo camper, I am always aware of my environment and the potential for unexpected events. Preparing with RV safety gear is always a sensible approach to spending time in the wilderness.
Pack It In and Pack It Out: Minimize your impact on the designated campsites by packing out all of your waste.
Key Takeaway: 
Free RV camping on public lands offers an affordable, unique way to explore America's diverse landscapes. Managed by agencies like the Bureau of Land Management and National Forests, these sites provide basic amenities and solitude for nature lovers. Remember: prior research is crucial and always respect land rules.
Navigating Free Camping on BLM Land
Imagine the freedom of camping under a starlit sky, surrounded by nature's tranquility. That's what awaits you when camping on public lands managed by the Bureau of Land Management (BLM). But how do you find these free campsites? Let's explore.
Finding Your Ideal Campsite on BLM Lands
BLM categorizes its land into developed campgrounds and dispersed camping areas. Developed campgrounds usually have amenities like picnic tables and restrooms but might charge minimal fees. Dispersed, "dry camping" or primitive camping spots are remote locations with no facilities – perfect for wild camping experiences without any costs.
To locate your dream camp spot using the BLM search tool, add your location and activity and get search results from over 1,000 free campsites. If you are seeking long-term camping experience, the Bureau of Land Management Long Term Visitors Area (BLM LTV) has maps for western states' camp spots.
You can also consider using Google Maps' satellite view feature with GPS coordinates from reliable online sources such as FreeCampsites.net or Campendium.com. This strategy will give an aerial perspective before arrival at potential sites, ensuring they suit your RV size and equipment needs. I always use this strategy, even with RV campgrounds, to ensure that roads and access are suitable for my Airstream.
Camping Etiquette & Rules to Follow
Freedom comes hand-in-hand with responsibility. While enjoying America's public lands, remember to follow all posted regulations while practicing Leave No Trace principles – including packing out everything brought in so future generations can enjoy them too.
If you need help with area-specific rules or overnight parking allowances, always check beforehand with local ranger stations to avoid fines or disruptions during your trip. Planning ensures smooth sailing, especially during peak seasons when popular boondocking spots fill up quickly.
Tips For A Successful Stay On BLM Land
Consider cell service availability if an internet connection is crucial for work or personal needs since some remote locations may not offer adequate signal strength.
Minimize campfire impacts as they can cause lasting impacts to the environment. Use a lightweight stove for cooking or an established fire ring if its available.
Prepare adequately for dry conditions since many sites lack water and electricity hookups. Bringing extra water, solar panels or a solar generator or portable AC units for extreme temperatures which could prove invaluable during extended stays.
Discovering Free Campsites in National Forests or Grasslands
One consistent trend for RVers is a growing desire to experience "close to nature," although this definition may vary from camper to camper. The mission of the National Park Service is to preserve natural and cultural resources for the enjoyment, education, and inspiration of this and future generations.
National parks attract campers who want to escape their everyday world and get lost in the grandeur of these natural resources.
National Forests and Grasslands are a treasure trove of free campsites for RVers. Managed by the U.S. Department of Agriculture's Forest Service, these public lands offer over 4,000 campgrounds across America.
The concept here is 'dispersed camping,' which means camping outside developed areas without amenities like picnic tables or restrooms. This form of wild camping gives you more freedom but requires responsible practices such as following fire restrictions and leaving no trace behind.
Finding Your Perfect Spot
Finding suitable spots within these vast expanses can be challenging without some guidance, so let's discuss how to navigate this process effectively.
Benchmark Maps offers physical maps with detailed topography and recreation information about national forests nationwide. These maps show forest service roads leading to potentially dispersed camping areas. Physical maps provide a safer alternative to driving into wild places when the internet and satellite service are unavailable.
Digital resources also come in handy when planning your trip. The National Forest Explorer App provides comprehensive details about recreational activities, including the locations of campgrounds within each national forest or grassland area.
Visit the U.S Forest Service website for dispersed camping, and you can search any State Forest in the U.S.
Where Can I Disperse Camp?
The best way to find out what areas are open to dispersed camping is to contact the nearest Forest Service office to the area you wish to visit. Typically, dispersed camping is NOT allowed in the vicinity of developed recreation areas such as campgrounds, picnic areas, or trailheads.
Many people drive out on Forest Service roads into the woods and find a clearing or a spot near a stream or with a view of the mountains. Do not drive on meadows to access your camping site. Drive on existing roads to prevent resource damage. Dispersed camping is allowed in a one-mile perimeter away from campgrounds and 100 feet from any stream. To prevent resource damage please keep your campsite within 150 feet from a roadway.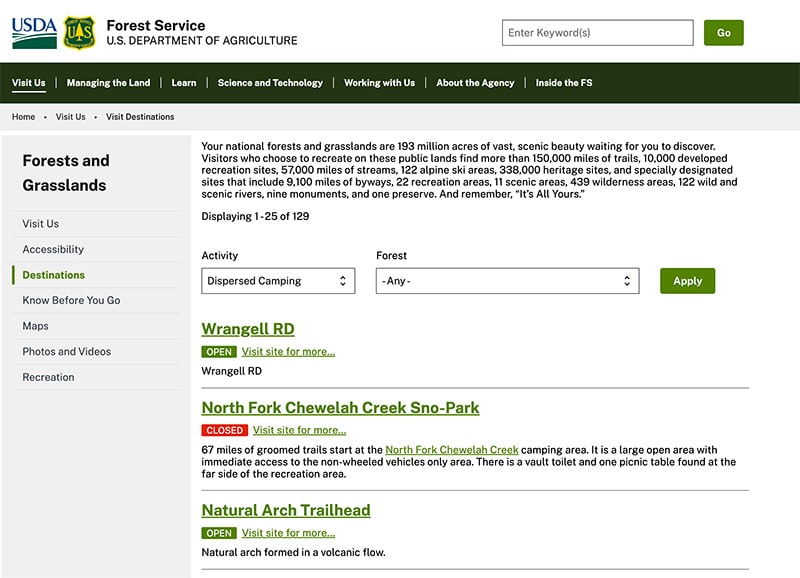 Camping Regulations & Restrictions
Awareness of the rules governing free campsites is crucial for preserving our natural habitats and ensuring a smooth experience during your stay.
Before setting up camp, you should check local regulations regarding length-of-stay limits (usually available), seasonal fire restrictions, etc., from ranger stations or official websites.
Please remember that primitive camping implies carrying all necessities, including a water supply since most sites don't have no facilities.
Key Takeaway: 
Embrace the freedom of 'dispersed camping' in America's National Forests and Grasslands, but remember to respect local regulations. Use physical maps or digital resources like the National Forest Explorer App for guidance on finding perfect spots. Prepare well as most sites lack facilities; dry-camping can seem daunting initially, but practice makes it second nature.
Exploring U.S. Army Corps of Engineers Campgrounds
The Army Corps of Engineers is present in 43 states and manages more than 450 lakes and waterways, which the public can access for fishing, boating, and camping. You do not need to be in the military or have prior military service to access these sites. They are all open to the public.
The COE-managed campgrounds offer visitors a range of affordable and serene sites. These sites, often nestled near tranquil bodies of water, offer an array of opportunities for those seeking free or low-cost overnight parking.
Many regard Corps of Engineers "COE" campgrounds as the best public camping areas in the country. They are especially ideal for RVer who love water activities like fishing or boating.
Most of the campgrounds are located in primitive areas. They are known for being well-maintained. Simple amenities like shower houses, restrooms, water hookups, picnic tables, and fire rings are available. Some COE campgrounds offer full RV hookups, and nearly all have asphalt-paved sites for RVs.
Finding Your Perfect Spot Amongst COE Sites
Here are a few resources to help you locate and make reservations at COE Campgrounds:
Corps Lakes Gateway
Visit the Army Corps of Engineers Corps Lakes website to search for recreation opportunities, including camping locations. You will need to search by state, lake, or river project to find the campsites that are available at that location.
The actual campground data are challenging to access or search. Finding the best free camping sites that the Corps of Engineers offers may take more effort. A page listing every COE project has a link to each site.
Making the Most Out Of Your Stay At a COE Campground
Beyond providing spaces to park overnight, many Corps of Engineers-managed lands feature hiking trails, bird-watching spots, historical landmarks, and more. So remember to pack the necessary gear to explore your surroundings fully and enjoy what nature offers beyond the confines of your RV itself.
Venturing into Free Camping in National Parks
Immersing yourself in the breathtaking landscapes of America's national parks is a dream for many RVers. Operated by the National Park Service (NPS), these iconic destinations, unfortunately, don't often provide free camping opportunities.
The alternative is to camp for free outside National Parks such as The Grand Tetons, Yellowstone, and Glacier National Park.
Death Valley National Park
The legendary Death Valley is the only national park in California that allows dispersed camping. Death Valley, the largest national park outside of Alaska, is filled with amazing wilderness recreation and backcountry driving opportunities.
The park has over 93% federally protected wilderness and over 1,000 miles of paved and dirt roads. Dispersed (Backcountry) Camping is allowed one mile away from any developed area, paved road, or "day use only" area. Check out this National Park Service backcountry map for vehicle clearance and other backcountry wilderness information.
Uncovering State Parks and State Forests Camping Opportunities
If you're an RVer, state parks, and forests are your best friends. They offer a treasure trove of camping opportunities that often go unnoticed.
The beauty of these public lands lies in their developed campgrounds with amenities like picnic tables, fire rings, restrooms – even showers sometimes. Plus, they're less crowded than national parks but equally stunning when it comes to landscapes and recreational activities such as hiking trails or fishing spots.
The U.S. Forest Service is an excellent resource for researching this type of camping opportunity since it lists all national forest land managed by individual states across America, providing detailed maps showing locations dispersed free places suitable dry RV camping complete regulations specific area ensuring stay remains safe while respecting local wildlife habitats too.
Harnessing Technology to Find Free Campsites
Finding free RV camping sites will get easier as our digital tools keep evolving. The rise of various apps and websites has quickly made it possible for travelers like you to find these hidden gems.
These platforms offer more than just locations; they provide reviews from fellow campers, details about available amenities, information on cell service quality, and even directions. By effectively utilizing this technology at your fingertips, you can streamline your search for the perfect campsite that fits all your needs.
Popular Apps for Finding Free Campsites
The Pro version of the Dyrt app has a collection of 5000 Drive-In-Accessible camping sites, dispersed sites, and free campgrounds across the U.S.
The crowd-sourced iOverlander app helps find free tents and RV camping without access to sewer, electricity, or water (boondocking).
The first app worth exploring is Togo RV Roadpass Pro. This platform offers many features, including trip planning tools tailored to your rig type and travel preferences and an extensive database of paid and free campsites across America.
RV Trip Wizard, another favorite among seasoned adventurers, provides detailed cost estimates based on mileage between destinations and campground fees. It allows users like yourself to filter their searches by price (including free), hookups availability, or club affiliations which could be especially helpful when trying to stay within budget during long trips.
Your Best Free Camping Spots Might be on Private Property
As you can see, public lands have many different options for immersing you and your RV in nature. Private land owned by farmers, ranchers, and land owners can also yield boondocking opportunities. Finding these camp for free spots is as easy as signing up for Boondockers Welcome.
Boondockers Welcome
Boondockers Welcome, with over 3,390+ locations with no camping fees across North America, has been helping RV travelers for many years have access to unique and awesome camping spots. You don't pay any camping fees, but for an annual fee through Harvest Hosts you can:
Find a Private camping spot
Connect with a friendly host
Experience truly unique stay
70% of Hosts offer hookups
Stay up to 5 nights at various locations
Harvest Hosts
Although not entirely free, Harvest Hosts deserves mention due to its unique offering. For an annual membership fee around $79 per year, members are allowed unlimited access to over 4600+ wineries, breweries farms throughout North America, where they may park overnight for free as long as they purchase a minimum at the local business. My Harvest Hosts review covers everything you need to know.
Overnight RV Parking at Commercial Locations
I've added in RV parking options, as alternatives to RV camping because sometimes you just need to park somewhere for the night on your journey. Navigating the world of RV travel can be a thrilling adventure, but finding suitable places to park overnight is often one of the challenges travelers face. Thankfully, there are numerous commercial locations across America where you can safely and legally park your RV for free.
Let's look in-depth into these options and how they serve as great solutions for those seeking safe havens during their travels on wheels.
If overnight parking suits you best, consider checking out Overnight RV Parking. With over 14 thousand places listed where one might park overnight without charge – think everything from truck stops to Walmarts – this resourceful app proves invaluable when needing a place to rest en route.
Parking Your Home-on-Wheels at Walmart
The first stop on our list takes us to Walmart. Known far and wide among seasoned RVers, many Walmart stores offer large parking lots that welcome weary travelers looking for a spot to rest. However, it's crucial to ask store management permission before settling down for the night.
A good rule of thumb? Always remember: when in doubt – ask.
Finding Refuge at Truck Stops & Rest Areas
If highways are more your speed, truck stops such as Pilot Flying J or Love's Travel Stops & Country Stores could be invaluable allies along your journey. These spots provide ample space and essential amenities like fueling stations, food services, and WiFi access. Check with staff about any restrictions or fees associated with staying there.
In addition, state-provided rest areas might be just what you need as a short-term solution, especially if you drive late hours without making prior arrangements elsewhere. Yet, bear in mind some states do limit the duration of stay. Thus, it's always wise to research local regulations beforehand to avoid potential issues later.
Camping Out At Fairgrounds And Churches
Sometimes overlooked, fairgrounds and churches may allow RVers to use their premises out of goodwill toward travelers.
Unlocking the Freedom of Free RV Camping
The allure of free camping is undeniable. It's an adventure, a way to embrace your freedom and explore America in its raw beauty. But how do you navigate this landscape? What are some practical tips for finding great places for free RV campsites?
Finding Your Perfect Spot
Your journey begins with selecting suitable locations. From national parks to state forests or BLM land, public lands offer numerous opportunities for dispersed camping or boondocking, as it's often called.
Beyond these natural landscapes, commercial locations such as Walmart parking lots, Home Depot stores, and truck stops also allow overnight RV parking but remember always ask permission from management first.
Navigating Through Local Rules
Understanding local regulations is crucial while embarking on your free camping trip. Whether there are fire restrictions at your chosen site or specific rules regarding waste disposal – knowledge about these factors will ensure a hassle-free experience.
If you need clarification on any regulation concerning a particular area or campground, contacting the nearest ranger station could provide accurate information, ensuring that private property rights aren't infringed upon by illegal parking or trespassing.
Gearing Up For Adventure
A successful dry camping venture requires careful planning around essential gear, including sufficient water storage capacity, water filters and power sources like solar generators if amenities are unavailable at the campsite location.
In addition, consider carrying first-aid kits, headlamps, portable toilets, outdoor cooking equipment (portable grills, stoves) sleeping bags suited to weather conditions as part travel arsenal.
Taking it to the Next Level: Camp with Confidence
Packed up, ready to go? Grab the map and start the engine because an open road awaits.
Remember, every good adventurer knows the importance of leaving traces behind – respecting nature and preserving it for others to enjoy the same experiences, and having happy travels.
Free RV camping does require some preparation and adaptability. RVers should be self-sufficient and equipped with fresh water, waste disposal solutions, and power sources like solar panels or generators.
Having a good understanding of your RV's capabilities and limitations is crucial when boondocking in remote areas. It's also essential to consider safety factors such as cell phone coverage, emergency supplies, and communication with someone trustworthy about your travel plans.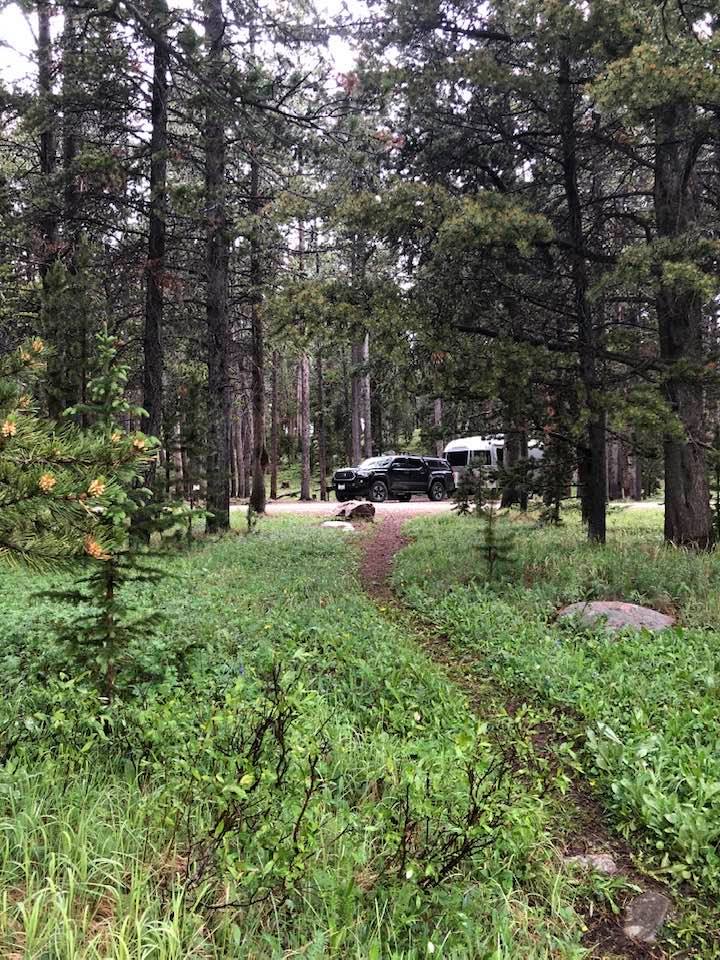 Conclusion and My Experience With Free RV Camping
While free RV campsites offer a sense of seclusion, it's advisable to camp in well-traveled areas for added security. Lastly, exploring new territories and sharing your experiences with the RVing community can lead to discovering lesser-known and stunning free camping sites, making your road trips even more enriching and enjoyable.
As a solo RVer, I have tested out dispersed camping outside National Parks where other campers are nearby. Having a community around me who enjoys nature and wants their space and freedom is a comforting way to camp.
In conclusion, free RV campsites provide a fantastic opportunity for adventurous travelers to connect with nature, enjoy cost-effective camping, and explore the beauty of untouched landscapes. With the right resources, knowledge, and a responsible approach to camping, RV enthusiasts can embark on unforgettable road trips filled with freedom and memorable experiences at these hidden gems of the great outdoors.
FAQs on Finding Free RV Campsites
How can I find free RV campsites?
You can use online resources like the Bureau of Land Management website, the National Forest Service App, and camping apps such as Togo RV Roadpass Pro or The Dyrt to locate free RV campsites.
What are the benefits of staying at a free RV campsite?
Free RV campsites offer cost savings, less crowded spaces, access to nature's beauty and tranquility, and an opportunity for boondocking experiences.
Are there any restrictions on how long I can stay at a free RV campsite?
The length of your camp stay will vary depending on the location. Some sites allow visits up to 14 days, while others may have different rules. Always check with local authorities or land management agencies.
What amenities are typically available at a free RV campsite?
Amenities vary greatly; some sites might be primitive with no facilities, while others could offer basic amenities like fire rings or picnic tables. It's best to research beforehand.
Are there any safety concerns when camping in an RV at a free campground?
Safety depends mainly on location and preparedness. Ensure your vehicle is secure, follow wildlife guidelines if applicable, keep valuables hidden, and always lock your RV when you're away.