How to Make 100 Dollars a Day Online: Travelers' Top Kickstart Strategies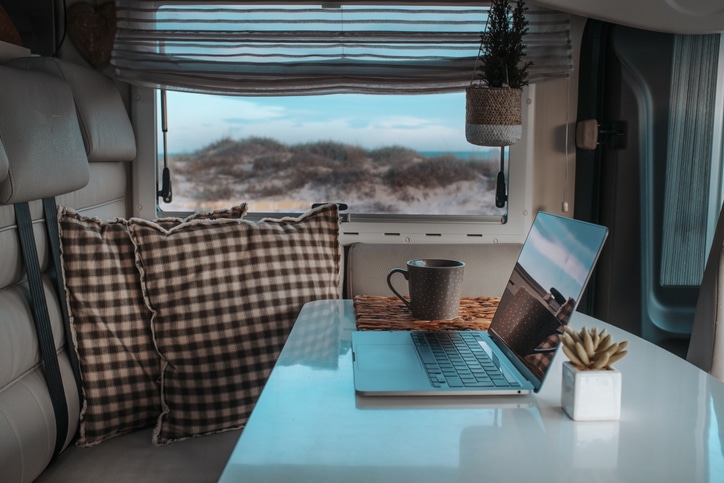 Picture this: you're sitting in your RV, parked at a picturesque campsite, and wondering how to make 100 dollars a day online while enjoying the freedom of travel.
As a digital nomad traveling in my Airstream across the U.S., I fund my travels through many of these methods. Many of these strategies for making 100 dollars daily may seem a bit daunting but with a bit of work and elbow grease you can rock this!
Creating a plan for financing your travels is a good first step to achieving your goal. Making 100 dollars a day online is very doable with the correct approach and commitment. My advice is to stay with one approach and learn what you need to make it work. Patience and consistency go along way to bringing in an income on the road.
In this blog post, we'll discover a variety of approaches to generating income online that are perfect for travelers, RVers, travel bloggers, and campers. From affiliate marketing to freelance writing & design opportunities and creative side hustles – there's something for everyone!
So whether you're looking to supplement your income or replace your full-time job, keep reading as we delve into how to make 100 dollars a day online using different approaches tailored specifically for those who love exploring the world around them.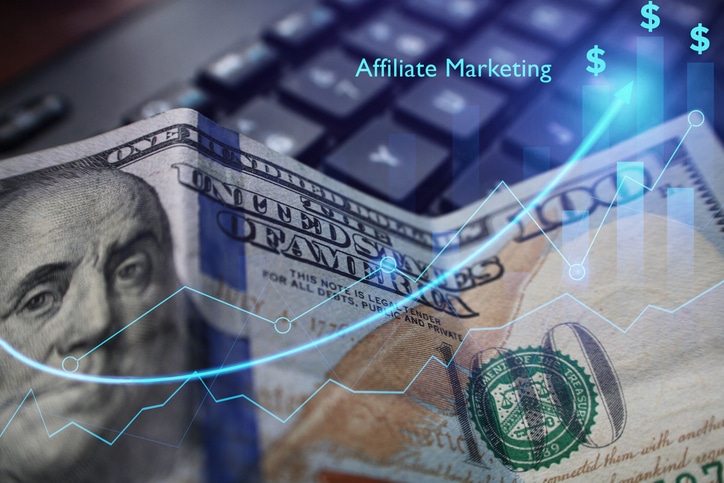 This post may contain affiliate links. If you purchase through our partner links, we get paid for the referral at no additional cost. For more information, visit my disclosure page.
Affiliate Marketing: Your Path to Making $100 a Day Online
Ready to discover one of the secrets of making $100 a day online? Affiliate marketing could be your golden ticket to earning over $100 a day online, and I'm here to show you how. This blog is an example of how you can use affiliate links in your articles. Affiliate links simply refer people to products and services that you use and recommend. Once you have an established blog with good traffic, affiliate revenue can be one of the best ways to bring in a consistent revenue stream.
Let's break down into actionable steps:
Choosing the Right Niche and Products to Promote
Firstly, find your niche – something you're passionate about and knowledgeable about. Finding your niche will make promoting products or services more authentic and enjoyable. Check out this guide on choosing a profitable niche that aligns with your interests.
Building an Audience Through Content Creation
Produce worthwhile material that strikes a chord with your viewers. Think blog posts, videos, and podcasts. The goal is establishing yourself as an authority in your chosen niche while attracting potential customers.
Now let me introduce some popular affiliate programs worth considering:
Amazon Associates – Promote a wide range of products from the world's largest online retailer.
Bluehost Affiliate Program – Earn commissions by promoting this popular web hosting service.
Booking.com Affiliate Partner Program – Ideal for travel bloggers, promote accommodations and earn commission on bookings through your unique link.
To maximize earnings, join multiple affiliate programs that align with your niche and audience preferences. The key is to create engaging content that showcases these products or services while providing genuine value to readers (no hard selling.).
With dedication and consistency, you'll be well on your way to making $100 a day online through affiliate marketing.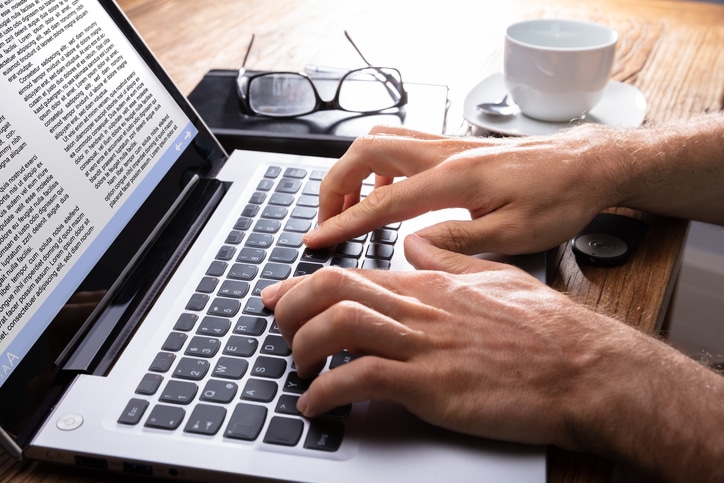 Freelance Writing Opportunities: Your Path to Earning $100 a Day Online
Are you ready for some exciting news? You can make money online by becoming a freelance writer, and it's easier than you think. Let me walk you through finding writing gigs that pay well.
Tips for Creating a Standout Profile on Freelancing Platforms
To start:
Create an impressive profile on platforms like Upwork.
Showcase your skills, experience, and personality in your bio – this is your chance to shine.
Add samples of your best work or create a portfolio website using tools like Journo Portfolio.
Remember, first impressions matter, so make yours count.
How to Pitch Effectively and Secure Writing Gigs
Pitching clients can be intimidating, but don't worry; I've got you covered with these tips:
Do Your Research: Understand the client's needs before pitching. Tailor each pitch specifically for them.
Create Compelling Pitches: Highlight how you'll solve their problem while showcasing your expertise.
Nail the Follow-Up: Don't hesitate to follow up if you have not heard back within 7-10 days. Persistence pays off.
Honing the craft of pitching is no easy feat, but with dedication and effort, you'll soon be a pro. Now that you know how to create a winning profile and pitch clients effectively, let's explore some popular niches for freelance writers:
Travel Writing: Share your travel experiences or write destination guides.
Tech Writing: Review gadgets or explain complex concepts in simple terms.
Lifestyle & Wellness: Write about health trends, fitness routines, or self-improvement tips.
The possibilities are endless. Become a freelance writer today and earn $100 (or more) per day online while doing what you love – writing. You've got this. Happy writing.
Coaching Services and Digital Products
Are you prepared to leverage your expertise and make a profit? Offering coaching services or creating digital products like ebooks or courses can be a lucrative way to make money online. Take Graham Stephan, for example, who found success selling real estate courses through his Real Estate Agent Academy.
Identifying Your Area of Expertise
Identify your area of expertise by assessing your skills, knowledge, and experiences to determine your most suitable niche. Analyze your skills, knowledge, and experiences to pinpoint where you excel. This will help determine the niche market that would benefit most from your offerings.
Creating Valuable Course Content Using Thinkific or Teachable
Once you've identified your specialty, it's time to produce useful material. Platforms like Thinkific and Teachable make building an online course from scratch easy. Here are some tips:
Outline your course structure by breaking down complex topics into smaller sections.
Use engaging formats such as videos, quizzes, and interactive exercises.
Provide actionable steps students can follow.
And voila. You have a high-quality course ready for eager learners. But how do you attract students?
Promoting Your Course and Coaching Services
You've built it; now they will come. Not quite. To make $100 a day online, you'll need to promote your course and coaching services effectively. Here are some strategies:
Build an email list by offering valuable free content in exchange for subscribers' contact information.
Utilize social networks like Facebook, Instagram, or LinkedIn to provide helpful advice and interact with prospective customers.
Write guest posts on relevant blogs or collaborate with influencers in your niche.
With persistence and the right strategies, you'll be well on your way to making money online as a coach or digital product creator.
Key Takeaway
To make $100 a day online:
Consider offering coaching services or creating digital products like ebooks or courses.
Identify your expertise and use platforms like Thinkific or Teachable to create valuable course content.
Promote your offerings through email lists, social media, guest posts on relevant blogs, and collaborations with influencers in your niche.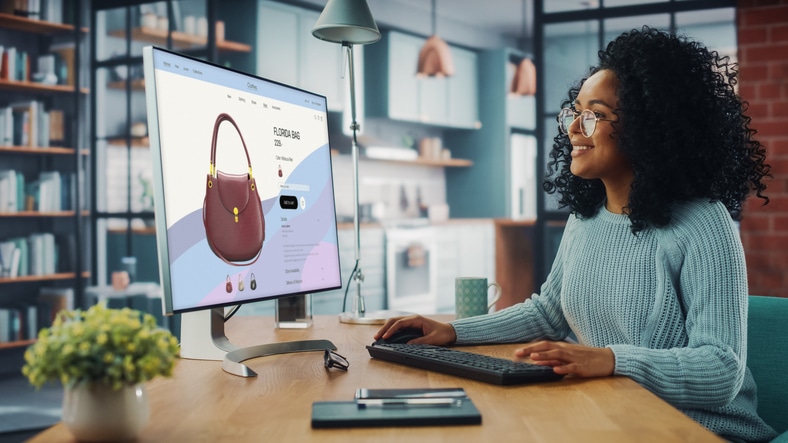 Social Media Monetization Strategies: Turn Your Online Presence into Profit
Ready to monetize your social media presence and make some money? Let's dive into monetizing your online presence and explore how to turn those likes, shares, and comments into cold hard cash.
Partnering with Brands for Sponsored Posts
The first step is finding brands that align with your niche and audience. Contact them directly or join influencer marketing platforms like IZEA, AspireIQ, or TapInfluence. Create a media kit showcasing your stats, demographics, and past collaborations to demonstrate what you bring. Negotiate fair compensation based on engagement rate, follower count, and content quality.
Utilizing Instagram Shopping Features
If you have an e-commerce store or sell products through affiliate marketing partnerships, Instagram shopping features are perfect for driving sales. Take advantage of shoppable posts and the Instagram Shop to showcase your products and make it easy for your followers to purchase them.
Beyond these strategies, consider offering exclusive content or access through platforms like Patreon or OnlyFans. Generate income from your YouTube channel by utilizing ads, paid content, and associate connections in the video description. The key is diversifying your income streams while staying true to your brand and audience interests.
Now go forth and conquer the world of social media monetization.
Selling Physical Items Online: Books, Merchandise, and More
Are you a person with an enterprising mindset and imaginative flair? Great. Let's explore how selling physical items online can help you make $100 per day.
First, let's start with self-publishing your very own book.
Self-Publishing Options for Aspiring Authors
Gone are the days of traditional publishing gatekeepers. Amazon Kindle Direct Publishing (KDP) is a fantastic platform to self-publish your masterpiece. You retain creative control while earning up to 70% royalties on sales worldwide. If print books are more your style, consider IngramSpark, which offers print-on-demand and ebook distribution services.
Setting Up an E-commerce Store Using Shopify
Beyond books, a world of merchandise is waiting to be sold by savvy entrepreneurs like yourself. Shopify is a user-friendly platform crafted to aid in forming digital commerce. You can select from hundreds of customizable themes, add products quickly, and integrate payment options seamlessly.
Now let's talk about promoting those fabulous products.
Tips for Promoting Your Products Online:
Social Media: Utilize platforms like Instagram or Pinterest to showcase eye-catching visuals of your products.
Email Marketing: Build an email list and send newsletters featuring new releases, promotions, or discounts.
Influencer Collaborations: Partner with influencers in your niche to promote your items through sponsored posts or product reviews.
With persistence and creativity, selling physical items online can become a lucrative income stream. So, unleash the entrepreneur within you and start making money today.
Gig Economy Jobs: Flexible Ways to Make Money Online
Are you looking for ways to make some extra cash online? Gig economy jobs offer flexibility and freedom while allowing you to provide services or rent out your assets. Let's dive into some popular options.
Becoming a Successful Virtual Assistant
If organization and multitasking are your strong suits, consider becoming a virtual assistant (VA). Fiverr is an excellent platform for offering VA services like email management, social media scheduling, and data entry. Create an eye-catching profile showcasing your skills and start bidding on relevant projects. Consider specializing in specific industries or niches that match your expertise to stand out from the competition.
Building an Online Coaching Business from Scratch
If you possess knowledge or experience in a particular area, why not utilize it to assist others? Becoming an online coach allows you to help people achieve their goals and earn money simultaneously. Here's a guide to getting your coaching biz up and running and developing it into something successful.
Tips for Maximizing Income as an Airbnb Host
Renting out unused space through Airbnb can be quite lucrative if done right. Here are some tips to help you maximize your income:
Cleanliness: A spotless living area will lead to better reviews and more bookings.
Amenities: Offer high-speed Wi-Fi, toiletries, and coffee/tea supplies – little touches go a long way.
Pricing Strategy: Research similar listings in your area to determine competitive pricing. Consider using Airbnb's Smart Pricing tool.
Promotion: Share your listing on social media platforms or local travel groups. Encourage guests to leave positive reviews after their stay.
Remember, happy guests, equal more bookings and higher income.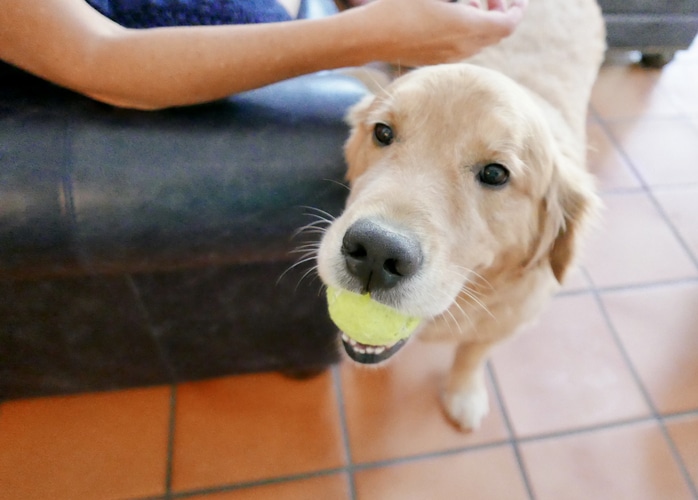 Dog Walking and Pet Sitting Opportunities
Consider turning your love of animals into a money-making opportunity. Wag and Rover are popular platforms connecting pet owners with dog walkers or sitters in their area. Create a profile highlighting your experience with animals, set your rates, and start accepting jobs that fit your schedule.
Selling Old Cell Phones for Cash
Do you have old cell phones collecting dust? Gazelle.com allows you to trade them in for cash – it's quick and easy. The process is simple:
Find the device on Gazelle's website.
Answer a few questions about its condition.
Receive an offer instantly.
Ship it off (for free).
Get paid via PayPal or check once they've received the device.
Key Takeaway
Dispersed camping offers a fresh take on the usual camping experience. It's all about fully diving into nature, relying on yourself, and being kind to our environment. You'll often find yourself in public lands without any set spots or facilities – it's pure adventure beyond regular campsites into pristine landscapes. Some might call this 'boondocking' or even 'pirate camping'.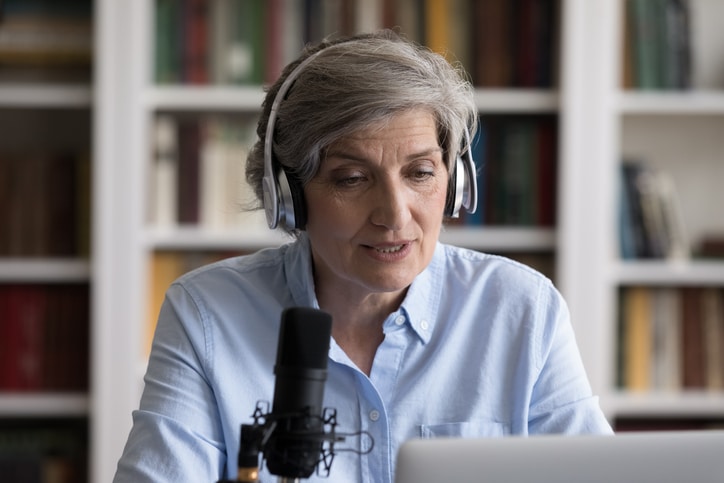 Unique Side Hustles: Make Money Reading Books and More
Are you ready to explore some unconventional ways of making money online while you're exploring the world in your RV? Let's dive into the world of reading books for cash, where you can get paid for reviewing and narrating books. These methods are fun and provide a steady income stream without tying you down.
Narrate audiobooks
Audiobooks have a unique advantage over print and ebook formats because they allow listeners to use their time for other activities while listening. Hence, listening to audiobooks has become a unique way to consume books. Over 23% of Americans listened to at least one audiobook in 2021, 15% more than in 2020.
Have you ever wondered who "reads" those books to audiences on platforms such as Audible, Spotify, Chirpbooks, or Audiobooks? Well, you can! You can get paid to narrate books, and programs such as Findaway Voices or ACX (the Amazon Audible program) will pay you to read & record audiobooks.
On both platforms, you can upload your voice samples, review the contracts they require and choose whether you want to work via a royalty share or an hourly rate. Hourly rates for a pre-finished recording can go for $250 or more.
Submit book reviews
Probably the simplest and fastest way to make 100 dollars a day online is to submit book reviews. It involves just three steps: read a book, write your thoughts, and then submit the review online. It's that simple! And just like that, you've made cash by reading books.
Kirkus Reviews is one of the more popular platforms but you can also check out Booklist where you write a 150 to 175 word review. At $15 for each review, you'll need just 7 book reviews to make your 100 dollars!
Monetizing Your Website Using Display Ads
You've got great content on your website – now let's turn those page views into dollars. Ezoic and Mediavine are popular platforms that can help optimize ad placements for maximum revenue potential.
Other Creative Ways to Earn Money Online:
Become a fitness coach by offering personalized workout plans or virtual classes through platforms like Zoom.
Dog sitting is fun and can be a lucrative side gig – check out Rover to get started.
Got a knack for customer service? Offer your skills as a live chat assistant through platforms like LiveChat.
Earn extra cash by participating in paid research studies and focus groups. Websites like Respondent connect you with companies looking for participants.
The possibilities are endless. So, explore these creative online income streams while living the dream of traveling across America in your Airstream. Your next adventure awaits.
FAQs: How to Make 100 Dollars a Day Online
How to Make 100 Dollars a Day Online?
To make $100 a day online, consider exploring options such as affiliate marketing, freelance writing opportunities, coaching services and digital products, social media monetization strategies, selling physical items online, gig economy jobs, or unique side hustles. Building an audience through content creation and choosing the right niche is essential for success.
How to Make 100 Dollars per Day?
Making $100 per day can be achieved by combining multiple income streams like offering coaching services in your area of expertise using platforms like Thinkific or Teachable, partnering with brands for sponsored posts on social media channels, or utilizing Instagram shopping features. Additionally, you can set up an e-commerce store using Shopify.
How Can I Make $100 a Day Working from Home?
You can earn $100 daily while working from home by engaging in freelancing gigs on platforms like Upwork, becoming a virtual assistant providing administrative support remotely, or maximizing income as an Airbnb host if you have available space. Other options include self-publishing ebooks via Amazon Kindle Direct Publishing (KDP) and participating in mystery shopping opportunities.
How Can I Make Money Daily Online?
To generate daily income online, you can:
Create valuable course content that appeals to your target audience.
Sell digital products such as printables or templates.
Become proficient at affiliate marketing within your chosen niche.
Pitch effectively to secure high-paying writing gigs on freelancing websites.
Monetize your website using display ads or sponsored content.
Conclusion
In conclusion, making $100 a day online is numerous ways. Whether through affiliate marketing, freelance writing opportunities, coaching services, and digital products, social media monetization strategies, selling physical items online, gig economy jobs, or unique side hustles – the possibilities are endless.
Following the tips outlined in this post and identifying your area of expertise, you can start building an income stream that works for you. Remember that success won't happen overnight, but you can achieve your financial goals with persistence and dedication.
If you're ready to start making money while traveling, be sure to check out more of our make money blog articles where we share our experiences on how we've been able to earn money while exploring new destinations across the America and beyond.