Explore the Majestic Eastern Sierra on an Unforgettable RV Road Trip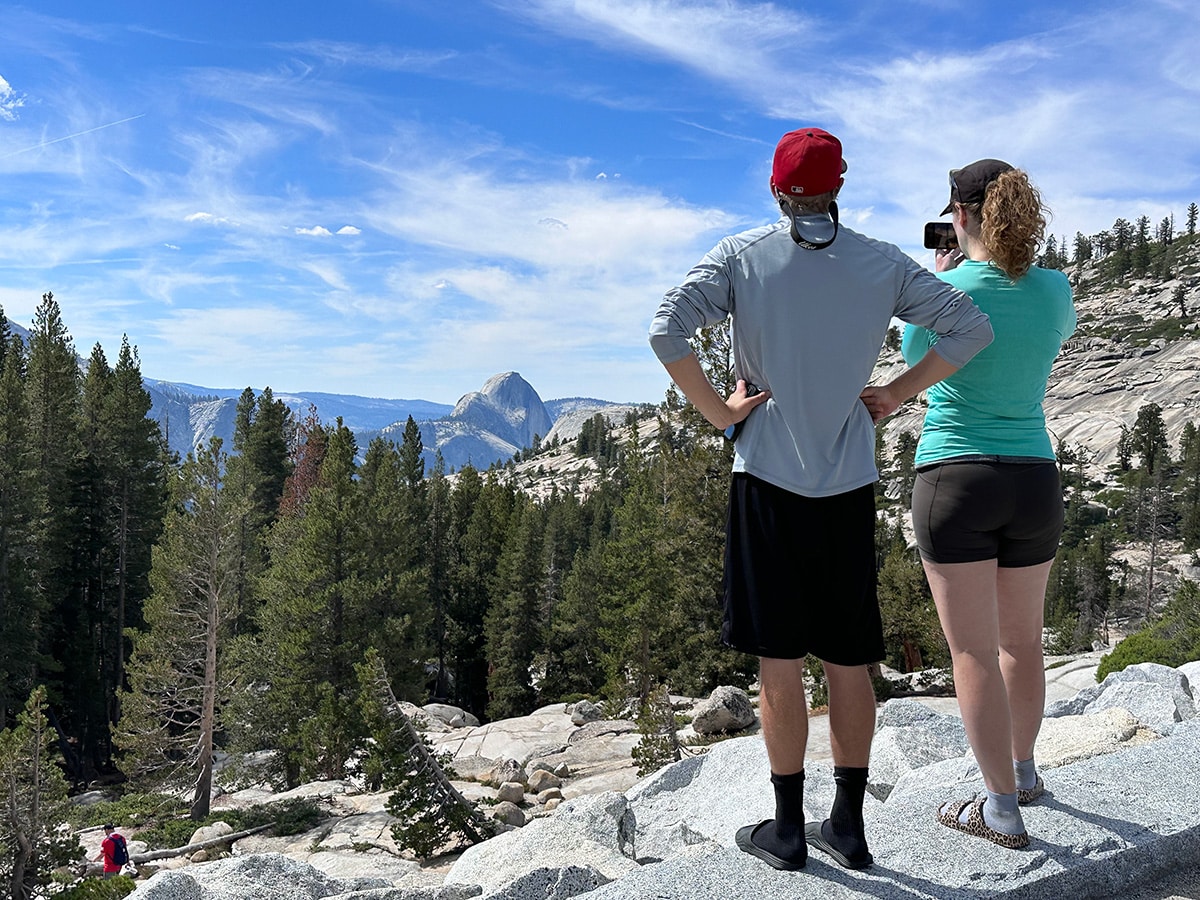 The Eastern Sierras are a treasure trove of natural wonders, and an RV road trip is the perfect way to unlock their beauty. Picture yourself cruising through the breathtaking landscapes in the comfort of your RV, van, or, in my case, my Airstream travel trailer, with the majestic Sierra Nevada as your constant companion.
Off-season is my preferred time to be on the road in my Airstream. Traveling through Yosemite in late September or October, you'll find the crowds are gone, the roads are empty, and you can enjoy the natural scenery and surroundings in all their glory.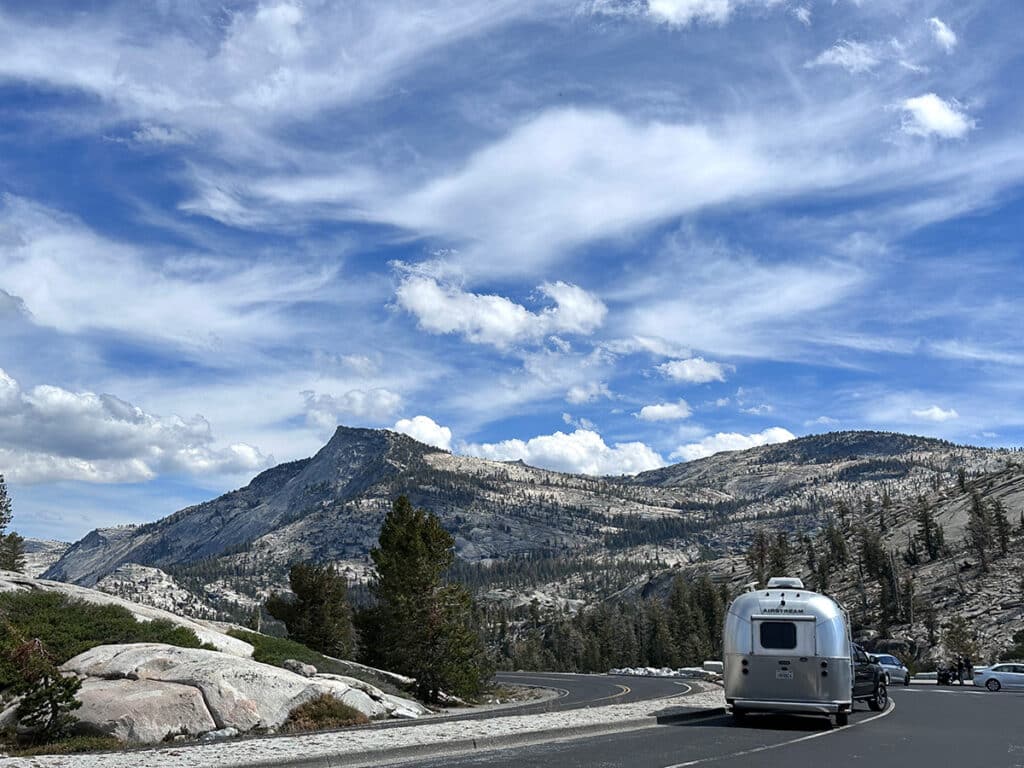 Driving the Tioga Pass Road in the Eastern Sierra
One of the most awe-inspiring drives you'll encounter is on Tioga Pass Road. The Tioga Pass elevation is 9,945 feet. This high-altitude route takes you right through the heart of Yosemite National Park. This scenic journey will leave you breathless as you wind through alpine forests, granite cliffs, and past pristine lakes. The opportunity to spot wildlife like mule deer and black bears is a bonus. Don't forget your camera; every vista is a postcard waiting to happen.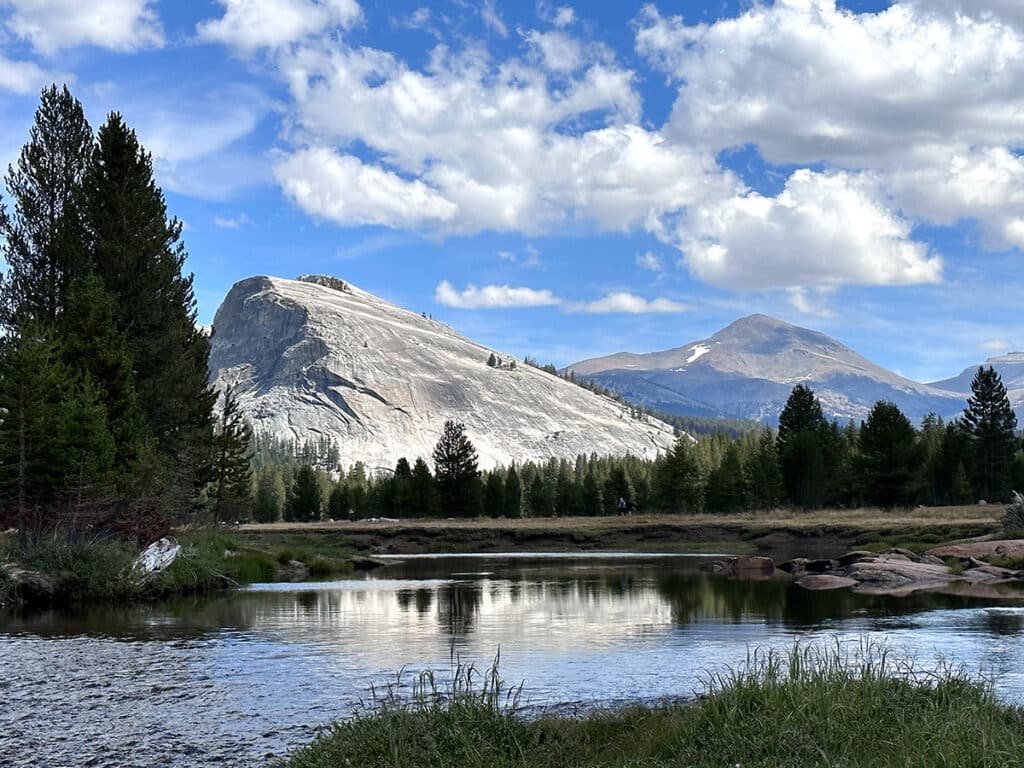 Tuolumne Meadows Pit Stop
Tuolumne Meadows is a must-visit stop along your journey, a pristine expanse of subalpine meadows surrounded by rugged peaks. Take a leisurely walk, picnic, or bask in the serenity of this high-country oasis. You must leave your dogs behind as you explore the paths through the meadows because pets aren't allowed on most trails in Yosemite. Tuolumne Meadows is the perfect place to stretch your legs and immerse yourself in the natural wonders of Yosemite.
As your journey continues, the Tioga Pass Road in Yosemite National Park becomes even more enchanting, especially during the fall when the aspen trees turn brilliant shades of gold and orange. The high-altitude meadows and alpine lakes take on a new and captivating beauty during this time of year, making it an ideal season for photography and outdoor exploration.
Throughout your RV road trip, you'll have the opportunity to immerse yourself in the Eastern Sierras' natural splendor and witness its ever-changing landscapes. Whether you're an avid hiker, a kayaker, a photography enthusiast, or simply seeking serenity amidst stunning scenery, this region has something for everyone.
The Old West Town of Lee Vining
At the Eastern end of the Tioga Road, make your way to Lee Vining, a charming town perched on the eastern edge of the Sierras. The Old West town of Lee Vining, located in the Eastern Sierra region of California, has a rich history dating back to the mid-19th century.
Initially established as a mining camp during the California Gold Rush, Lee Vining thrived as a supply center for the nearby mining operations. The town's name is attributed to Leroy Vining, a prospector who arrived in the 1850s. With the discovery of rich silver and gold deposits in the nearby hills, Lee Vining grew significantly, attracting miners, entrepreneurs, and settlers seeking their fortunes.
However, as the mining industry began to decline, the town's focus shifted towards agriculture, particularly with the construction of the Los Angeles Aqueduct, which brought water from the Sierra Nevada to Southern California in the early 20th century. Today, Lee Vining is a picturesque small town with stunning natural beauty. It serves as a gateway to Yosemite National Park and offers a glimpse into its Old West past through its historic buildings and landmarks.
You'll find RV-friendly campsites for a comfortable and scenic overnight stop here. There are also many areas where free camping can be found in the Eastern Sierras. Be sure to stop by the LatteDa cafe in the morning for a tasty cappuccino or delicious baked goods.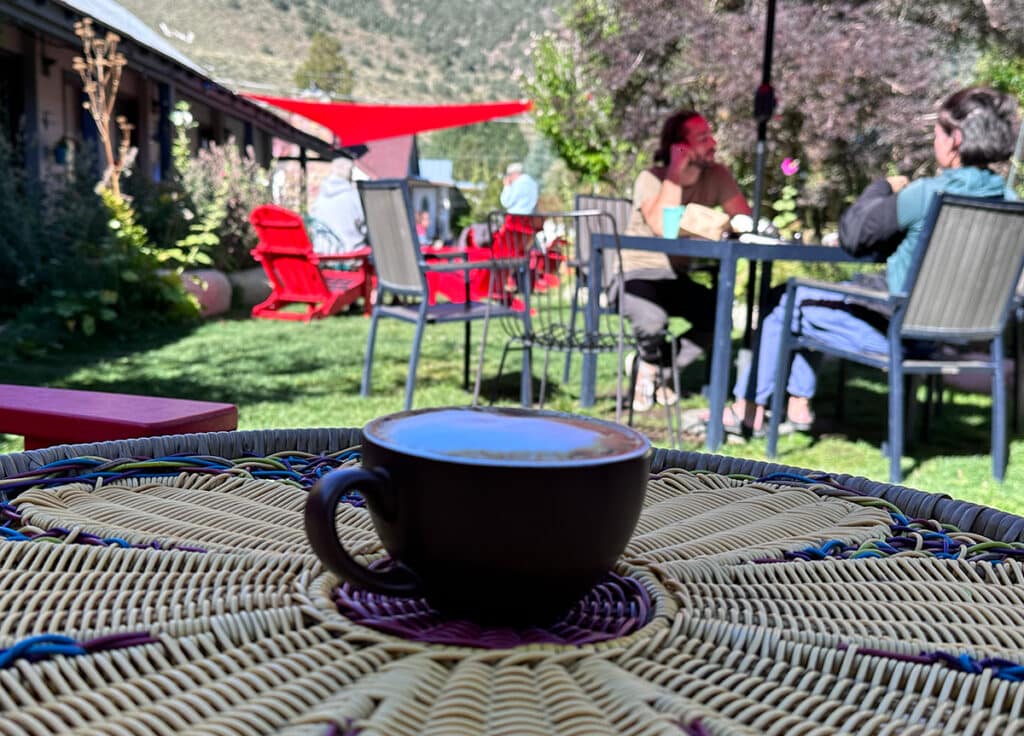 Bodie, Well Preserved Ghost Town
Be sure not to miss Bodie, a once-thriving mining town frozen in time, now stands as a ghostly testament to the gold rush era of the American West. Nestled high in the Eastern Sierras of California, Bodie's desolation today tells a story of boom and bust, with its abandoned buildings, rusty remnants, and the eerie silence of a bygone era.
This well-preserved ghost town allows visitors to step back in time and experience the harsh realities of life in the late 19th century. Walking its dusty streets, you'll encounter saloons, homes, and stores in a state of arrested decay, offering a glimpse into the lives of the thousands who once called Bodie home. The town's isolation, unforgiving winters, and lawlessness have all left their mark, making it a captivating destination for history buffs and those intrigued by the Old West's rugged and often turbulent history. Bodie is a haunting reminder of the impermanence of boomtowns and the resilience of the human spirit in the face of adversity.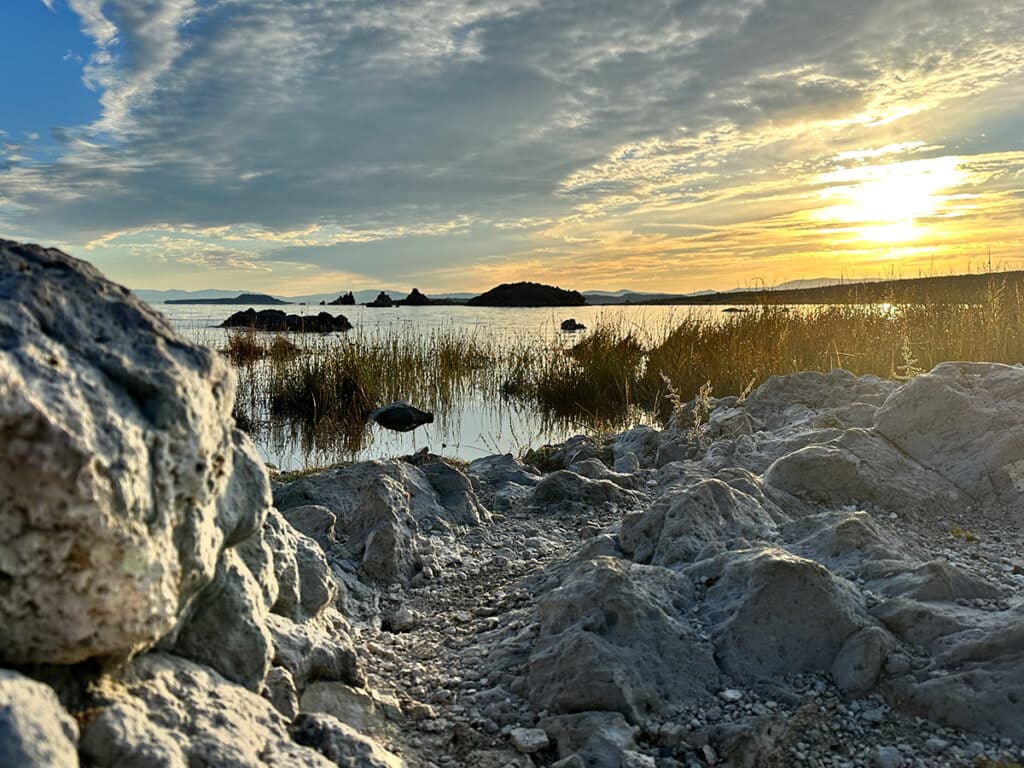 Mono Lake
Wake up early for a remarkable sunrise photo shoot at Mono Lake, a unique saltwater oasis renowned for its ancient Tufa towers. The soft morning light reflecting off the water's surface, combined with the eerie beauty of the tufa formations, will make for some of the most unforgettable shots of your journey.
Mono Lake, a captivating natural wonder nestled within the heart of the Eastern Sierras, is a place of rare beauty and ecological significance. This ancient saline lake, over a million years old, offers a surreal and otherworldly experience. What makes Mono Lake genuinely unique are its haunting tufa towers and calcium-carbonate spires that rise from the lake's surface, sculpted by the interaction of freshwater springs and alkaline lake water.
This ethereal landscape is a magnet for photographers and nature enthusiasts alike, especially during the golden hours of dawn and dusk when the tufa formations are bathed in soft, enchanting light. Beyond its visual allure, Mono Lake plays a crucial role in preserving biodiversity, serving as a vital stopover for migratory birds on the Pacific Flyway, making it a haven for birdwatchers, and a testament to the interconnectedness of ecosystems in this remarkable corner of California.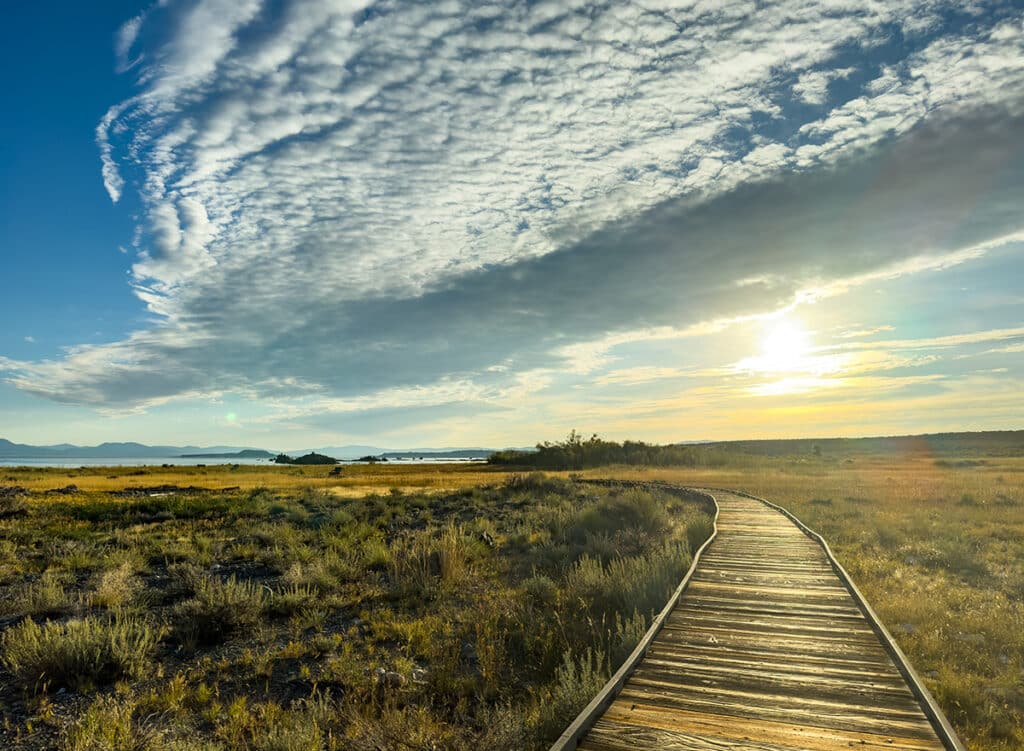 Mammoth Lakes Basin
The adventure continues as you head south to Mammoth Lakes, a year-round playground for outdoor enthusiasts. Here, you can enjoy hiking, mountain biking, or stunning scenery. In the winter, Mammoth Lakes transforms into a mecca for skiers and snowboarders.
You may want to explore the nearby Mammoth Lakes Basin further in the summer and fall, where you'll find a trail network catering to various skill levels. Whether you're interested in a leisurely lakeside stroll or an ambitious summit hike, the Mammoth Lakes area has it all. The crystal-clear lakes, lush forests, and sweeping mountain vistas provide a scenic backdrop for outdoor explorations.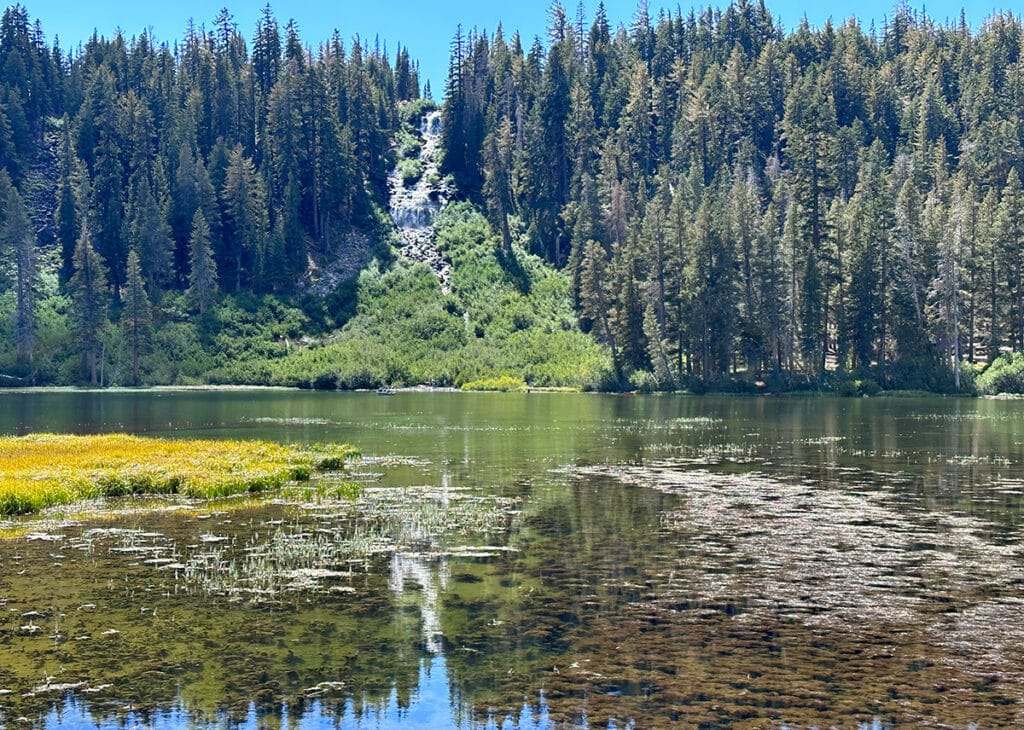 Lundy Canyon
But the grand finale of your Eastern Sierras road trip awaits in Lundy Canyon, a hidden gem known for its cascading waterfalls and pristine alpine beauty. The hike to the waterfalls is a moderate trek, rewarding you with mesmerizing natural beauty at every turn.
As you stand in the cool mist of the falls, surrounded by lush greenery and the serene sounds of nature, you'll know that your RV road trip through the Eastern Sierras has been an unforgettable journey into the heart of California's wild beauty.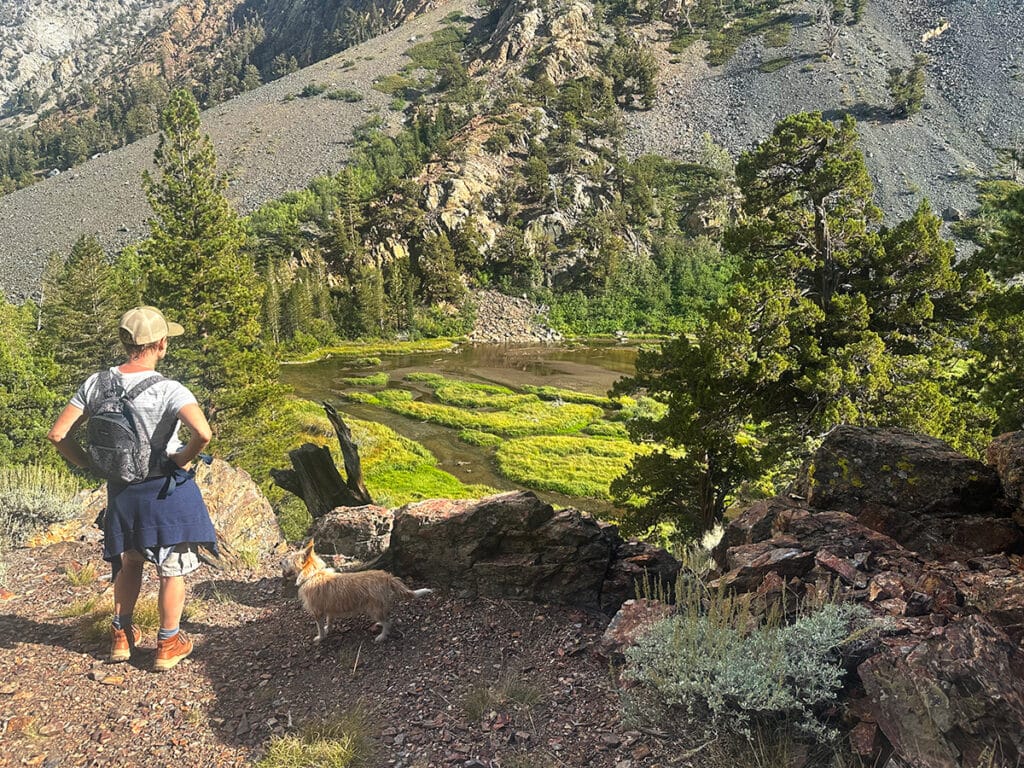 As you continue your RV road trip through the Eastern Sierras, you'll quickly discover that this region is a dream come true for outdoor enthusiasts and nature lovers. With its diverse landscapes and various activities, every day offers a new adventure.
Ancient Trees
As you venture even farther south, don't miss the chance to experience the striking beauty of the Ancient Bristlecone Pine Forest. These ancient trees, some over 4,000 years old, have witnessed millennia of history. Walking amongst these gnarled and resilient giants can be a humbling experience, offering a profound connection to the past and the enduring strength of nature.
And if you're a rock climber, the Eastern Sierras offer some of the best climbing opportunities in the country. The region's dramatic granite walls and boulders provide a challenging playground for climbers of all levels. The world-famous Buttermilks near Bishop and the Alabama Hills, where countless Hollywood westerns were filmed, are two must-visit destinations for rock climbing enthusiasts.
Pack Your Bags
As you wander through the Eastern Sierras with your car, van, RV, or Airstream, you'll appreciate the tranquility and untouched beauty that make this region a gem.
This majestic region offers a unique blend of natural wonder, outdoor adventure, and the comfort of your home on wheels, ensuring that your RV road trip through the Eastern Sierras will be an experience you'll cherish forever.
So, pack your bags, gas up your RV, and embark on a journey that will leave you with memories and photographs to last a lifetime. The Eastern Sierras await – and they promise a road trip you won't soon forget.