21 Expert Travel Trailer Tips to Enhance Your Adventure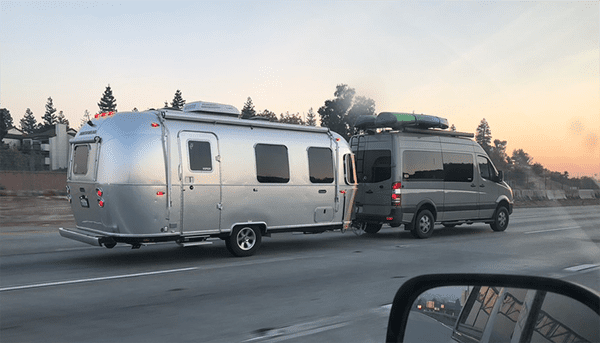 Are you ready to hit the open road towing your travel trailer? Do you know how to set one up? Whether you're a first-time travel trailer owner or a seasoned veteran, these travel trailer tips will help ensure your camping trip is smooth and enjoyable.
With the RV industry booming in 2023, more and more people are taking to the open road. According to statistics, of the total 600,240 RV shipments in 2021, 91% were towable RVs, while 9% were for motorhomes.
Definition of travel trailer
First, let's get an understanding of what travel trailers are. A travel trailer is a towable recreational vehicle towed behind a car, van, or truck. It consists of all the creature comforts of home and can range in size from ten feet to forty feet long. Travel trailers provide campers access to activities and destinations that are impossible due to their mobility and convenience.
When deciding what RV to buy, I looked at vans and travel trailers. Vans have the advantage of being handy, easy to park and back up, and are more like driving a pickup truck or SUV. I was not fond of vans' limited space and could only set up camp and leave my rig there if I had a bike or walked on any excursion, and having a van limited my needs.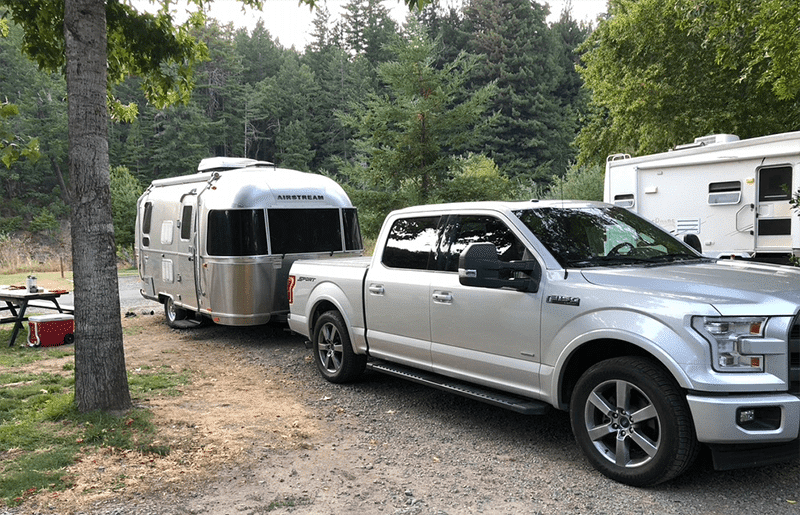 Overview of the benefits of owning a travel trailer
Towing a trailer provides a unique travel experience that combines the freedom of the open road with all the comforts of home. Owning a trailer has many benefits. As I mentioned, I love the convenience of setting up camp, parking my rig, and having my Toyota Tacoma tow vehicle drive to whatever excursions, hikes, or other destinations I want.
They also offer the perfect balance of comfort with freedom. Depending on the size of your camper, it can come equipped with all the stuff you may decide to bring from home. Travel trailer setup can vary, but many offer a kitchen, full bathroom, shower, multiple sleeping spaces, a living space, or a workspace.
Towable RVs come in all shapes and sizes, and many are compact and lightweight and can easily be towed by most vehicles. Like vans, this makes some of them highly convenient for boondocking, allowing campers to access remote areas and explore new destinations easily. Alternatively, you can find a larger RV with additional amenities, such as slide-outs for bringing your family or guests.
These tips for your camping experience will help ensure a smooth and hassle-free camping experience. By following these twenty-one travel tips, you'll be fully prepared for your next road trip adventure! Good luck, and happy trails.
Pre-Trip Preparations
Before you hit the road, it's essential to do some pre-trip preparations. Vehicle considerations are key – check your vehicle's towing capacity and ensure it is capable of hauling the travel trailer.
Investing in a quality trailer hitch is essential for a successful journey – not only does it provide a secure connection between your tow vehicle and travel trailer, but it helps improve fuel economy and reduce wear and tear on both vehicles.
Route planning is also essential – familiarize yourself with the route and any checkpoints and rest stops along the way. Finally, safety should be a top priority – secure the trailer to your vehicle, distribute weight properly, and follow proper driving techniques. A departure and setup camp checklist is a good idea for new RVers.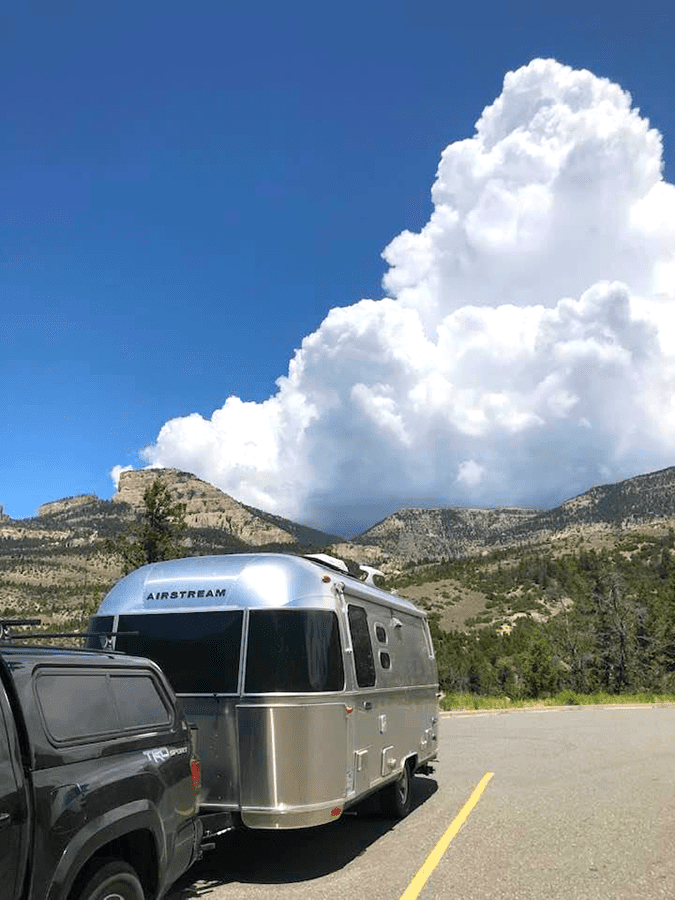 Tow Vehicle Considerations
When towing a travel trailer, it is crucial to know the weight of your trailer when it's empty and complete, the tow vehicle's towing capacity, and the type of hitch it needs.
These are essential specifications to know about whatever setup you buy to ensure a safe and successful journey.
Additionally, it is vital to choose the correct type of hitch for your vehicle. Class IV hitches are designed for heavier-duty applications such as fifth-wheel trailers and have a higher weight capacity than regular class III hitches.
Your Vehicle's Towing Capacity
Your vehicle's towing capacity is the maximum amount of weight that your car can safely tow. It is essential to check the manufacturer's guidelines for information on this, as exceeding the recommended limit can cause damage to the vehicle or even lead to an accident.
Safety and proper weight distribution
Following the recommended safety guidelines and adhering to proper weight distribution are essential when towing a trailer. To ensure your vehicle's safe operation, ensure that the Gross Trailer Weight (GTW) does not exceed the capacity of your tow vehicle.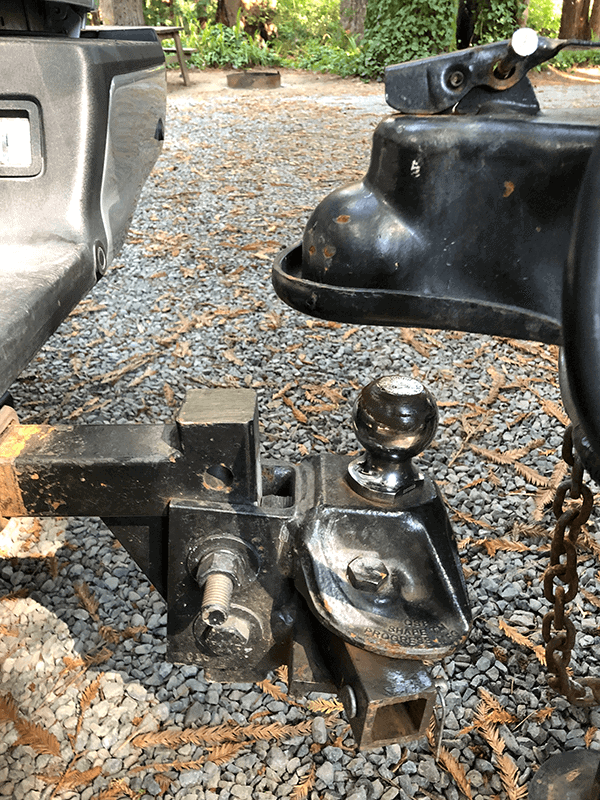 Invest in a quality trailer hitch
Additionally, using the correct type of hitch for your vehicle is critical to prevent any damage or accidents while on the road. I have a weight distribution weight hitch with sway bars which helps avert trailer sway, and as the name suggests, it also distributes the weight evenly across your entire camper setup.
It provides a secure connection between your tow vehicle and travel trailer and helps improve fuel economy and reduce wear and tear on both.
When you hitch up your tow vehicle to your trailer, it is essential to check all wiring and connections before each trip, including verifying that electrical, breakaway cord and safety chains are correctly connected and functioning.
Lastly, inspect the hitch's ball mount and coupler for any signs of rust or wear and tear before each use. Following these simple tips can help ensure a safe journey with your travel trailer.
Choose the correct type of hitch for your vehicle.
Different types of tow vehicles require different types of hitches and weight capacities. Class IV hitches, for example, are designed for heavier-duty applications such as fifth-wheel trailers. They have a higher rating than the standard Class III hit
If you use a Class III hitch, the tongue weight should be 10%-15% of the Gross Trailer Weight (GTW).
Driving & Backing Up
When I bought my first RV, I was a total RV newbie. I had watched some YouTube videos on how to backup up my Airstream, and I had some practice when I rented an Airstream on Outdoorsy. But there was nothing like taking my RV out on the road solo and having some challenging camping spots to navigate that got me on the road to being a backup pro!
You should start your practice towing and backing up in an empty parking lot or open space before taking it on the roads. This allows you to get a feel for the size and weight of your trailer and develop better control over it. Visibility is limited while towing a trailer, so get used to your blind spots and double-check in all directions. Always use turn signals, mirrors, and a backup camera when backing up or changing lanes.
When it comes to driving and backing up with a trailer, the two most essential skills to master are making wide turns and maneuvering in tight spaces. Although these can be challenging at first, they are critical for safely navigating various types of terrain while pulling your trailer.
Packing light is essential.
One of the best ways to maximize your limited camper space is by utilizing space-saving storage solutions. I did my DIY project and turned my clothes closet into a shelf storage unit. I certainly didn't need a place for hanging clothes, but I did need more storage for extra stuff like kitchen pots and pans, a pantry area, and dog food.
The key to packing light is to bring only what you need – no more, no less. I overpacked my truck and Airstream on my first big trip and soon realized I had too much stuff, primarily extra camping gear and clothes I didn't need.
To help you with this, here are some top tips to keep in mind:
Investing in bins and covered totes.
I bought some simple plastic totes with covers and labeled them with extra towels, blankets, and clothes for different weather conditions. I had storage under my bed that wasn't very accessible, but I wanted to see what was down there with a glance.
I packed my essentials in cloth bins. My everyday clothes, toiletries, and cooking supplies needed to be conveniently located. Make sure to plan ahead for meals to avoid overpacking food.
Choose lightweight, versatile items.
I brought extra blankets, which might be used as extra bedding for a guest, lightweight camping towels, an outdoor tarp to keep the dust and dirt away, and safety gear. Lay out what you want to bring and only take half of it! This will help save time and money.
Route Planning Essentials
Planning a route for your travel trailer is an essential part of any adventure, and it helps ensure that you have a safe and successful journey and avoid potential surprises along the way. As a solo RVer, I planned out where I was camping each night and the route I would take before I started driving every day. Being solo, I could only look at maps or make detours if I stopped at a rest area or gas station. I could also check into the RV community and ask about any tried and true tips if I had specific questions.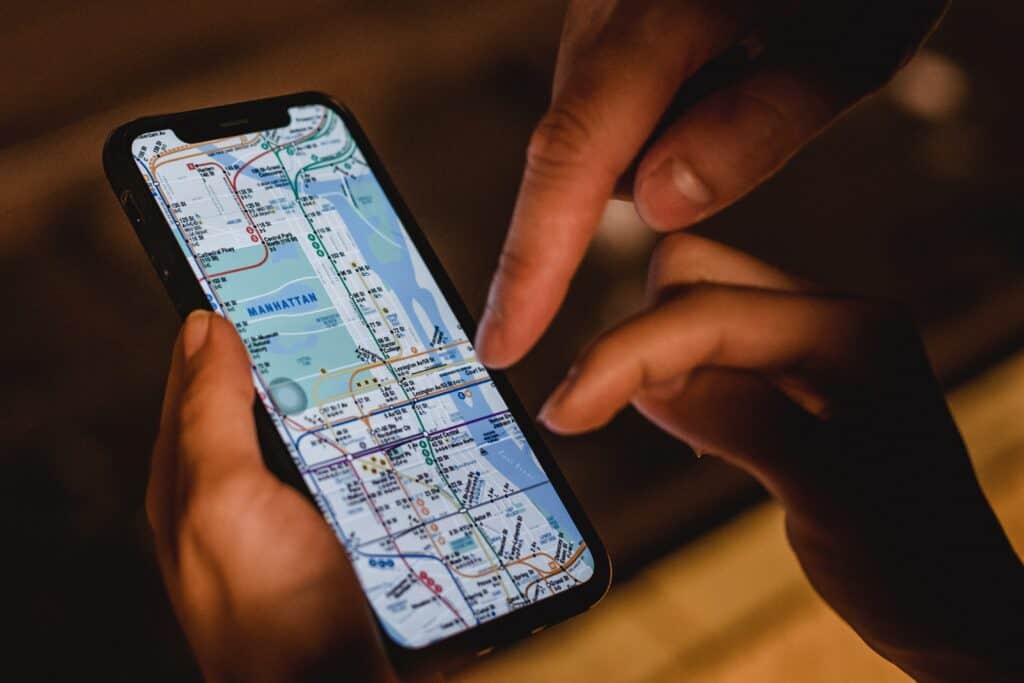 RV Travel Apps
Google maps directed me down back roads several times that were barely drivable. Those close calls led me to use travel planning apps like Roadtrippers, Trip Wizard, or Harvest Host. With these apps, you can create a customized RV safe route based o the size of your RV setup. They can help you familiarize yourself with your destination and find the best gas stations along the way.
Since I was RVing with my dogs, I also needed to find safe and accessible rest stops that were easy to pull on and off the roads. As a precaution, each time I stopped, I always checked my hitch, lights, and safety cords.
I used apps such as Harvest Hosts and Campendium to get reviews on campsites and to book them ahead of time. By planning, you can make sure that your camping adventures go smoothly from start to finish.
Safety During the Trip
As if you didn't have enough to think about, here are a few more crucial safety aspects of RVing once you are on the road.
Maintain Proper Tire Pressure
It is important to check and maintain proper tire pressure on your trailer and tow vehicle throughout your journey for a smooth ride. I carry a tire changing kit for my Airstream as well as a tire pressure gauge. Cold weather can cause tires to lose air pressure, so checking your tire pressure regularly and keeping it at the recommended level is essential.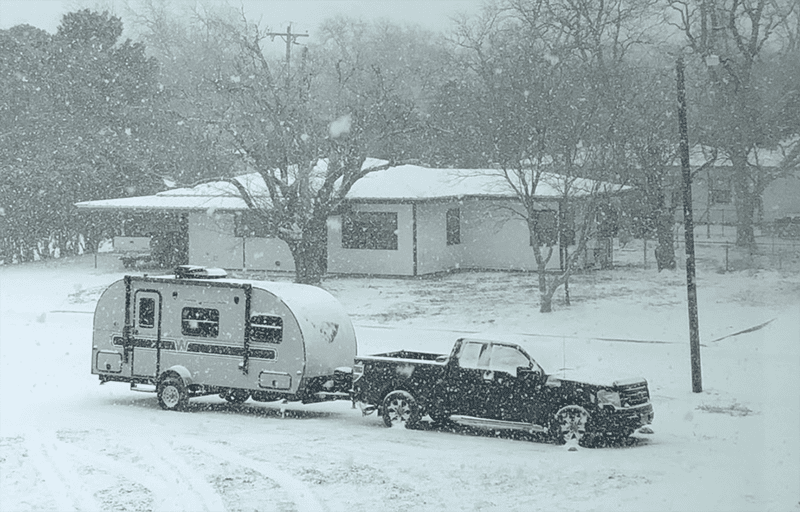 Be Aware of Weather Conditions
Weather conditions can immensely impact your journey when traveling with a travel trailer. During my cross-country journey, I had several close calls with high winds, an ice storm, and severe thunderstorms, so I highly recommend downloading the NOAA weather app.
In these days of extreme weather, it is important to be aware of the road conditions and storms ahead and to plan accordingly. Heavy rain, snow, strong winds, or ice can make towing a travel trailer much more difficult, so it is important to be prepared for these conditions.
Speed Limits when towing a trailer
In California, where I live, when I'm not traveling, the speed limit for vehicle towing is 55 miles per hour, and other states have different speed limits. As soon as you cross the border into Arizona or Nevada, anyone towing including the big rig truckers can go 70 sometimes 75 miles per hour.
I never went over 60-65 miles per hour while towing purely out of safety concerns. It is important to be aware of the speed limits and adhere to them wherever you are. I was comfortable letting other drivers pass me by.
Depending on the size and weight of your trailer, you may need to reduce your speed even further. Speed limits are generally lower for heavier trailers, so you should reduce your speed accordingly if you're driving over 6,000 pounds.
Passing other vehicles
Give yourself plenty of space and time when passing other vehicles. This will reduce the risk of an accident or having to stop or swerve suddenly. On highways, you should signal your intention to pass and then move to the left passing lane. Also, be mindful of wildlife when towing a trailer. Animals like deer can quickly cross the road without warning, so it is essential always to remain alert while driving.
Setting Up Camp
Once you've arrived, it's time to choose a suitable level campsite. Typically, you are assigned a designated area at an RV Park or campgrounds, but you still need to adjust your rig to fit your campsite.
Hooking Up Your Water, Sewer & Utilities
If you're at an RV site with hookups, adjust your trailer to the correct position for hooking up your water, electric utilities, and sewer if available.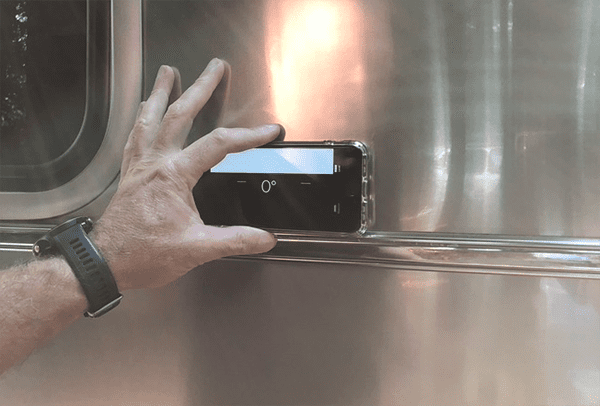 Leveling your trailer
As you choose your perfect camp spot, pay attention to how level the area is. Some RV sites have level concrete pads which make leveling easy, and many locations do not. You must decide where to put your rig and how best to make it level.
Before you unhitch from your tow vehicle, you must ensure your trailer is level. I carry a small hand level for this purpose. Some people I've seen superglue a level onto their trailer, and others have a level already installed in the hitch. You may have to add leveling blocks under one or both tires. Part of the fun of setting up camp is personalizing and fine-tuning your campsite.
Block Your Wheels & Bring Down the Stabilizers
The last step is to block your wheels with blocks and then unfurl the crank-down stabilizers. Some people use a power drill, and I use the hand crank provided on my Airstream to extend for all four sides manually.
Unhitch Your Tow Vehicle
The last step is to unhitch your tow vehicle if you are staying at your camp for a while. It's good practice to have a checklist for setting up camp and then departing and breaking down your campsite and hitching back up.
Conclusion
RVing with a travel trailer can be an exhilarating experience, but it is essential to remember that you are driving something much more significant than your typical car. By following the tips in this article, including maintaining proper tire pressure, being aware of weather conditions, adhering to speed limits when towing a travel trailer, passing other vehicles safely, and setting up camp correctly, you will ensure that your journey goes as smoothly as possible.
With these 21 must-know travel trailer tips, you'll be well on your way to the adventure of a lifetime! So don't wait any longer – confidently explore our beautiful planet, knowing you have all the information necessary for success.