Follow Your Dream: An Essential Guide to RVing for Beginners in 2023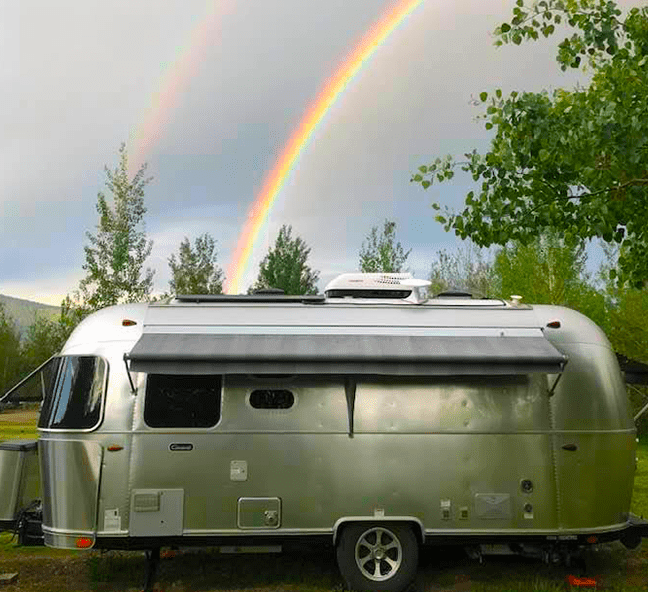 If you're an RV newbie and you've ever dreamed of hitting the open road in an RV, then this is the RVing for beginners guide is for you. I wish I had this RV guide when I started my RV life. RV living can be an incredibly fun and rewarding experience, but it's important to do your research before taking the plunge.
Whether you want to be a part time or full time RVer or you want to enjoy camping trips with friends and family, in this guide, I'll cover everything RV newbies need to know to get started with living in your RV.
By the end of this guide, you'll be ready to hit the open road with confidence! So what are you waiting for? Let's get started!
If you purchase through our partner links, we get paid for the referral at no additional cost to you! For more information, visit my disclosure page.
How to Follow Your RVing for Beginners Dream
So you have a dream of downsizing your life and taking off and living in an RV, traveling around the country free as a bird, stopping where ever you want whenever you want. Sounds good, right?
Well, that's exactly the dream I had, and here's how I made my RVing for beginners dream happen.

How my RVing for beginners dream began
My RV living dream started with the marketing message you might have heard called "Living the Dream". It's an alluring brand message created by Airstream and for me it worked to sow the seed of my adventure RV travels. I wanted to buy an Airstream, hit the road and go RV camping. Being a travel photographer, slow travel has always appealed to me. I envisioned camping trips in iconic places and getting up at sunrise to catch the best morning light.
I decided that my first big camping adventure in my Airstream was to spend a year criss crossing the U.S.A and experiencing the many cool and unique things on my bucket list. Starting in California and ending up in Maine, I wanted to have a big memorable journey that included stopping to see friends and family along the way.
And finally, I knew that RVing would allow me the freedom to travel easily with my 2 rescue pups. RVing with my dogs is so important to me. And like a turtle, I wanted to take my home and family and my camera gear with me. So that was my RV living dream in a nut shell.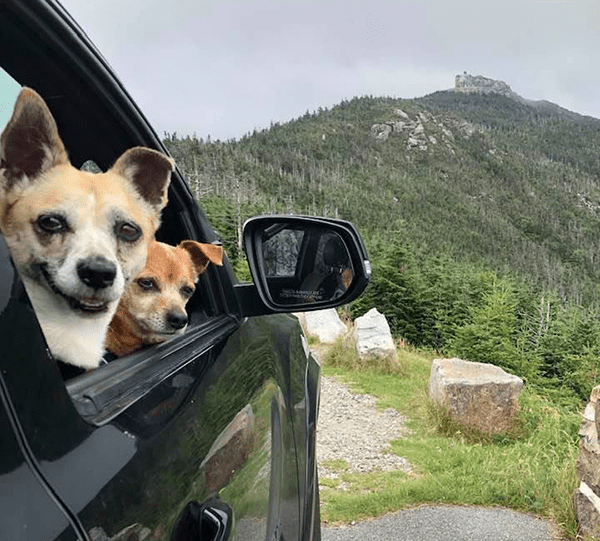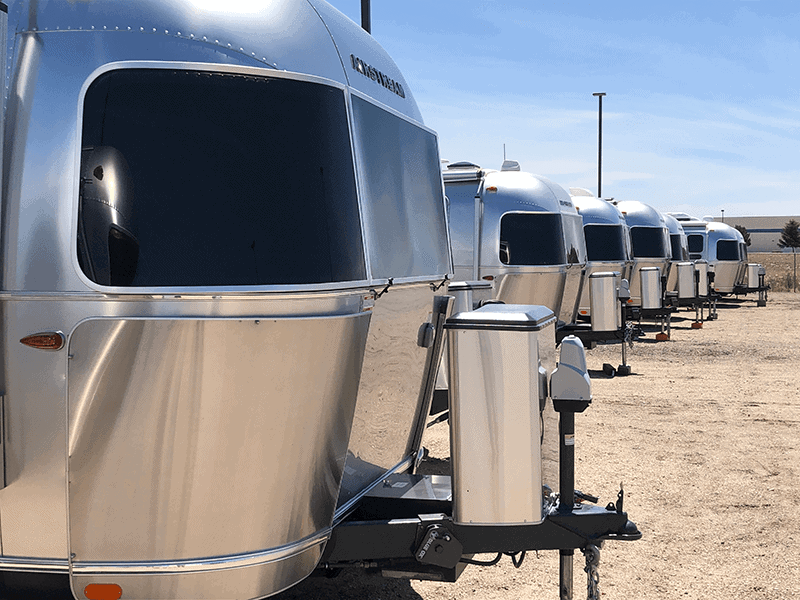 How to Start Your RVing for Beginners Life
It might help by answering some of these big questions first.
What does your RV dream life look like?
How do you envision your new RV life? There is nothing quite like the freedom and adventure of going RVing. Hitting the open road is an alluring idea for lots of people. Where do you want to go camping? What activities do you see yourself doing?
And then there's downsizing. Do you see yourself selling all your stuff and living FT in your RV? Or maybe you downsize but just take off for a couple months or a year? Maybe you don't know for sure yet and that's ok. The best part of the RV life is you get to see the world in a whole new way, while still feeling cozy and secure in your home on wheels.
Ask lots of questions and get lots of advice
As we all know, there is no end to the wealth of information out there. Your Google search probably lead you here. I found talking to RVers who have gone through the experience to be some of the most valuable resources around.
I interviewed a close friend who had just gotten back from a year long trip cross country in her Lance travel trailer and her Ford F-150 truck. We talked for hours about everything from towing to trip planning to membership sites and how to outfit my RV. She also gave me the confidence that I could learn how to tow a travel trailer and back it up!
I also watched many YouTube videos to understand how much I can tow?, how to back up an RV travel trailer, and much more.
I also joined online RV & Airstream groups, so when you ask a question, be prepared for multiple answers, opinions, and advice. An important point most RVers in these groups agreed on is that they never use Google Maps when pulling or driving their RV, and there are other dedicated RV trip-planning apps you should use instead. Ultimately, you will need to weigh it all for yourself and decide what is best for you.
What type and size RV do you need?
Deciding how much space you need for your RV lifestyle is a key factor in making sure your travels are as comfortable, convenient, and enjoyable as possible. When it comes to being comfortable on the road make sure you map out the space you will need for you and your loved ones. Maybe you are flying solo, like me. Or perhaps you have a partner and maybe kids or dogs then how much space will they need for sleeping, eating and lounging? Consider luxuries like bathroom size, wet or dry baths, living area size, and kitchen amenities.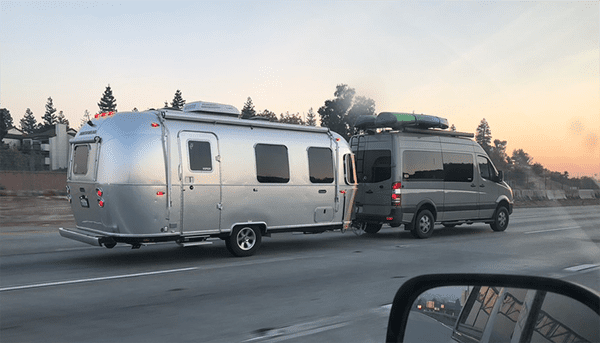 How do you buy an RV?
Start by checking out some online resources such as RVT.com or Airstream.com to begin to match your requirements to what types of RVs you might consider buying. There are so many different makes and models to chose from from motor homes, fifth wheel, Class A, Class B & Class C to travel trailers, truck camper & vans. Choosing the right rig for you is going to be a very personal choice.
When I was first deciding what to buy, I was trying to decide between a Sprinter van and an Airstream travel trailer. They were both very compelling to me for different reasons. I needed space for just me and my 2 small pups but I still wanted plenty of room since I wanted to stay on the road long term. The thought of towing a trailer was quite daunting to me at the time.
The Airstream won out because it's such an iconic design and I loved the idea of setting up camp in an rv park and then having my truck to go off on adventures. What factors will influence your buying decisions? Start a list and consult your family members.
Rent an RV. Take a Test Trip or Two
If you are anything like me, you may feel apprehensive about towing a travel trailer. One solution is RV rentals to try out an RV for the first time. So you don't spend gobs of money on buying the wrong RV.
Taking a test drive by renting an RV is an excellent idea if you are having trouble deciding what to buy. Many people take advantage of RV rentals each year for their first RV trip. I borrowed my friend's Ford F-150, then went on Outdoorsy and rented an Airstream travel trailer for a week. Renting an RV is very easy, and there are many options. I was still very intimidated about towing anything, so trying out the towing experience before buying my Airstream was very helpful.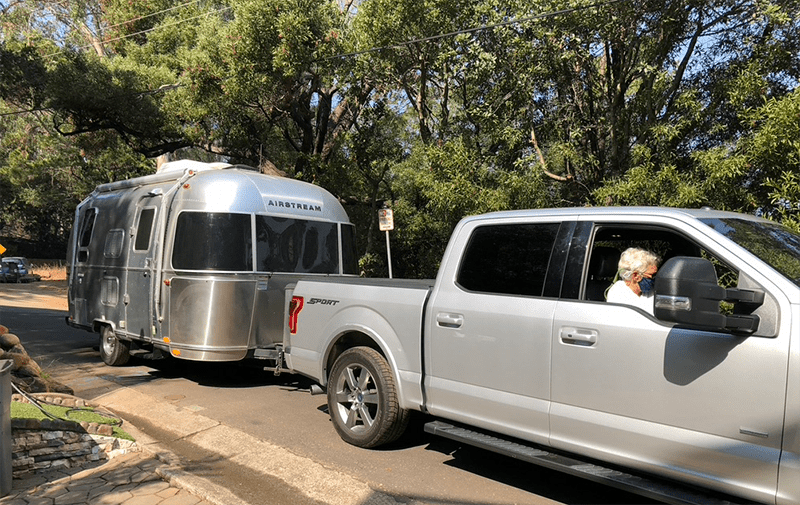 RV Rental Companies
RV Share is another place where you can rents many types of RVs. These are all from regular people just like you who are renting their RVs when that aren't using it.
I can still remember when the guy I rented from simply hitched up his Airstream to my tow vehicle and told us to have a wonderful trip. And I was like, really? You're just gonna let us drive off? This is crazy, I thought. I have no idea what I'm doing. As my friend and I navigated down the narrow curvy streets of Sausalito and all I kept thinking was please don't let me hit anything! It all felt so unwieldy and uncomfortable.
But there in lies the fun of it all. The only way to make your dreams come true usually is to get way outside of your comfort zone and that I did.
How will you finance your RV lifestyle?
Financing your RV
What options are available for financing your RV? And how are you going to pay for your trip as you travel? Since I bought my Airstream used, I had to come up with the total amount in cash to pay the third-party seller.
Low-interest RV loans are available through companies such as LightStream or through the dealers if you are buying a new RV. Other financing options might be available through banks, credit unions and other lenders even friends. I managed to secure a personal loan from a friend, so don't rule out creative ways to find the cash you need.
Deciding the best RV to buy
Searching for a Used RV
By Jan 2021, I was sure I wanted an Airstream, and I even had decided on the model and length based on wanting a Toyota Tacoma as my tow vehicle. This is where my research, asking questions online and watching Youtube videos helped me narrow my choices immensely. I went to the local Airstream dealer, but the wait time for a new one was 3-5 months. So I opted to search for used Airstream travel trailers. Remember to determine the RV camping trip you want to do and keep that in mind when deciding what kind of RV you want to buy.
Then about a week later, a friend who had been helping in my Airstream search called and said I found the perfect one she said and I even called the guy BUT you have to decide today! So of course alarm bells go off. Being rushed and acting right away on an ad in RV Trader seemed sketchy to me.
But I took a leap of faith and called the guy and Ken couldn't have nicer and more knowledgeable. But he did want to sell it right away and he also lived in Texas and I'm in California!
Long story short, I flew to Texas with a cashiers check, met Ken and his wife, met my new Airstream and got a quick rundown and decided on the spot ( I've got good intuition) to give him the cashiers check ( I did get the title) and then I flew home.
Buying a Used Airstream
I returned to Texas in mid Feb driving my new Tacoma and ran smack in to the 2021 Texas Ice Storm. I got waylaid for 5 days in West Texas, but finally managed to get back to Ken's and get a 2 hour lesson on everything I needed to know. Because remember I'm a total rv newbies at this point, I didn't know about weight distribution hitches, AGM batteries, waste disposal hoses or water systems or anything at this point. I had never even towed anything yet!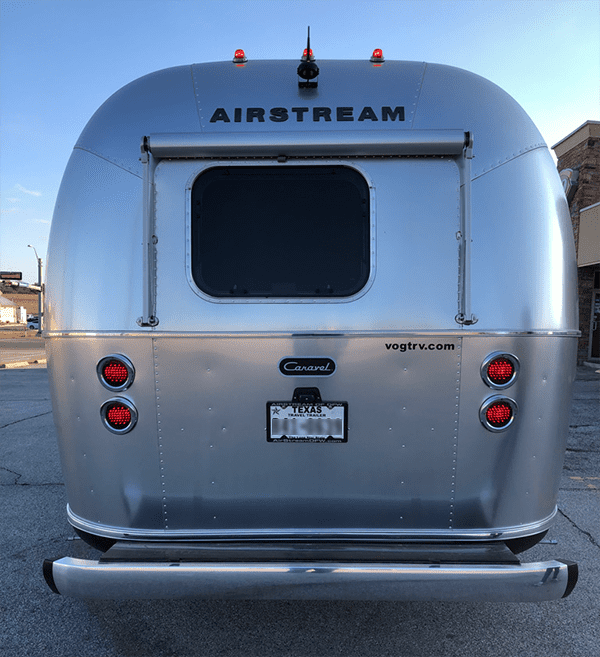 Later that day, Ken helped hitch me up drove with me around the back roads for 20 minutes and then sent me on my way. Off I went with my very own used Airstream following along behind me. To say the least, I was a bit overwhelmed at first, but also thrilled and proud of myself for taking a very big first step in my dream!
As my friend Peggy always says, "Prepare to make mistakes and give yourself grace in doing so".
Ok so you own an RV, now what?
RV Memberships
As an RV newbie, I found membership sites invaluable for overnight RV camping, discounts, and community. Make reservations ahead of time. Popular campgrounds, especially National Parks during prime season, and State Parks book up far in advance. If you plan to stay at RV parks, plan and book far out. These campground memberships can help you save.
Harvest Hosts
Harvest hosts is a membership site for $79/year which gives you unlimited overnight stays at over 4176+ incredible locations including farms, wineries, breweries, attractions, and more across North America.
I loved my Harvest Host farm stays where I got to stay on alpaca farms, maple sugar farms, blueberry farms and in apple orchards to name a few.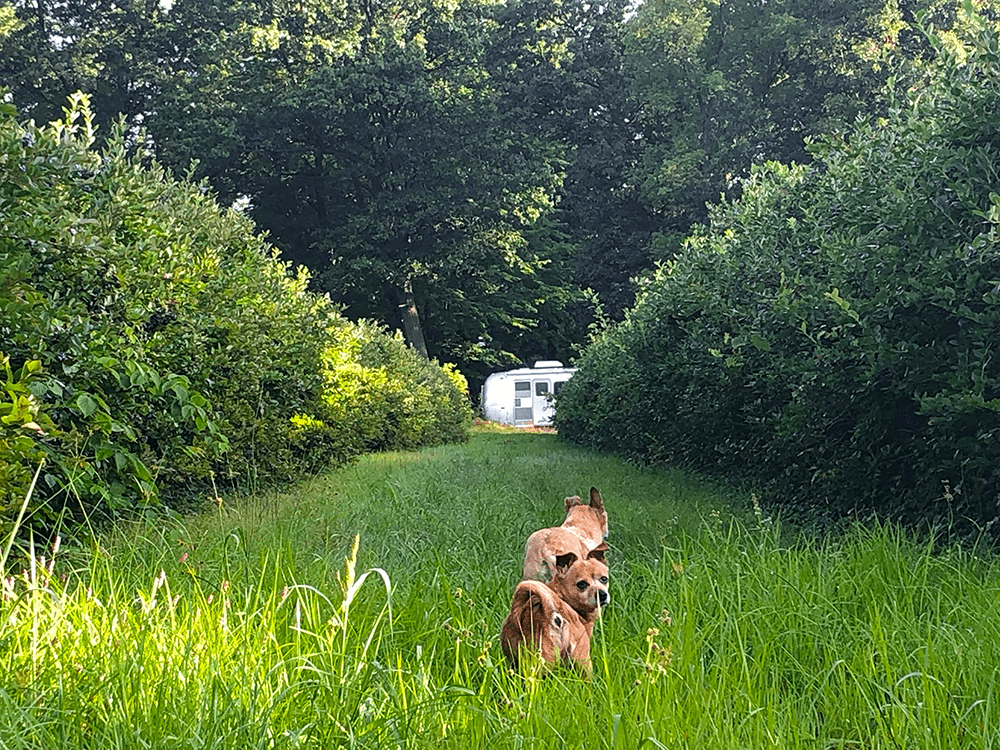 Escapees RV Club
Xscapers is a community within Escapees RV Club created for working-aged RVers. This is a group offers tons of resources like education, discounts, and even events where you can meet up with other members.
Passport America
Stay at Over 1,200+ Quality campgrounds across the United States, Canada, and Mexico at half the nightly rate.
Good Sam Club
Good Sam Club membership starts at $29/year. It is an international organization of RV owners focused on making RVing safer and more enjoyable and saving members money through club-endorsed benefits and services.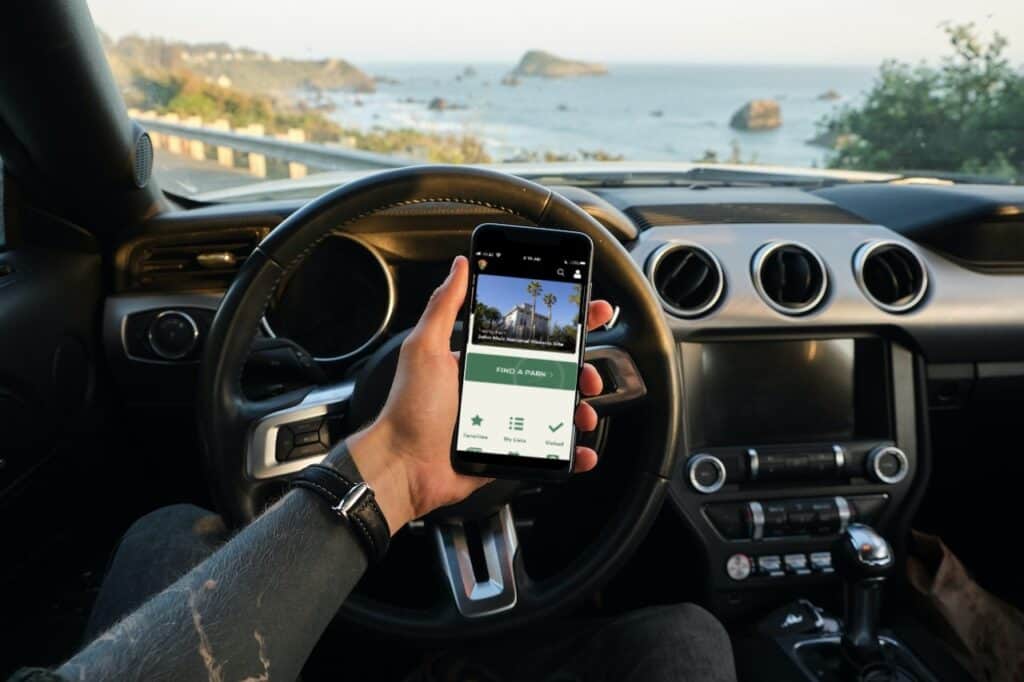 Before you hit the road
Get To Know Your RV
Before you hit the road, get familiar with all aspects of your RV operating systems, safety gear and hitching and unhitching. Make a checklist for everything to do before hitting the road and then once you get to an RV campground.
Learning how pack and organize your rig
The first time I opened the door to my trailer after having been on the road for several hours I couldn't believe the destruction I encountered. Things had flown all over the place, and I thought I had put most stuff away. Its amazing the movement that happens with a trailer, they say its like a mini earthquake.
You might want many essential products for your life on the road. An RV water filter was one of my first purchases. Some campgrounds and RV parks have high plumbing pressure, and you don't want to damage your RV plumbing. Water Filters allow you to filter out contaminants and reduce bad taste, odors, sediments, bacteria, and chlorine.
Determine your maximum towing capacity
To determine maximum towing capacity, you will need to know the vehicle manufacturer's weight ratings and compare them against the gross weight of your trailer. Most vehicles have the trailer towing capacity listed in the owner's manual, on the driver-side door jamb, or in a trailer towing capacity guide on their website.
If the vehicle's ratings are higher than the total weight of the trailer, the trailer is safe to tow. If the trailer weight exceeds the vehicle's ratings, the trailer should not be hitched up to the vehicle. Here is an excellent article on towing capacity which explains all of this in more detail.
Learning how to tow
When I traveled started my travels in May 2021, it was obvious RV travel was still a huge deal and there were all kinds of RV beginners out there just like me. Many of them were probably on the road for the very first time and 1 out of 5 was towing something! Yikes.
In order to avoid the stress and headaches of towing, I suggest you get a sense of everything that you need to do and then practice. Practice hitching and unhitching, leveling the trailer at the campground, adjusting your mirrors, learning how your brake controller works, testing your backup camera. My biggest fear was backing up into a campsite by myself. Remember, I was traveling solo and the pups weren't much help.
In addition to your vehicle's towing capacity, you need to know the weight of your hitch and the importance of your trailer. To be safe, everything needs to work together seamlessly. Here is an excellent towing guide with everything you need to know in RV Life.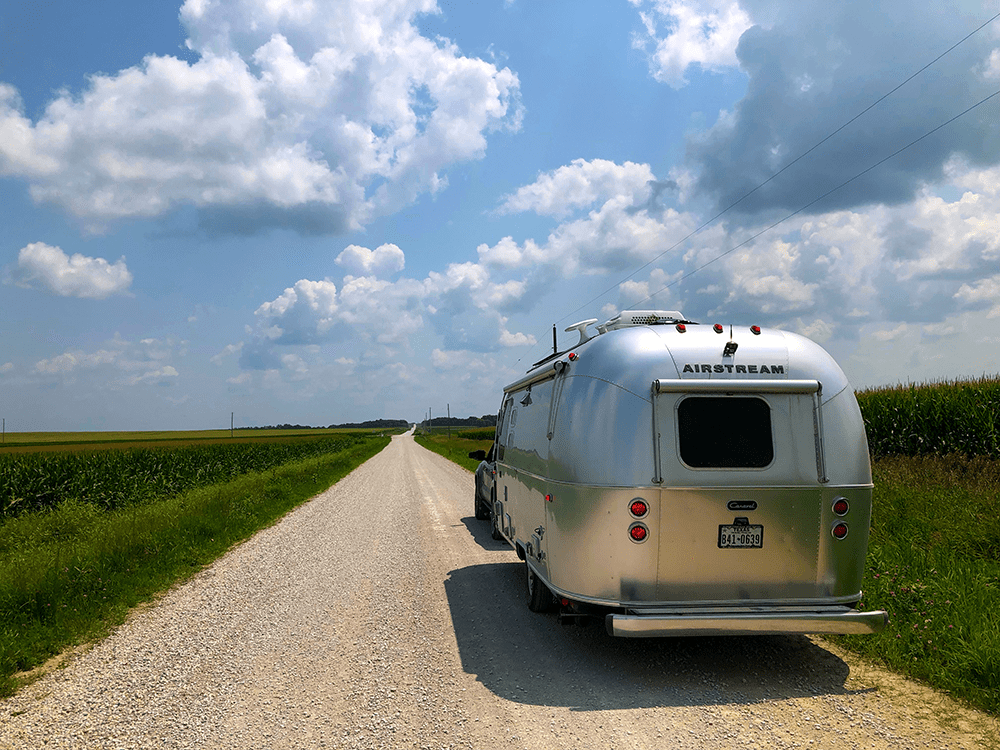 You're Ready to Hit the Road!
Here are 7 RV Beginner Tips for Your First Road Trip
1. Go through your departure checklist before you leave
Since I am a solo RVer and an RV beginner, it's good practice to have departure & arrival checklists. There are so many areas to pay attention to that you want to remember an important step. It would be best to start with safety by checking your hitch setup, and hazards, ensuring everything is secured inside & out and all your hoses and connections are put away.
2. Choose your Campsite & then Plan Your Route
Depending on what time of year you are traveling and where you are going make sure you have a campsite booked before you hit the road. Several RV travel apps such as The Dyrt, AllStays, FreeRoam, and RV Parky. might be helpful.
Use an RV GPS such as RV Life or mobile apps like Roadtrippers Route Planner to make sure you don't end up on any roads where you may find yourself in trouble. Google Maps may be great for car travel, but sometimes it can lead you down the wrong path in an RV. Being spontaneous and stopping along the way is fine but know where you will be parking your rig that night.
3. Check Weather Conditions
This is SO important in this time of climate change. Having been waylaid by the Texas ice storm, a scary thunderstorm in Kansas and fierce winds in Arizona, I am religious about knowing the weather that is ahead of me. The NOAA Weather App has amazingly accurate weather and I would highly suggest you add this to your trip-planning ritual.
4. Travel Slowly & Enjoy the Ride
As a solo traveler pulling a travel trailer I never go above 60 or 65. Granted I do have trailers blasting pass me but that's ok. I'm fine giving them space and me the peace of mind driving at a comfortable pace. And check out this post, if you have dogs and want to bring them along too
5. Limit your Daily Drive Time and Use Truck Stops for Pee Breaks
I plan to drive 3-5 hrs each day with stops for pee breaks for the pups and at scenic places. I almost always use Google Maps satellite view to see what to expect at gas stations before I pull in, and it shows me which way to pull in my travel trailer and where to pull out safely to get back on the highway.
Try to use a truck stop gas station over a standard gas station when possible because they are more spacious fueling layouts. Love's, TA Travel Centers, and Pilot Travel Centers are popular chain versions across the United States. Even if you love driving, don't push yourself, and you will be happier once you get there.
6. Trust Your Gut
If you get to a boon docking spot or somewhere that just feel right, then trust your gut. Find someone to talk with about the safety, my the campground host or a camper. I've not had any bad experiences and I plan to keep it that way.
7. Don't Arrive After Dark
Enough said.
Conclusion
As you can see, following your dreams and embarking on a life of adventure is possible with the right preparation. With this best RVing for beginners guide, you have all the essential information needed to get started in your new and awesome RV lifestyle. Financing your RV, understanding RV systems and learning how to maintain it are critical components that will help set you up for successful travels in the years to come.
With preparation, research, and a good understanding of whichever RV you choose, you will be well on your way to creating a unique home base for your travels. With time and practice, you'll soon immerse yourself in your newfound freedom and adventures. And here are some amazing bucket list adventures for you to take!
Safe Travels!