7 Tips Every Dog Lover Should Know Before RVing with Dogs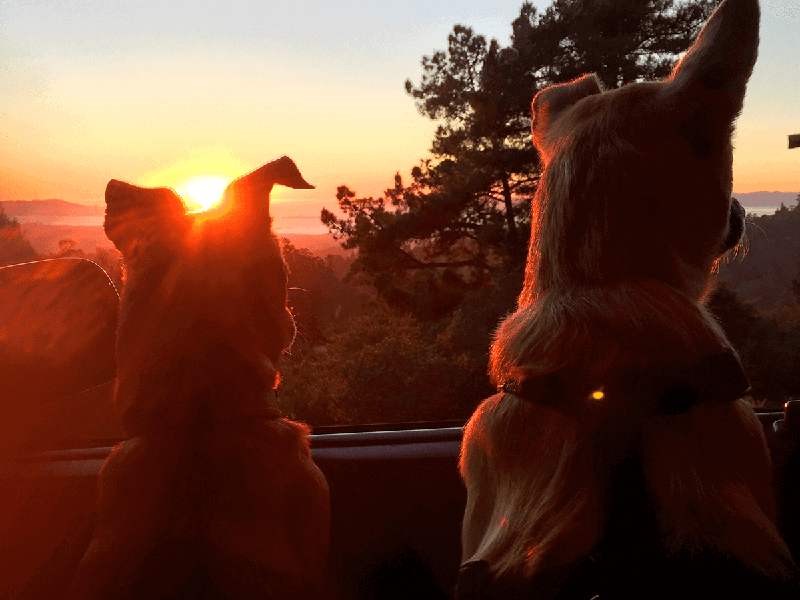 RVing with dogs is a great way to explore the open road and enjoy nature's beauty with your best fur friends. To make your trip an unforgettable experience, you'll want to ensure you are well-prepared before setting off on your adventure. When I was an RV newbie I read everything I could about how to take care of my pups while traveling. All of my experiences on the road along with the invaluable information gathered from other RVers has lead me to write this post.
Bringing your beloved pet on the road with you means no separation anxiety and fewer expenses than if you left them home. You won't have house sitter or boarding costs, no extra hotel fees, or extra plane tickets and fees.
Over 61% of RV owners bring their pets along on their RV camping trips, according to the RV Industry stats. Most campgrounds actively welcome pets to their establishments; many have specific dog trails and parks.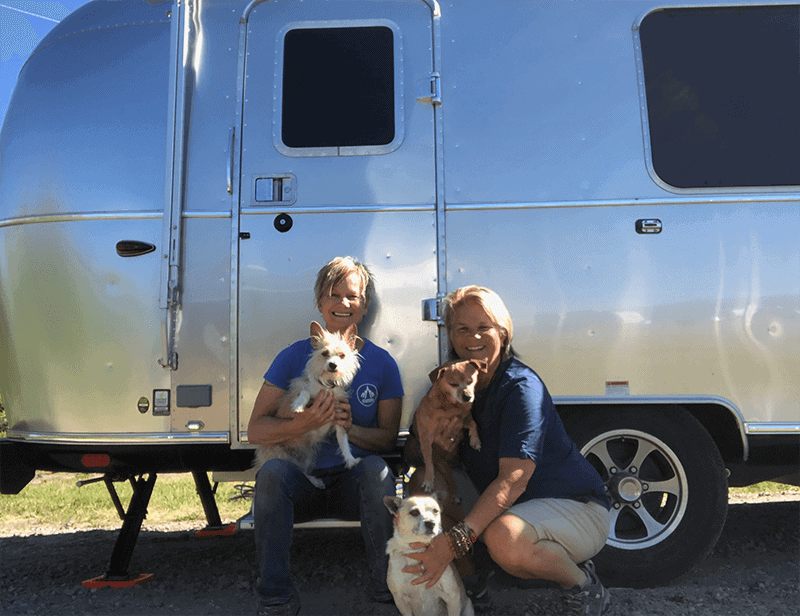 If you purchase through our partner links, we get paid for the referral at no additional cost to you! For more information, visit my disclosure page.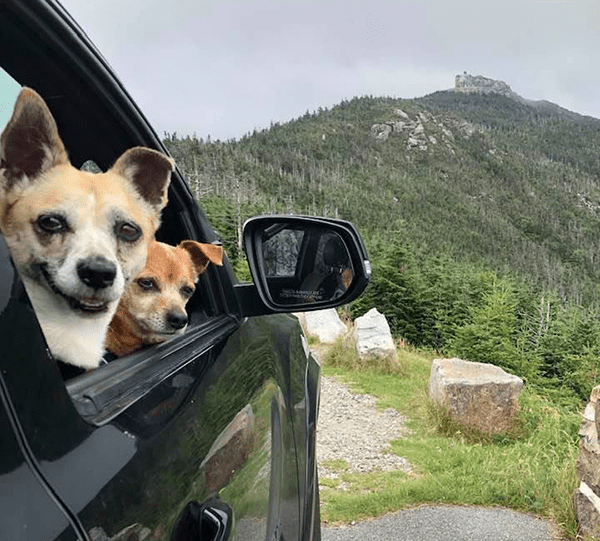 RVing with dogs can be a blast for you and your four-legged friend. But before you hit the road, you should know a few things to make the experience go smoothly.
Check out these seven tips every dog lover should understand before RVing with dogs. Trust me. Your pup will thank you!
Here are 7 tips I put together before the pups and I took our first trip.
1. Preparation for your RVing with Dogs Trip
Print out your dog's vet and vaccination records
Since I was planning to travel to Canada on my cross-country trip, I first checked to see what was required for border entry. Sure enough, my dogs would need their travel papers too, and they required updated vaccines, an embedded ID chip, and a recent clean bill of health from my Vet.
See your veterinarian for a health checkup.
If you are traveling somewhere, you might need a health record, then plan that into your departure to-do list. Also, If you use a pet sitter service on the road, such as Rover.com, they might require you to upload your Vet documents on file when using their services.
It's essential to get your dog's ID tags and a microchip.
As a dog owner, your dogs probably are already microchipped. Still, it is also an excellent time to review your microchip details online and ensure your cell phone number and contact info are up to date. Same with the collar ID tags, ensure they are readable and have your most current information.
Prepare for dog emergencies.
Of course, you can't know what emergencies might happen with your pup, but you can plan to have some knowledge of what to do in case it does. Since my Wally dog was once bitten by a rattlesnake in the Hollywood hills many years ago, I am hyper-vigilant whenever we are in snake country now. I will keep them both on a leash and watch out for snakes in our path. Wally survived when the snake bit him because a vet I knew in LA had anti-venom on hand. Most vets don't carry it, so I will continue being vigilant in snake country!
More recently, Lottie was playing on the beach, stopped suddenly, and started limping. She immediately wouldn't put any weight on her leg, and I carried her back to the truck. Luckily a friend on Facebook told me to call the mobile Vet who lived in the area where I was currently traveling. Using an x-ray scan, the Vet could tell immediately that Lottie's leg wasn't broken and that only her tendon was torn. Another close call, and after several weeks and some healing medicine, Lottie was back to normal.
How to find a local vet in an emergency
Another time we traveled in the Grand Tetons area, Wally developed a terrible cough. As a precaution, I decided to call a local vet to see if I could get an appointment the next day. The first few vets I called had no openings, but one Vet finally referred me to a local horse vet who said come on over.
When we got there, this Vet had two horses tethered in his back office space! Again luck was on my side. After a chest x-ray which was all clear, the Vet surmised that Wally might be allergic to the cottonwood trees that were blooming. Sure enough, after some medications, he was fine.
2. Dog safety while traveling in your RV or tow vehicle
Acclimate your dog to your RV or Tow Vehicle
When I started on my long-distance journeys in my Airstream, I spent a lot of time having my small pups get used to their new backseat Bucket Booster Pet Seats. They each have a strap that secures their seat belt harness.
My blonde girl Lottie Da adjusted quickly and usually settled in for a nap. On the other hand, Wally Boy didn't understand why he wasn't in the front seat with Mom, which made him anxious. There are various dog calming aids on the market if you need them to help your pups with their travel nerves.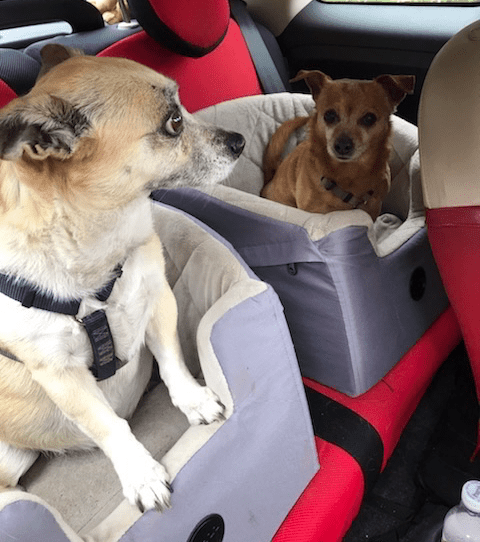 For large dogs or if you are traveling in an RV or motor home, a dog crate or kennel might be a better option. Many dogs feel safe and comfortable in their kennels, and the kennel can be secured better inside your RV while you are in motion.
It can be challenging for both of them on long drives. But as a responsible dog owner and for my peace of mind, it's always safety first.
Dog comfort stops along the way.
Since I drive solo, I usually stop for bathroom breaks and a short walk every couple of hours. My dogs and I seem renewed just getting out of the truck for a bit. Sometimes there are cool waypoints or scenic areas, which make an even better reason for taking a break.
Pack their food, water & treats
As dog owners, it probably goes without saying that you have stocked up on dog food and treats for your pups. I also recommend filtered water in your RV. Check out our post on 5 best RV water filters.
3. Dog Etiquette At Your Destination
All campgrounds typically have a long list of house rules, including some breed restrictions, dog bark rules, and common sense guidelines for a stress-free experience. Even if you are boondocking in a remote area, pay attention to these tips to keep your dog safe and feeling secure.
Finding dog-friendly campgrounds
When planning my trip, I always check that my campground in National or State Parks, RV resort, or Harvest Host is dog friendly. Many reservation systems include filters that allow you to see what campsites are available to you and your dog.
Keep your dog leashed when outside the RV
Not only is this safer for your pet and considerate to your neighbors, but many campgrounds also require pets to stay on a leash.
City or county leash laws might prevent your dog from legally going off-leash outside designated areas, such as a dog park.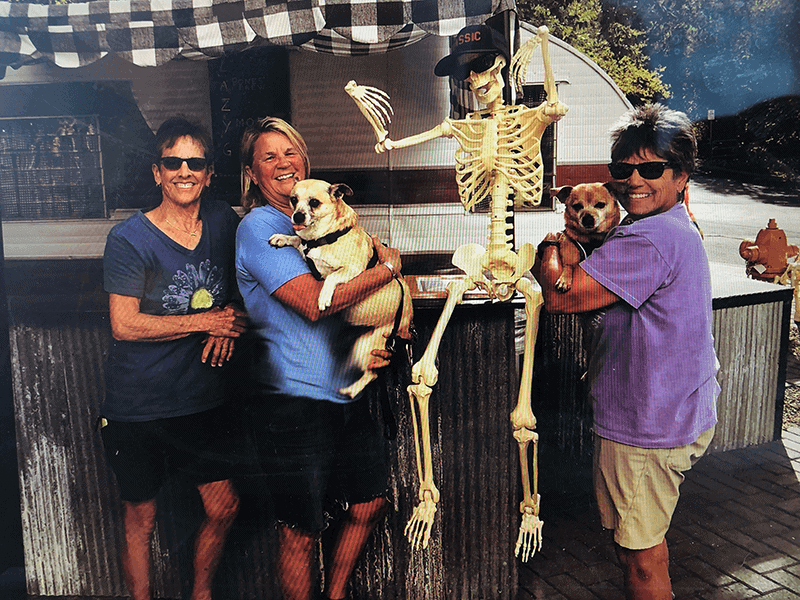 Always clean up after your pet.
Picking up poop is not only considerate but also a requirement in most campgrounds. Even if you're boondocking in remote areas, picking up after your pup is always better for the environment.
Leaving your dog behind in your RV
Whether you leave your dogs unattended in your RV for a while or bring them along with you is a very personal choice for all dog parents.
Since I am solo RVing, I almost always opt to bring them with me where ever I go. Granted, they can only go sometimes or even on most trails in National Parks, but I make my trip plans based on including my pups and most activities.
If you leave your dogs unattended in your RV, there are several things to consider. Check the RV resort rules, as many campgrounds have rules about leaving your dogs alone. If it's ok, keep the air conditioner, fans, or heat on when leaving your dog unattended. Always fill up their water bowl.
Barking dogs in RV parks usually won't be tolerated. You can always invest in a remote pet camera system for RVs to keep an eye on your furry friend while you are away.
Dog sitting services on the road
There have been times when I've boarded my pups for the day with a local dog sitter. Online services such as Rover have pet sitters who love dogs in all parts of the country. So when my friends came into town in Jackson Hole, Wyoming, and we wanted to hike into the Grand Tetons National Park, I arranged a Rover dog sitter for the day. It's such a win-win combination!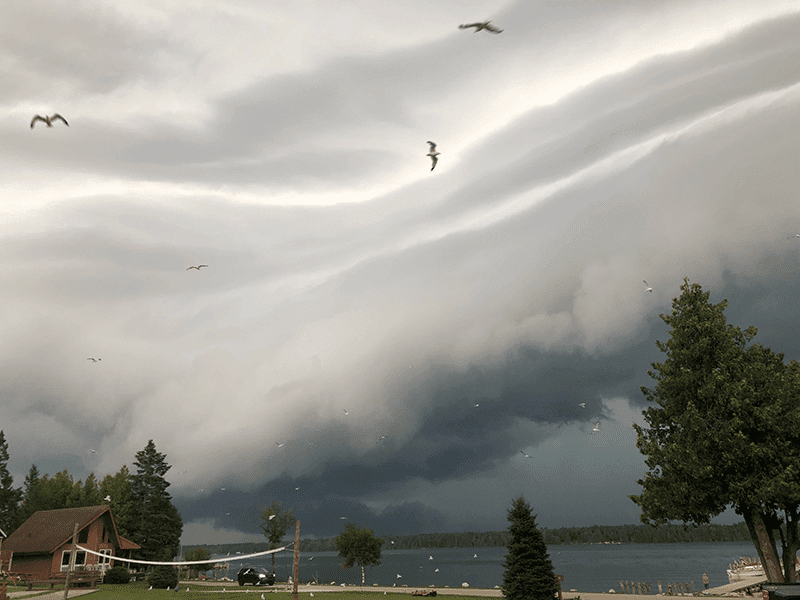 4. Become knowledgeable about the weather
RVing with dogs can be an adventurous and rewarding experience. To have a successful trip, it's essential to become knowledgeable about the weather. Even if the RV trip is planned and the destination is set, Mother Nature can still throw a wrench into those plans instantly. From extreme temperatures to heavy rain, RVers need to stay prepared by monitoring forecasts along the route, stocking up on emergency supplies, and ensuring their RV is fit for any weather condition.
I have several mobile apps for weather conditions. The NOAA app displayed the most accurate weather condition wherever I was traveling. In one instance in Arizona, the app told me we would have 30-40 mile-an-hour winds hitting us at a specific time. It was spot on in its accuracy and timing.
During my travels, extreme heat and brutal wind storms were the most dangerous weather conditions I experienced. Since my air conditioning unit only worked when plugged in, I never tried to boondock when there were excessive heat warnings. If you have a generator, your AC might work when you are off the grid. Or you can opt for a portable AC unit for your RV that will work off grid.
If you leave your pups unattended inside your RV for a few hours, make sure that you pay close attention to the weather and what your dog will need.
Leave your air conditioner on so that your dog has a comfortable place to relax. Leave them plenty of water too.
Most RV parks or campgrounds don't allow this, but remember, never leave your dog unattended outdoors.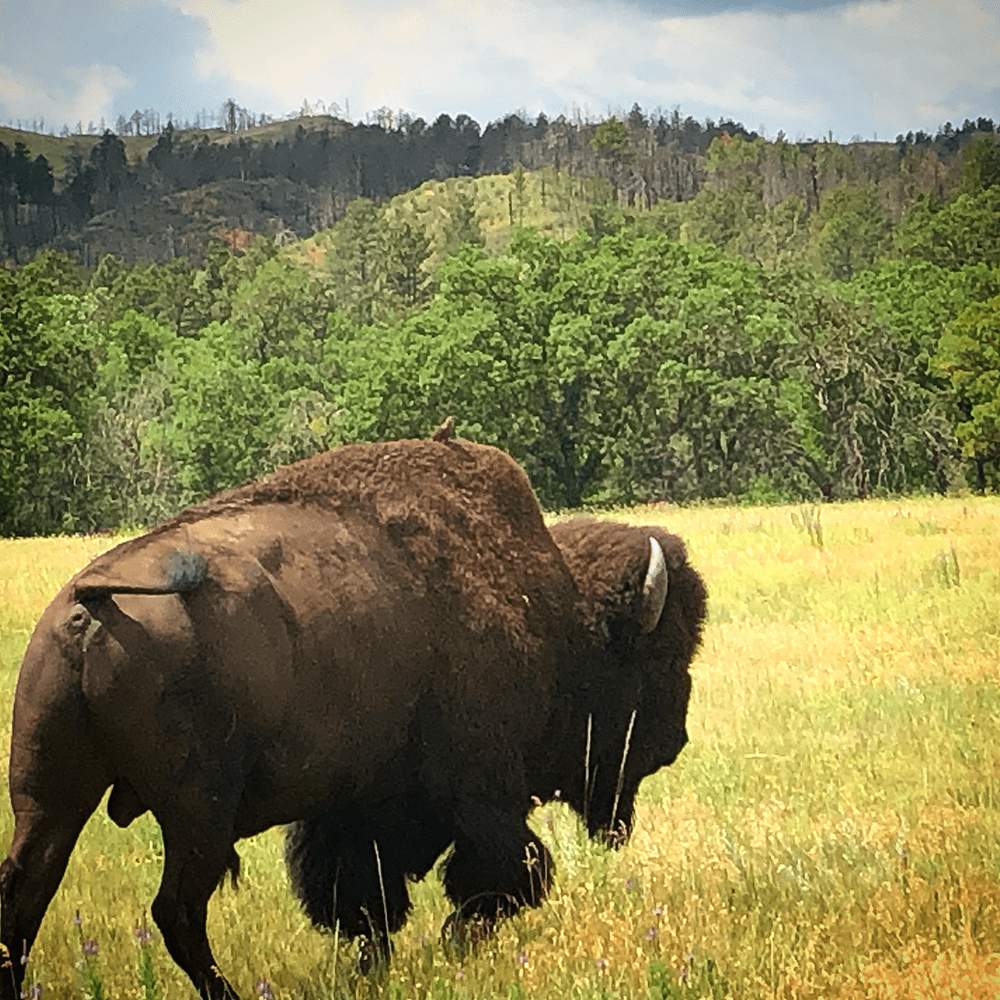 5. Guard against unwanted wildlife encounters
When RV camping with my dogs, I'm always looking out for wildlife when we are out hiking. I always have my dogs on a leash in an area where large animals or potential predators might be encountered.
In Custer State Park, there are wild bison everywhere. Even though they aren't prone to attacking people or dogs, I was conscious of staying a reasonable distance away from them. Since I have small dogs, I know predators could attack them. With bigger dogs, they may lash out at a wild animal and not see the trouble it might cause.
Be sure that you have control over your pet. We, humans, don't always know when animals are nearby. But I've seen my dog's hackles go up when we are on a trail, and sure enough, off in the distance, I see a coyote cross our path. A dog's sense of smell is a thousand times what ours is, so pay attention to a dog alerting you that a wild animal is close by.
Regardless of how well-behaved your dog might be, they still might sniff out animals and run off to chase them. And the last thing you want is to lose your dog in a remote wilderness area.
The more minor pests might be an even bigger problem for dog owners. Ticks regularly occur in many states, and use teasers to remove ticks and iodine as an antiseptic. I check my dogs for ticks after every hike.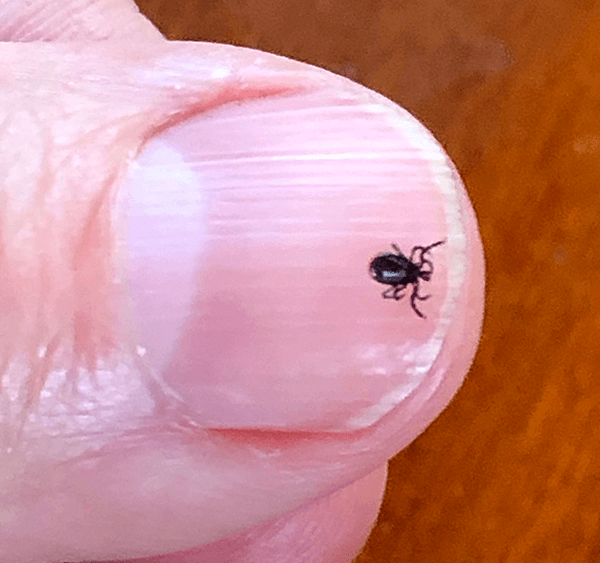 6. Have fun adventures on the road with your dogs
Exercise and Stimulation
RVing with dogs is an exciting way to explore the great outdoors while keeping your pup happy and healthy. Taking hikes or having playtime for exercise and mental stimulation can help keep your dog in peak physical and psychological shape and make RV travel more enjoyable for both of you.
Here are some suggestions for cool & unique places to travel with your dogs.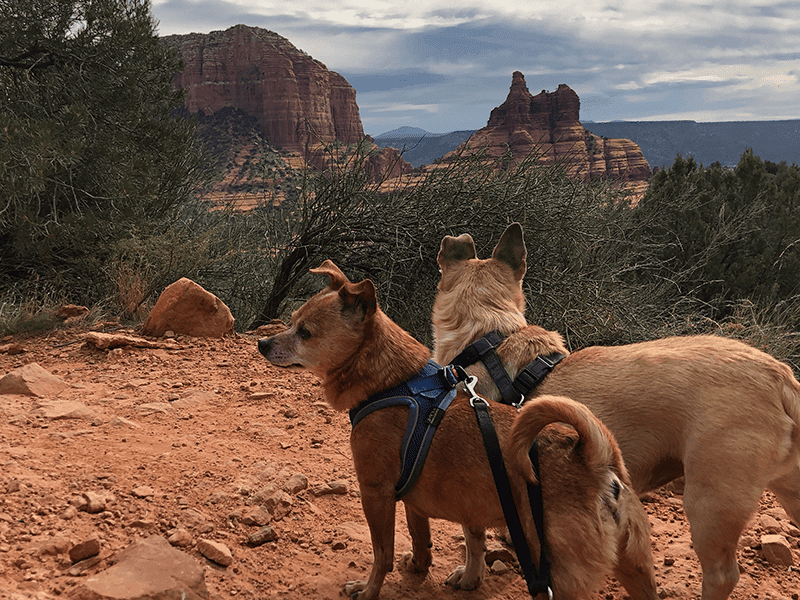 Physical exercise is vital for RV-ing dogs as there is often limited space inside an RV or camper, which may cause them to become bored or anxious if they need more room to move around. Taking your dog on walks, hikes, and swims provides them with a much healthier lifestyle than just staying in one place all day. It will also allow them to explore new sights, smells, and sounds they might not usually get the opportunity to experience during RV trips.
In addition to physical exercise, it's important to remember that dogs also need mental stimulation while RVing. Play fetch or other interactive games, like teaching them new tricks, or provide exciting toys that keep their minds occupied (such as food puzzles). By providing activities like these during RV trips, you can help ensure that your pup stays engaged and entertained throughout the journey – plus have lots of fun along the way!
7. Essential gear to pack
Bring all their comforts from home.
Bringing your dog's favorite toys and blanket will help them settle into your RV home away from home.
In addition to food, clean water, bowls, leash and harness, and grooming supplies, plan for activities with your dog and pack accordingly. Here are some items to consider.
Lightweight folding fencing or playpen.
Outdoor dog bed
A clothesline lead for being tethered outside your RV.
A bunch of towels for drying your pup off
A collapsible shade canopy for the beach
Small dogs might need a sweater or rain jacket
Safety harness for hiking
Leash light
Dog life vest & water toys
Leather booties to protect paws in snow or on hot pavement or beach sand
Pet-friendly tick repellent
Collapsible water bowl & treats for your backpack
In Conclusion
RVing with dogs can be a wonderful experience for you and your pup. By planning, ensuring that your RV is well-equipped with all the necessary items, and providing plenty of exercise and mental stimulation during trips, you'll have an enjoyable RV adventure without any unwanted surprises. So pack up those bags and hit the road – don't forget to bring your best furry friend along! With these seven tips in mind, RVing with dogs should be an enjoyable and rewarding experience for you and your dog.
Happy Trails!