21 Best Remote Jobs for RVers: Live Anywhere, Work Anywhere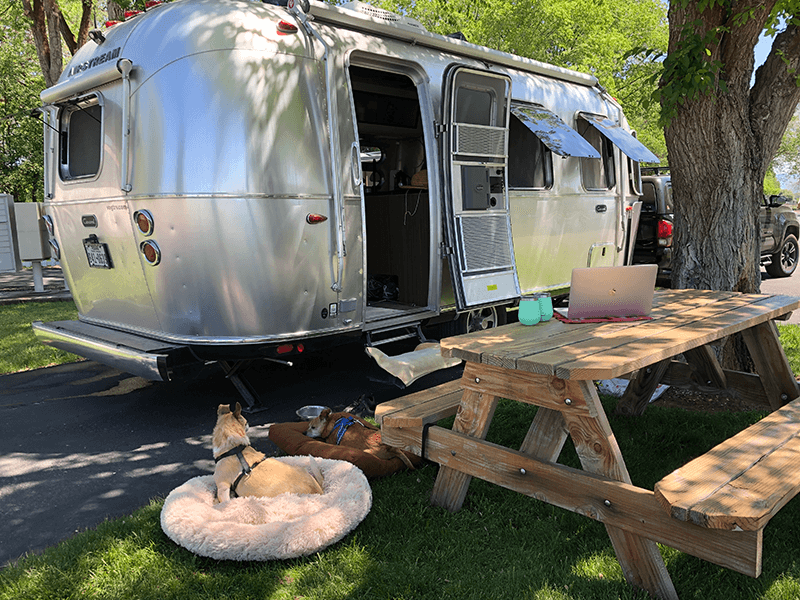 Have you ever dreamed of living in an RV, being carefree, and being able to work remotely from any location? Imagine all the places you could explore if your job didn't tie you down. Many jobs allow for remote work and provide a way to live and travel in an RV. I know because I've done it! 
What are remote jobs?
No matter what you call yourself, a remote worker, digital nomad, freelancer, or location-independent specialist, you work from anywhere with an internet connection.
As you'll see from this list, remote work can be found as a travel blogger, a web designer, or a translator. It all depends on your skills, your desire to learn new skills, and what kinds of work you'd like to do.
Of self-employed digital nomads, 66% run their own business, while 34% are freelancers or gig workers.
In my first year as a beginner RVer, I traveled 15,000 miles cross-country and back while working part-time as a UX consultant and a freelance designer.
Whether you're looking for a seasonal job, a complete seasonal job, a full-time remote job, or just some freelance gigs, this guide will uncover the top remote jobs for RVers so that you can live your dream life on the road.
Benefits of Working Remotely While Traveling
Recent events, such as the pandemic, increased the number of people working top remote jobs remotely. Internet searches for the best jobs done at remote sites jumped 398% between 2020 and 2022.
Remote work while traveling in your RV perfectly combines two of life's greatest joys: freedom and adventure. You experience different places for longer than your typical two-week vacation time.
The Remote Jobs Buzz Word: Hush Trips
The RV Share 2023 travel trends report introduced a new buzzword, "hush trips." Hush trips are where workers are on the clock but working from an off-site location, maybe even a vacation spot where they plan to partake in leisure activities after work.
They don't need to disclose their site so that they can live the remote jobs lifestyle to its fullest, by the pool or from their RV with good Wi-Fi.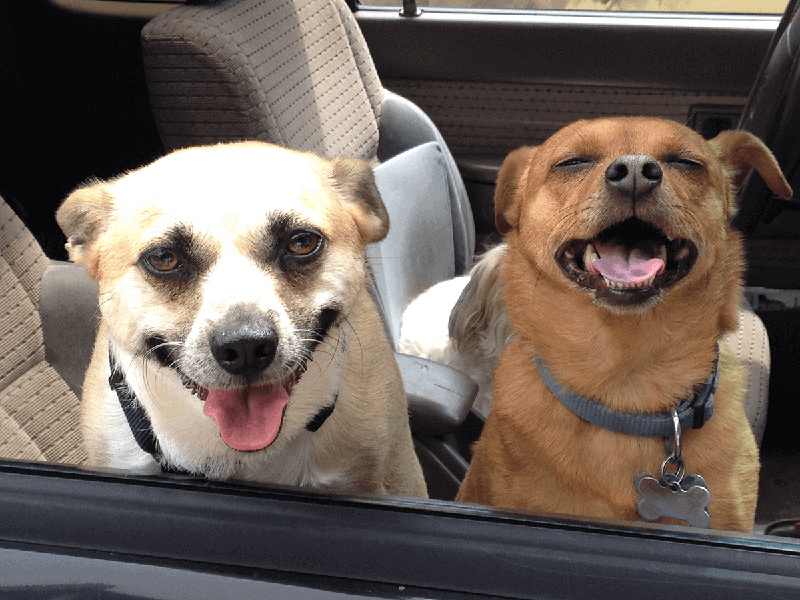 One of my favorite benefits of working remotely is getting to RV with my dogs and being with them constantly!
You can maintain flexible hours, be your own boss and have a flexible schedule. Your productivity may increase by reducing distractions and commuting time. You can access fantastic job search opportunities and improve your communication and digital skills.
Definition of Remote Jobs
Before you embark on your dream job search while traveling in your RV, you must understand what makes a good remote job. The ideal remote job will allow flexible working hours and location, so you are not tied to a single place or time zone.
Ultimately remote jobs for RVers, it's essential to find a job that matches your skill set and interests so that you can enjoy the work without too much stress or worry. With these criteria in mind, let's look at some of the top remote jobs for RVers.
How To Find Remote Work Jobs
You may want to quit your current job because they won't let you work remotely anymore. Finding remote work jobs can be a challenge, but there are many tools and websites to help you along.
---
21 Top Remote Jobs for RVers
#1 Become an Online Freelancer
When I'm on the road, freelancing is one of my favorite ways to make money online. Digital professionals skilled in web design, UX design, social media marketing, photography, or coding are in high demand. Companies such as TopTal and Braintrust cater to highly paid, highly sought-after tech workers on a career path.
Even as a beginner, you can start with freelance work online. Clients are searching for entry-level workers who can provide less skilled jobs. See my article on how to get started as an online freelancer.
Online customer service representative or data entry jobs
Data entry jobs need attention to detail accuracy but don't require any special skills. A customer service representative provides telephone, e-mail, chat, and SMS support.
Online translators, online tutors, and teaching online jobs
Freelancing as an online translator for international companies or as an online tutor and teacher of many different languages are all jobs that can be done online and on from the comfort of your RV.
More highly skilled freelance jobs include Graphic Designers, Web Designers, and Illustrators; since these are typically tasked-based jobs, they are quickly done while traveling with a laptop and WiFi internet connection.
Look for job postings on freelance websites such as FlexJobs, Upwork, and Fiverr. Set up a profile and you can browse job postings and see what fits you.
FlexJobs charges a small monthly fee, but they have vetted all their job listings, so you don't have to worry about scams. They have earned a 5-star, A+ rating on the Better Business Bureau and featured on major news outlets such as CNBC, Time, Forbes, and NBC.
Sign up with Flexjobs today and start making money freelancing.
#2 Sell Products via Online Platforms
Depending on the type of business you want to run, various options are available. You could sell products on platforms like eBay or Etsy, create an online course to teach others about a specific topic, or provide web design or marketing services. With some research and dedication, you can find the perfect online business to start and build into something profitable.
#3 Set Up & Teach Your Own Online Course
Create an online course on Teachable to help others learn about a specific topic in which you have some mastery. You can teach various issues related to an area, such as technology, business, or design. With the right approach, you can start generating income quickly and helping others learn something new.
With Teachable or Skillshare course builders, you don't have to have a blog to earn money selling courses, though. The marketplace websites display and manage your classes for you.
Thinkific is one of the best online course platforms. This tool helps you step by step create your lessons and share them with a large audience.
#4 Run Your Own Online Business
Running an online business can be a great way to work remotely and create financial freedom. There are many options and job types, from selling products on eCommerce websites using tools like Shopify or Etsy to providing services such as Coaching, Yoga Instructors, or Fitness trainers.
Remote workers can have multiple streams of income. I sell vintage products on an Etsy store and provide freelance UX Design services through various platforms. I also run my own blog business and monetize it with affiliate income, and I'm a travel photographer who sells the stock and fine art photographs.
Running your online business can be a rewarding experience, but it potentially has a steep learning curve. As with any business venture, it's essential to research and develop a robust business plan to ensure success.
#5 Start a Blogging Business
My travel blogging adventure has been a rewarding and fun experience. If you have a passion you want to write about and are good at photography, then a blog might be a good choice. You can sell your services as a freelance writer and use your blog as your portfolio!
You'll need to learn many different aspects of running your business, from WordPress website creation to online marketing techniques, such as SEO, social media campaigns, and content creation, to drive traffic to your blog. You may even hire your own virtual assistant.
#6 Sell Your Photography
One of the more traditional yet still profitable methods is selling stock photos and stock video content online on a site like Shutterstock, Adobe Stock, or Getty Images.
You can now use your iPhone to capture high-quality visuals and upload them for sale. It isn't easy to earn lots of money with stock photos these days. But if you upload consistently, watch what images are selling and tailor your uploads to the current market trends, you can make a few hundred dollars a month with your photos.
You can also market and sell your work on your website through eCommerce platforms like SmugMug or Fine Art America.
If you want to learn more about stock photography, look at some of the courses on CreativeLive or Skillshare.
#7 Sell Your Drone Videos & Video Editing Skills
Adding a drone to your repertoire might be very lucrative if you are a travel blogger, videographer, or photographer. People love videos; almost 82% of internet traffic is now videos.
Brands spend millions of dollars on videos, and with video editing software, you can add even more opportunities for making money online. Video clips can sell for $100/second!
#8 Become a Content Creator
Good freelance writers and copywriters are in very high demand for most jobs.
Becoming a content creator is an exciting way to make money and increase your visibility in the market. Content creation requires creativity, as well as research skills, to ensure that the content is both accurate and engaging.
Additionally, knowing how to use SEO software and AI writing tools will give you a competitive edge and save time. Furthermore, with the evergreen demand for quality content, it could be an ideal option for those looking for freelance work opportunities or those who wish to establish a serious career path in writing.
Being a copywriter is one of the best remote RV travel jobs. Writing content for someone else's blog or website is in high demand. No matter what field you want to write for, there are thousands of websites looking for people to write posts for their blogs.
As a freelance writer, I have been paid between $50 – $300 per post for articles on dozens of blogs.
#9 Become a Virtual Assistant
Virtual assistants help make any job more accessible and more organized. You will generally need good technical knowledge, but working remotely on an iPhone or iPad with a good WiFi connection is easy. Once you become a virtual assistant, these remote jobs can pay well, depending on who you work remotely for.
#10 Train to be an RV Technician
An RV has some complicated equipment that, at some point, usually needs the help of a skilled technician. As a traveling RV technician, you might help people maintain and service their RVs while on the road.
Check out the RV Tech Course and get started today!
#11 Become an SEO Specialist
Search engine optimization, or SEO, has become a big buzzword lately. Having the right tools and becoming skilled at SEO will let you develop a high paid remote job in no time.
It's certainly a job you can do from the road as a freelancer if you have the know-how. Companies, bloggers, and website owners need someone to make them more visible on search engines.
I use SurferSEO software in writing my blog posts. I use SurferSEO to research keywords, analyze my competition, and write articles with the best SEO terms and phrases.
#12 Social Media Manager
Companies and influencers on Twitter, Instagram, or Facebook need a top social media manager or administrator to help them. You are responsible for increasing their followers and revenue for their particular business. You may need to get experience, but supporting a company you can identify with will help you succeed.
#13 Computer Engineers and Software Developers
Online jobs such as software developers and computer engineers have all experience levels. A beginner developer typically learns to code at an online school such as coders.com, Codecademy, or Coursera.
The advent of AI tools such as ChatGPT and GitHub Copilot can also take some pain out of learning to code and could help you break into this lucrative career.
Experienced coders also see the use of AI tools as a way to automate many of the mundane tasks of coding, which helps free them up to write better code.
Professional programmers at all experience levels use websites like Stack Overflow to network and find their next job. If you find work through high-end platforms such as TopTal or Braintrust, it can also be a very lucrative travel job.
#14 Web Developer
A web developer requires training and experience, much like a computer programmer. Web developers and designers concentrate their skills on websites and platforms like WordPress, Wix, and Squarespace.
If you're starting as a Coder, try Upwork, Fiverr, or Guru to get your foot in the door with small jobs to get some experience.
Many available positions are available depending on your expertise and what programming languages you know.
Other websites for finding work as a developer or Web Designer are AuthenticJobs.com, GitHub.com, PeoplePerHour.com, and Dribbble.com.
If you need to learn new programming languages, you can follow many YouTube channels, such as TheNewBoston. Or you could sign up with platforms like Codecademy, Coursera, or Udacity.
Find freelance computer programming jobs with FlexJobs.
#15 Web Designer
Most businesses require an effective and professional website to display services and connect with clients. Being a web designer includes the capability to use web-based applications such as WordPress, Wix, Divi, Thrive Architect, and Squarespace. It's a terrific way to earn while in your RV since you can find new clients while traveling.
For remote web design jobs, check out sites like 99designs.com, coroflot.com, crowdsite.com, and dribbble.com.
#16 Get Paid to Test Websites
Before most websites go live, User Experience professionals perform usability tests for functionality, design, and content. They typically hire users from specific demographics to ensure users have a positive experience when using the site.
TryMyUI and Usertesting.com are services companies use that find and match users with specific requirements who can provide feedback on their websites.
No experience is required to be a user tester, so it's a great way to make money online for beginners. As a user tester, you are typically given a set amount of time to complete the test, and you must film yourself using an app or website. You are paid an hourly rate for your work.
#17 Make and Sell Printables Online
A fun and easy way to make money is to sell printables online once you learn how to create high-quality products that people will love.
You can sell your designs on sites like Etsy or make your website showcase your work. There are endless possibilities when it comes to design, so let your imagination run wild!
#18 Sell FBA Products on Amazon
Amazon is the world's largest e-commerce platform, with over 360 million active users. With a convenient fulfillment option known as Amazon FBA, you can store your products in Amazon's warehouses, and Amazon will fulfill orders with quick Amazon Prime shipping.
I had a textbook arbitrage business for a while and made good money. Arbitrage is buying low, and selling high, so once you master that process, you can create a great online business.
If you are thinking of starting your own business, this might be a great option if you don't want to deal with logistics and want to focus on buying and selling.
One of the tools I used was Helium10. It's a keyword research tool that embeds directly on Amazon, and it's an all-in-one software solution for Amazon FBA sellers. It can help you identify profitable products, discover keywords to target, optimize your listing, and more.
Try also to check out Helium10 Academy, which has over 100 videos.
#19 Start a Dropshipping Business
Drop shipping is a very low-risk way to start an online business selling products, and it involves selling products without worrying about inventory or fulfilling orders.
Finding an excellent dropshipping manufacturer is the first step. To earn a reliable income as a drop shipper, you must launch an e-commerce store and advertise and sell a company's products. Once the product is purchased on your website, the customer is forwarded to the manufacturer for shipping fulfillment.
You can use e-commerce tools such as Printify or Shopify on your website. There are also powerful dropshipping tools to make your business run smoothly. Check out Dropship.Me, Spocket, AliDropShip, or Saleho to get started.
#20 Sell Digital Products Online
Creating and selling digital products is an excellent option if you're a creative person looking to make money online. Online services such as Gumroad allow you to upload digital products like ebooks, music, videos, or graphics and sell them directly to customers.
Several digital platforms allow you to sell your products to a global audience. Sellfy and Podia are digital product platforms where you can sell digital products, and print-on-demand, & courses.
#21 Start A YouTube Channel
One of the most popular ways to make money online is on YouTube, and it's also one of the best remote jobs.
By starting your YouTube channel, you can share your passion for RV travel, photography, or whatever products you love. There are lots of ideas for videos that can earn you a significant income.
Success on YouTube is all about creating quality content that people will want to watch. If you love being on camera, this might be the remote RV job for you!
Conclusion
There are many options to find the best remote jobs while traveling in your RV. There are many jobs depending on your experience or what new skills you'd like to learn. All of these opportunities give you the flexibility to work your hours and to work from anywhere.
While on my solo RV trip across the country, I worked a part-time consulting contract through TopTal, and I also had two freelance clients who found me on Linkedin.
If you have digital skills, learning how to set up your own freelance business is easy.
Many blog articles for RVers seem to center around low-skilled and low-value work. It's easy to up your game and learn skills that will take you to the next level. Avoid coupon clipping, online surveys, and other jobs that give you little money or satisfaction.
It's easy to learn your digital skillset and find the best remote jobs. Being your own boss is much more fulfilling and rewarding and allows you the flexibility to live your best travel lifestyle.
If you're starting out freelancing, check out my article on how to become a remote freelancer.
FAQs
Is it possible to work remotely in an RV?
Yes, working remotely while living in an RV is absolutely possible. With advancements in technology and reliable internet connectivity, many people have successfully transitioned to remote work while enjoying the freedom and flexibility of life on the road.
How can I work remotely while living in an RV?
Working remotely in an RV requires careful planning and consideration. Here are some steps to help you achieve this:
Internet Connectivity: Ensure you have a reliable internet connection. Invest in a mobile hotspot or signal booster, or utilize campground Wi-Fi to stay connected.
Workspace Setup: Create a comfortable and functional workspace inside your RV. 
Power Supply: Make sure you have a consistent power source. RVs have built-in power systems, but you might also need solar panels or a generator to ensure uninterrupted work.
Time Management: Establish a routine that balances work and travel. Stick to a regular work schedule to maintain productivity.
Communication: Stay in touch with your team and supervisors through communication tools like video calls, messaging apps, and email.
Organization: Utilize digital tools and apps for task management, file sharing, and collaboration to stay organized and efficient.
How to make money while RVing full-time?
There are various ways to earn an income while living and traveling in an RV:
Remote Work: As mentioned earlier, remote work is a popular option. Many jobs can be done online, from freelance writing and graphic design to software development and virtual assistance.
Freelancing: Offer your skills and services on platforms like Upwork, Freelancer, or Fiverr. This allows you to choose projects that fit your expertise and schedule.
Blogging/Vlogging: If you have a passion or expertise to share, you can start a travel blog or YouTube channel. Monetize through ads, sponsorships, and affiliate marketing.
Online Courses/Consulting: If you're knowledgeable in a specific field, create and sell online courses or offer consulting services to individuals or businesses.
Workamping: Many RVers take on temporary jobs at campgrounds, national parks, or seasonal tourist destinations for a free campsite or hourly wage.
Remote Entrepreneurship: Launch an online business, whether e-commerce, drop shipping, digital products, or a subscription service.
App-Based Jobs: Explore app-based opportunities like food delivery, ridesharing, or pet sitting, which can provide quick and flexible income.
How to find work while traveling in an RV?
Finding work while traveling in an RV requires resourcefulness and adaptability:
Job Boards: Check online job boards like Indeed, Remote.co, FlexJobs, and others, explicitly filtering for remote or flexible positions.
Networking: Leverage your professional network and attend virtual industry events or conferences to connect with potential employers or clients.
Social Media: Join RV and travel communities on platforms like Facebook and LinkedIn. Networking within these groups can lead to job opportunities.
Local Opportunities: Look for temporary job openings in the areas you plan to visit, such as seasonal work in tourism, hospitality, or agriculture.
Freelance Platforms: Create profiles on platforms like Upwork, Freelancer, and Guru to showcase your skills and attract clients.
Cold Outreach: Contact companies or individuals directly to inquire about remote work possibilities, even if they have not advertised positions.
Skill-Based Work: Utilize your unique skills, whether it's photography, writing, coding, or design, to find niche opportunities online.
Successful remote work and RVing require careful planning, time management, and a willingness to adapt to changing circumstances. Finding a balance between work and travel is crucial to ensure an enjoyable and fulfilling experience.