How to Rent an RV: Insider Tips for a Memorable Getaway
Are you ready to embark on a journey of discovery, powered by the wind in your hair and the open road ahead? An RV is the perfect vessel for a one-of-a-kind adventure, where memories are made and cherished for a lifetime.
With the right tips and advice, you can make the most of your getaway in an RV. Let's explore how to rent an RV like a pro and create unforgettable moments with your loved ones. From finding the perfect rental to making sure you have all the essentials, this guide has all you need to know!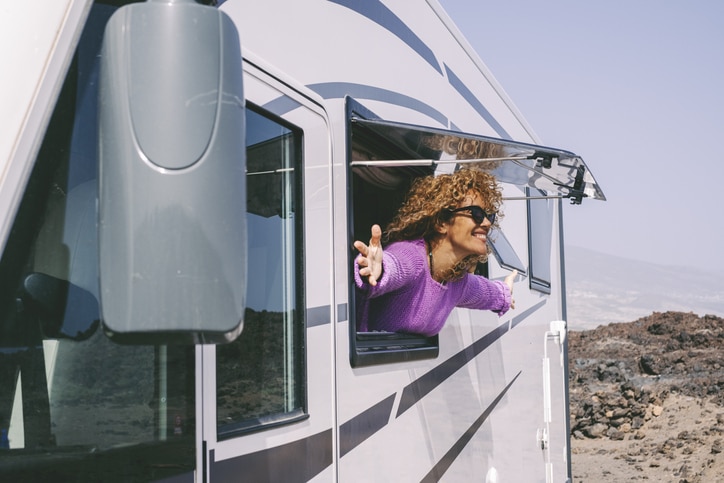 This post may contain affiliate links. If you purchase through our partner links, we get paid for the referral at no additional cost. For more information, visit my disclosure page.
Try Out The RV Vacation
Undoubtedly, the RV lifestyle has grown steadily in popularity over recent years – offering people great adventure opportunities while still feeling connected to home thanks to modern amenities like bathrooms, kitchens, and satellite TV systems.
Traveling in an RV vs. Flying
According to the Bureau of Transportation Statistics data, the national average for airfares as of Q4 2022 is $393. Multiply that per person, add parking fees, hotel costs, and restaurants, and your vacation costs add up quickly.
On the other hand, renting an RV for you and your family could be as little as $50-$100/day, including transportation, hotel, and a kitchen.
Plus, You don't have to spend hours arriving early or queuing in airport lines at TSA. You can take more stuff in your RV, and your pet is safe and comfortable.
Consider renting an RV before buying one.
I wanted to test drive an Airstream before I purchased one, so I rented an Airstream travel trailer from a private party through the peer-to-peer RV rental company RVShare. Like Airbnb rentals, RV owners can post their rentals on the site. I chose a nearby location to rent an Airstream, filled out the forms, checked the insurance, mileage, and fees, and then clicked the rent now button.
Renting the travel trailer was the easy part. Since I had never towed anything before, I had a quick few lessons in the systems and hitching up and away we went. I learn best by doing, so getting familiar with the hitch took some time, and then practicing how to back up how to maneuver on the roads was part of the learning curve.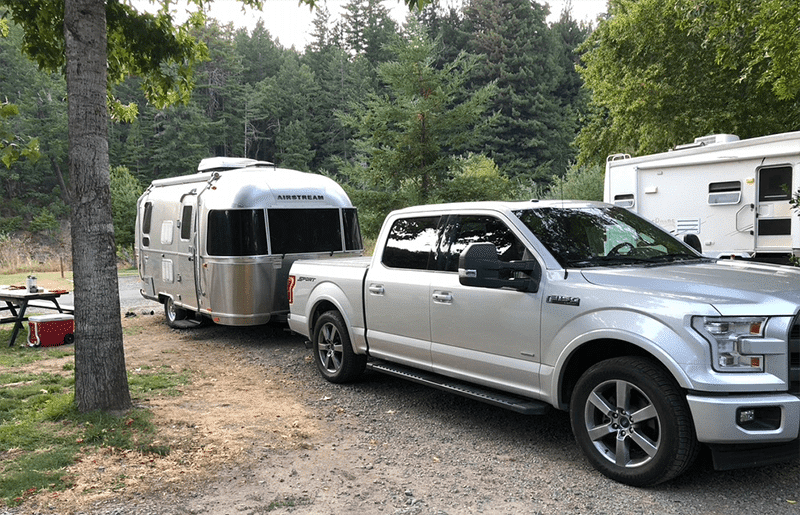 Towing our Rented Travel Trailer up the West Coast
We felt like happy campers as we drove our rented Airstream up the California Coast, even though being responsible for someone else's Airstream was frightening. We noticed a few items needing fixing: cabinet doors that didn't stay shut and dodgy tires. I didn't know what to look for when I was a beginner RVer, but I quickly learned what was essential and what I wanted when I bought my Airstream.
How to Find the Perfect RV to Suit Your Needs
You may need guidance for your first RV rental for your upcoming road trip, and understanding the details of your journey is essential in helping you select the right RV rental. Read on for a comprehensive guide about what to consider when renting an RV – from the various types of RVs available to planning your ultimate RV route, avoiding common mistakes, and how to make the most out of your rental experience.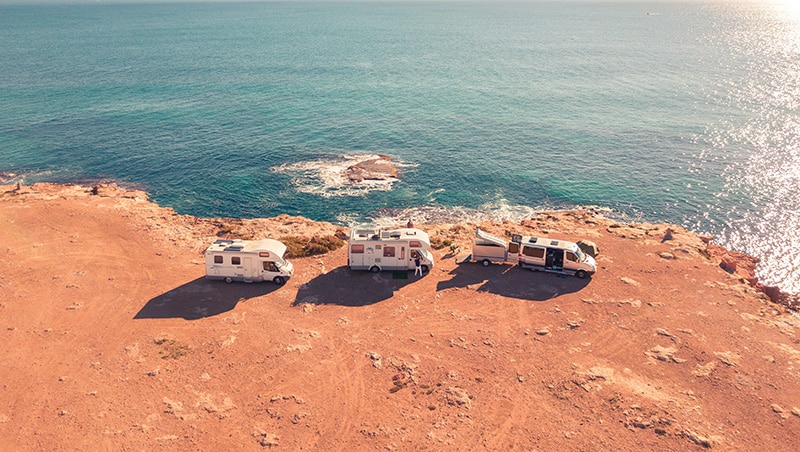 Determine Your Travel Group Size
Firstly, it's essential to understand how many people will be traveling with you, as this will help determine the RV size you should consider renting. A smaller Class B motorhome or travel trailer may be suitable for traveling solo or as a couple. Alternatively, a larger Class A motorhome better accommodates your needs if you have multiple passengers, such as a family or a large group of friends.
It's also important to consider which type of terrain you'll be driving on during your journey – highways, mountainous regions, or rural roads. Some RVs handle different terrains more effectively, though camper vans, travel trailers, and motorhome rentals have variations that may work better for off-roading and boondocking.
Other Rental Considerations
Consider features that may make your trip more enjoyable and convenient – do you need a vehicle equipped with beds, bathrooms, and kitchen facilities? Considering your budget and how long you plan to travel in the RV, consider the necessary amenities to accommodate your group size.
Several trip-planning apps will help you find the best routes and exciting places to see.
By understanding these factors about your upcoming journey, we can help recommend the best-suited RV type for you – a Class A, B C RV, Travel Trailer, or CamperVan.
Different types of Recreational Vehicles (RVs) and their features and functions
Before selecting an RV rental company, it helps to understand the different types of RVs available. These include small pop-up trailers that can be towed, Class B motorhomes designed for two people, and larger Class A motorhomes that are more like buses. Consider what size and type of RV would best suit your needs before proceeding to further steps.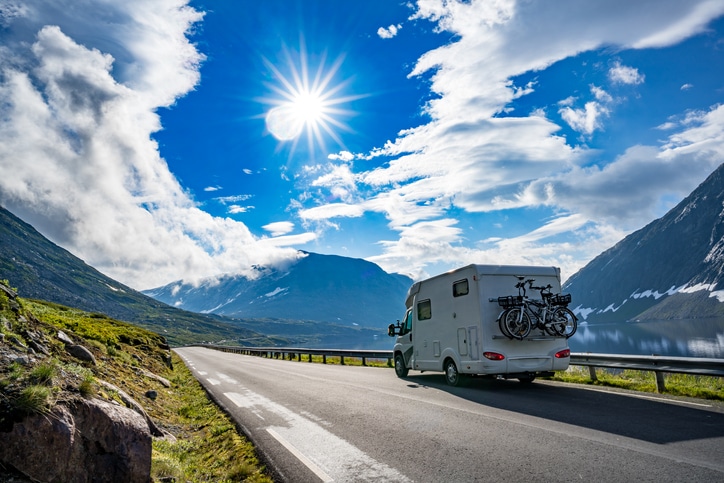 Class A Motorhome:
Class A motorhomes are the largest and most luxurious RVs on the market. They come with many of the amenities typically found in a home, such as full kitchens, bathrooms with showers, bedrooms, TVs/stereo systems, and even washers/dryers. These RVs are designed for extended trips across multiple states or even countries. With ample storage compartments built-in and powerful engines capable of traversing highways without issue – these vehicles genuinely have no limits regarding comfort and convenience.
Class B Motorhome
Also known as camper vans or conversion vans, Class B motorhomes are the smallest of all RV types. Class B's, most commonly used for shorter weekend getaways, feature all essential living amenities but offer much less space than their larger counterparts. VW camper vans are a popular type of Class B motorhome offering an authentic adventure experience while providing plenty of creature comforts.
Class C Motorhome:
Sitting between a Class A and B is the Class C motorhome – which can be identified by its unique 'over-cab' bed area not featured on other models. The hard-sided exterior allows for slightly more storage compartments than a Class B while still offering plenty of living space inside – they also include several optional features, such as electric steps at entryways to make life easier during your travels!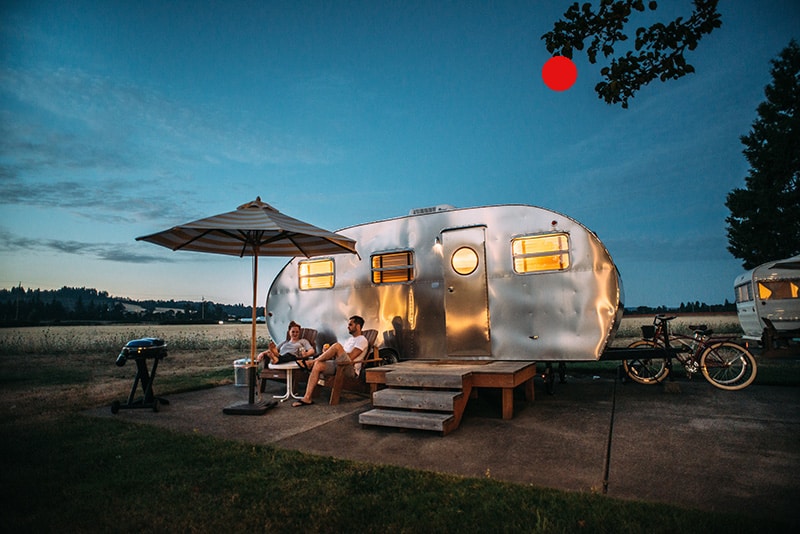 Travel Trailers & Fifth Wheels:
Travel trailers come in soft-sided (tent styles) and hard-sided (box styles) versions, so there's something for everyone depending on individual preferences. The fifth wheel option uses a gooseneck coupling system attached to the bed of pickup trucks – these larger rigs can handle off-road more significant stressors due to their higher capacity carrying capacity, making them ideal for those wanting an adventure lifestyle!
Find a Reputable RV Rental Company
Firstly you'll need to research the various rental providers in your target location. Consider factors such as the types of RVs offered, their prices and services, customer reviews and ratings, accreditation or membership status, and any additional amenities provided (such as insurance or roadside assistance). Make sure all available options have been explored so you can make an informed decision.
Comparing Prices & Services:
After narrowing down your search – compare the price points of each provider while also taking into account different types of RVs they offer; determine if there is any difference in quality/condition/size between them too. Additionally, assess what other services are included in each quote – these could range from pickup fees to cleaning fees, etc. – be aware that some companies don't include these charges in their initial listing.
Getting The Best Deals
Timing is everything when it comes to getting great deals on RV rentals – booking at least two months ahead gives you more control over pricing than booking last minute. It's also worth bargaining with a few companies to negotiate a better deal – as long as specific terms remain consistent (i.e., no hidden costs), then go ahead with whichever offer works out the most cost-effective; also look out for special promotions like discounts or loyalty bonuses that may help reduce overall costs!
Top RV Rental Providers
Once you have considered the above, narrow your search and research the top RV rental providers in your target region/country. Compare their fleet of vehicles on offer, rental rates, and availability (depending on the season). Identify any additional fees associated with each provider, too – paying close attention to policies surrounding the cancellation and early returns, etc., so there aren't any surprises during checkout!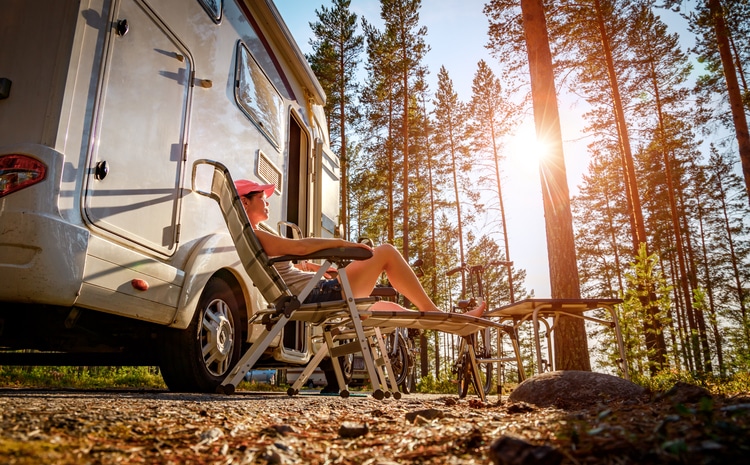 Cruise America: The big box store of RV rentals
Cruise America is America's leading RV rental company, offering reliable and affordable vehicles to the everyday adventurer. With convenient pickup points across the United States and a wide selection of vehicles ranging from compact motorhomes to luxury campers, Cruise America has become the go-to option for those looking for a budget-friendly way to explore the road on their terms.
Whether you're dreaming of discovering new landscapes in a cozy camper or treating yourself to a luxurious RV getaway – Cruise America promises an unforgettable experience full of freedom, flexibility, and scenic beauty. So what are you waiting for? Grab your keys and hit the open road!
Alternatives To Consider
Peer-to-peer RV rental companies such as RVShare and OutDoorsy are becoming increasingly popular for those who want a cost-effective solution, with several trustworthy sites popping up over recent years offering access to private RV owners' vehicles. Remember that all applicable laws must still be adhered to when traveling this route – but ultimately, it provides interested renters with an alternative option when looking for the best deal!
How renting from RVshare and Outdoorsy works
RVshare and Outdoorsy have similar rental processes to make it easy for customers to rent an RV for their next getaway. After creating a free account, customers can browse available rentals and filter by location and amenities. Once a vehicle is selected, you must provide personal information such as the driver's name and address.
This information will be verified with an authorization deposit before confirming the reservation. After making payment, customers will receive instructions on picking up the vehicle from the owner and returning it at the end of their trip. Fees such as cleaning fees may also apply depending on the owner's policy, so it's essential to read all terms and conditions carefully before booking.
How does RVshare insurance work?
RVshare offers an optional insurance plan that can be added to the rental agreement when making a reservation. This coverage extends liability protection for accidents and damages caused during the trip. The cost of this insurance varies depending on the vehicle and length of rental, up to $25 a day.
Additional details and information about the insurance policy can be found in the terms and conditions section when making a reservation. It's important to note that this insurance only covers incidents during travel and doesn't provide any coverage for personal belongings, so renters should consider purchasing additional travel insurance if needed.
How much does it cost to rent an RV?
The cost of renting an RV will vary depending on the type and size of the vehicle, rental period, location, and any additional features such as insurance or protection plans. Generally, RV rentals start at $75/night for small Class C vehicles and can go up to $300/night for larger Class A vehicles.
Sometimes, a one-time cleaning fee may apply regardless of the rental duration. Insurance is another factor to consider, as this will add additional costs to the rental agreement. Additionally, RV owners may offer discounts for more extended rent periods, so it's worth shopping around before deciding.
Don't forget to calculate how much your rental vacation will likely cost based on estimated mileage, fuel costs, RV parks & national park fees, campground fees, and duration of use – all of which factor into the total cost. Factor in insurance costs, too, if applicable, including coverage for other drivers in your family or friend group and any additional fees associated with insurance policies.
Questions To Ask The RV Owner
Renting an RV from a private owner for your upcoming RV trip requires careful consideration and research. To ensure a hassle-free and memorable experience, be sure to ask these essential questions before making a decision:
What is included in the rental (cleaning supplies, kitchenware, and bedding)?
How much gas mileage is allowed? Do I get unlimited miles?
How do the electrical hookups work?
How much storage space is there?
Is there a generator included?
How does the sanitation system connect at the dump stations?
How will breakdowns be handled?
Is the RV fully insured?
Does the RV have all the necessary safety features?
Will the RV be sanitized before renting to guarantee safety and cleanliness?
Asking all these questions will help renters feel confident about their choice and ensure they have everything they need for an unforgettable journey.
Before You Sign, Check for Damage
Scrutinize the RV inside and out before signing off on the paperwork at pick up, ensuring all components work correctly and no damage has been done since its last use. Be sure to document any existing issues in writing for reference later if needed.
Understanding Rental Policies:
Determine specific policies regarding return times, late fees, and fuel requirements so that you know precisely what is expected when returning the vehicle after use. Ensure these rules are explicitly stated in writing before signing any contracts and clearly understood by all parties involved before the rental start date.
Understanding RV Rental Insurance Policies
As you look to rent an RV, be sure to understand which insurance package is the best for your needs. Read on for a comprehensive guide explaining the various types of coverage available from different rental companies, plus additional packages or add-ons – so you can make an informed decision before embarking on your adventure.
Types Of RV Insurance Rental Coverage
Each company typically has its unique approach when it comes to insurance; some may offer basic coverage as standard, while others may require renters to purchase additional coverage for more peace of mind. Basic coverage usually includes liability coverage for damages to rental RV/other property and medical expenses arising out of injuries caused by the renter.
A complete insurance package should include comprehensive and collision coverage. Separate collision damage waivers (CDW) must be purchased separately if required. Credit cards also cover some aspects of your RV rental.
Duration of the RV rental
The duration of the rental will also have a significant impact on overall cost–so make sure you consider this when weighing up different quotes. In addition, factors such as type, age, and location of RV will also factor into price; drivers under 25 may incur extra costs due to young driver surcharges–so keep all these in mind when assessing affordability!
Additional Insurance Packages & Add-Ons
Look out for any additional packages or add-ons that could benefit your rental trip; many RV rental companies often offer special features like roadside assistance, emergency road service plans, as well as travel discounts on fuel or supplies – all of which can help reduce overall costs & provide invaluable security during travels!
Benefits & Limitations of Rental Insurance
Ultimately each situation is different, so it's vital to assess what benefits and limitations each package offers; some policies may cover accidental damage incurred during travels but exclude items like mechanical failure or breakdowns – so read through all the details carefully before making any decisions!
What should I pack for my RV trip?
Depending on your destination and travel plans, you may need to bring additional equipment, such as cooking supplies, an outdoor grill, and extra bedding. Pack essential items such as toiletries, a first-aid kit, warm clothes, sunscreen, and insect repellent. For food supplies, include non-perishables that are easy to store, such as canned goods and snacks.
Bring any recreational items you intend to use during the trip, such as hiking gear or fishing equipment. Remember other essential things like flashlights, batteries, and maps of the area you are visiting. Finally, check with your RV rental provider about any additional items they may require for your trip.
Additional Equipment & Accessories
Consider purchasing or renting essential equipment such as a tow bar setup monitor system or generators depending on the type of travel plan being pursued. Necessary accessories may also include security locks for storage compartments on board or external visual warning devices for safer nighttime driving conditions.
Roadside Assistance: Preparing for Emergencies
Have a basic understanding of mechanical concepts such as changing tires or oil filters so that you can perform minor maintenance during your trip if needed – otherwise keep, be sure to purchase roadside assistance through AAA or your rental company so that you can seek professional help quickly if necessary during an emergency.
Tips for Driving an RV the First Time
Driving an RV for the first time can be overwhelming, but following some essential tips will help you get started and make your journey pleasant. First, take the time to familiarize yourself with all the components of your RV. Learn how to operate the lights, brakes, and other features before going on your trip. Second, practice driving in an empty parking lot or open area to get used to maneuvering around tight corners and spaces.
Third, always check the weather conditions before setting out and plan alternate routes in case of inclement weather. Fourth, plan short stops to rest and stay alert while behind the wheel. Finally, never drive faster than what is safe for your particular RV model. Follow these few tips, and you'll be ready to hit the road quickly!
Planning Your Route
After having researched conditions at various locations along with time frames associated with different routes – consider alternate campsites en route so you can adjust accordingly; this will allow more flexibility during travel, reducing stress levels substantially! Make sure scheduled stops adhere to local park regulations to avoid being fined!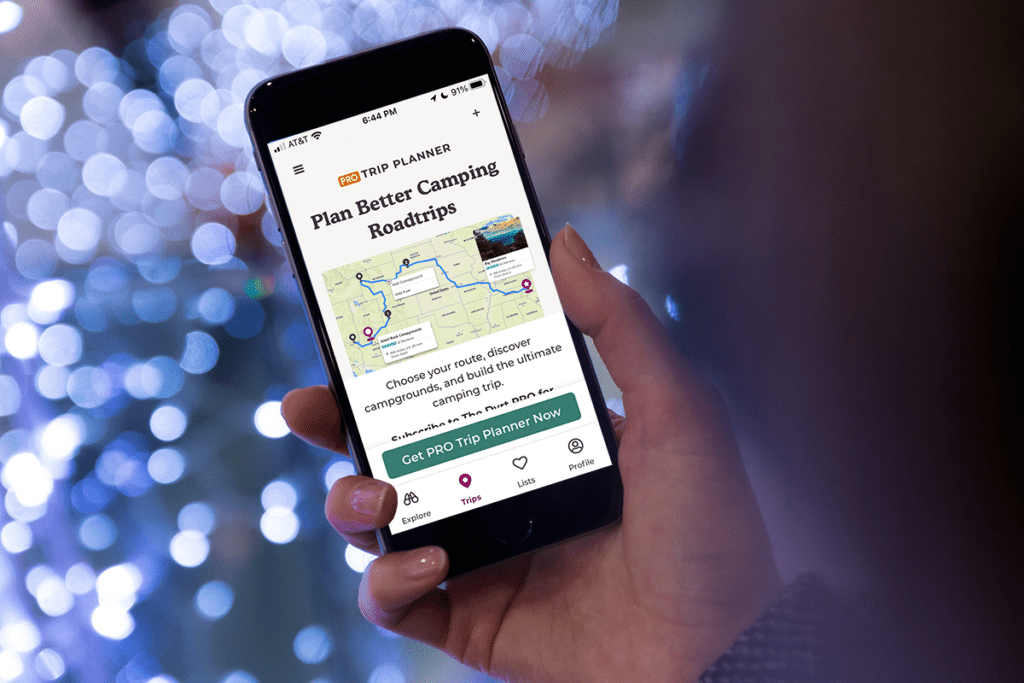 Helpful Apps While on Your RV Trip
The right apps can make an RV trip more enjoyable and convenient. Here are some useful apps to make your journey smoother:
• RV Life Trip Wizard is an excellent app for locating campgrounds and RV parks near you.
• AllStays Pro is an app that gives you access to over 30,000 campground listings and reviews.
• Roadtrippers help you plan your route, find attractions, and book hotels.
• Harvest Hosts is a subscription based community of small business owners who open their farms, wineries and breweries to those looking for overnight camping spots.
• Campendium is an excellent app for finding free and low-cost camping options, including boondocking sites, dispersed camping areas, and other unique camping locations.
• CamperSpot provides information about national parks, state parks, and campsites, so you'll never have trouble finding places to stay.
• iExit tells you what services are available at upcoming exits so you can always plan when traveling by RV.
---

---
Planning Out Your Perfect RV Rental
Finally, take some time to research potential fabulous destinations beforehand to ensure each day is filled with unforgettable experiences! Ensure everyone stays safe by performing pre-trip safety checks like checking fluid levels and verifying proper tire pressure levels – then get ready to hit the open road!
Making the Most Out Of Your Trip
Last but not least – plan activities during each stay to get the most out of unique experiences offered by each location visited – particularly if engaging kids (they tend to become bored quickly!). Documenting each trip via photos/videos is highly recommended so memories can be relived – even years later!
Conclusion
If you're looking for an adventure of a lifetime and want to explore the great outdoors, renting an RV is a great way to do it. With the right tips and resources, you can easily find the perfect RV rental and hit the road without worry. You can bond with loved ones, explore new destinations and experience all that nature offers in comfort.
To start your journey, search online for reputable RV rental companies, research different models available to ensure your comfort and safety, do a detailed walk-through before signing any agreements, and most importantly: enjoy the ride!
With these few tips for beginners, you can hit the open road feeling prepared and ready for adventure. From creating lasting memories with family and friends to experiencing new places and being in the great outdoors, there is truly something special about traveling by RV. If you want to take action on your newfound knowledge and start planning your RV trip, it's easy to begin.
Platforms like Outdoorsy or Cruise America offer thousands of RVs for rent nationwide. Popular beginner-friendly destinations include Grand Canyon National Park, Yosemite National Park, and Yellowstone National Park – just a few natural wonders waiting to be explored. So don't wait any longer: embark on your RV adventure today!