Discovering America: A Guide to Unique Harvest Host Locations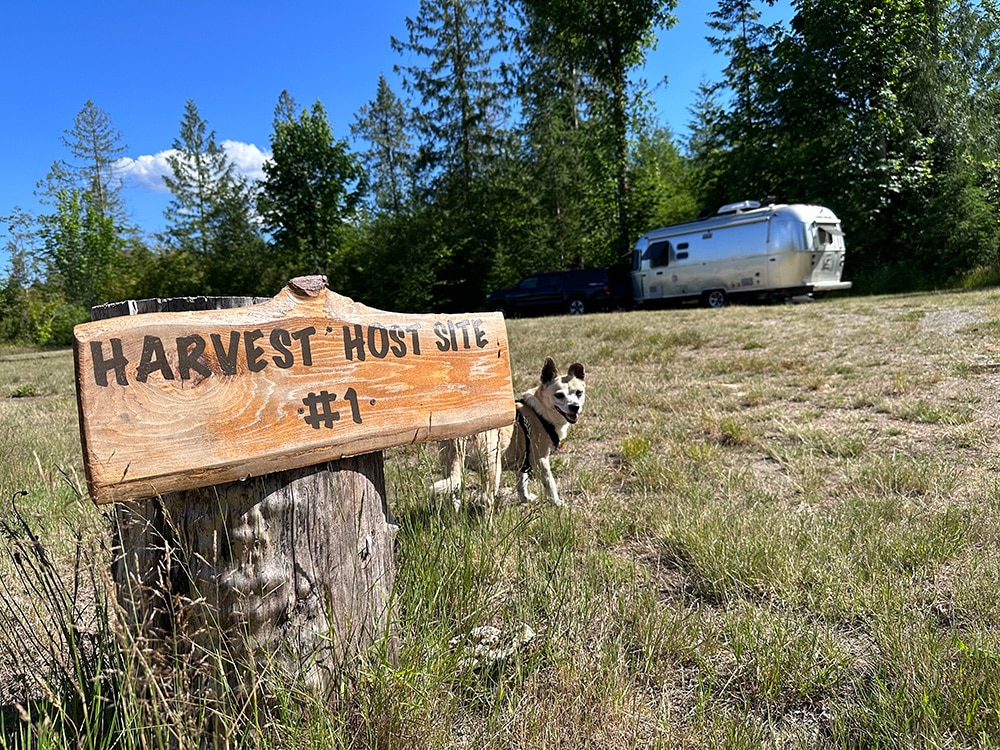 Exploring Harvest Host locations can be an exhilarating journey. I've stayed at dozens of Harvest Host locations since I've started my Airstream journey.
Imagine this – you're on the open road, traveling across America in your RV, and each night brings a new adventure at a unique location. That's what Harvest Hosts offers.
The beauty is that these aren't just any ordinary camping spots; they are wineries, breweries, farms, museums, and more! They are such an easy addition to your RV trip planning especially if you need an overnight camp spot that is safe, fun and affordable.
Navigating through different Harvest Host locations, you can experience local culture up close while supporting small businesses. It's an ideal arrangement for everyone involved!
If you purchase through our partner links, we get paid for the referral at no additional cost! For more information, visit my disclosure page.
Exploring the World of Harvest Hosts
If you're an RV owner or RV renter looking for unique camping opportunities, Harvest Hosts is a program worth exploring.
This membership-based service offers over 4,600 locations across the United States and Canada where members can park their RV overnight.
The Unique Appeal of Harvest Hosts
Apart from its vast network of hosts, what sets this program apart? The answer lies in its commitment to fostering a respectful community among travelers. The code of conduct, which all members must observe, guarantees harmonious relations between visitors and hosts.
Promoting responsible behavior, such as respecting host property rules and leaving no trace behind after your stay, helps maintain positive relationships with local businesses that open up their spaces for us.
This focus on respect enhances individual harvest hosts' experiences and contributes significantly towards sustainable tourism by supporting small businesses like wineries or dairy farms.
With new host additions regularly occurring within the platform's database, there's always something fresh waiting around every corner.
Now let's delve into how one becomes part of this vibrant traveling community – starting with understanding different membership plans offered by Harvest Host.
Discover the world of Harvest Hosts, offering unique camping opportunities for RV owners and renters. With over 4,600 locations across the US and Canada. It's a program worth exploring.
For JULY 2023: Save 15% off the cost of your annual membership.
Navigating the Harvest Hosts Membership Plans
Regarding unique RV camping options, Harvest Hosts is a game-changer.
Their membership plans offer unparalleled access to over 4,600 locations across North America.
Understanding the Cost Structure of Harvest Host Memberships
Let's delve into their cost structure to appreciate what each harvest host's location offers fully.
This can help potential members decide which plan suits them best and ensure they get value for money in return for their investment.
The Classic Plan: This primary option gives you access to over 4,600 wineries, breweries, farms, and attractions where you can park your RV overnight. It's an affordable way to explore new places while supporting local businesses.
All Access Plan: As its name suggests, this plan provides an all-access pass – from golf courses at stunning resorts to farms with fresh produce on-site. The additional locations offered under this package make every trip excitingly unpredictable.
Golf & More Upgrade: For those who love teeing off amidst nature's beauty or parked alongside historic battle sites, there's no better choice than our Golf & More upgrade. With 447 Golf courses currently and extra spots added regularly, including dump stations -it takes RV adventuring up several notches.
Evaluating Which Membership Suits Your Needs Best
Discover the perfect membership plan for your unique RV adventures with Harvest Hosts. From wineries and breweries to golf courses and farms. There's a plan that suits every traveler's needs.
Types of RVs Allowed in Harvest Host Locations
If you're wondering whether your specific recreational vehicle (RV) type is allowed at Harvest Host locations, the answer is most likely yes. You must have a self-contained RV with a toilet, water tank, and inside cooking facilities. No tents of any kind are allowed.
Embracing Diversity in RV Types
The beauty of the Harvest Host program lies not only in its unique camping options but also in its inclusivity when it comes to different types of RVs. Class A, B, and C motorhomes are all welcome, along with fifth wheels and travel trailers.
Self-contained van dwellers are allowed, but unfortunately, tent campers are not. Most hosts offer a place for everyone who loves road trips and outdoor adventures.
This flexibility allows members from various walks of life to enjoy their travels without worrying about accommodation restrictions. Whether you own an extravagant luxury coach or a modest travel trailer – each has its space under the sun within this community-driven network.
Rental Rigs: Are They Welcome?
You might be asking yourself if rental rigs can join the fun too. Absolutely.
Many travelers prefer renting over owning due to convenience factors like maintenance costs, storage issues, etc., And harvest hosts ensure they take advantage of their experiences.
In fact, many first-time renters have found themselves falling head-over-heels for this lifestyle after parking alongside historic war birds at aviation museums or waking up amidst sprawling vineyards thanks to these opportunities provided by our diverse host locations.
To ensure compliance with rules set forth by individual hosts, though, always check ahead via contact information available through the harvest hosts member portal before planning your visit, especially if bringing pets along as pet-friendly spaces may vary across sites.
All types of RVs are welcome, from Class A motorhomes to travel trailers. Even rental rigs can join in on the fun. Embrace diversity, bring your dogs and explore unique camping options across America.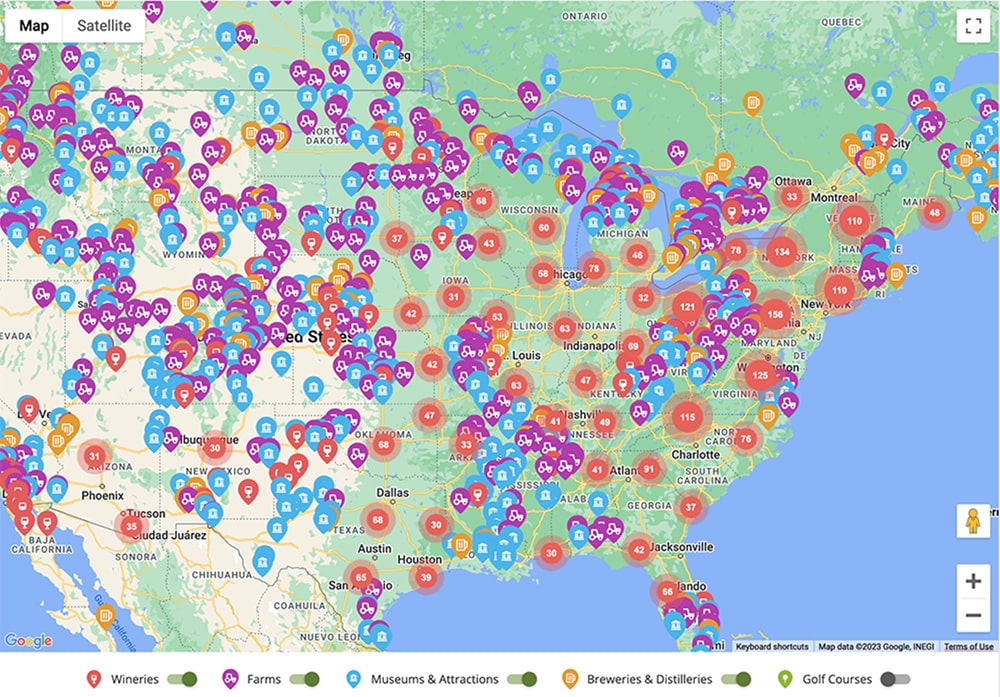 Diverse Range of Locations Offered by Harvest Host
One key feature that sets the Harvest Host program apart is its wide array of unique RV camping options.
Finding Your Perfect Spot with Harvest Hosts
The over 4,600 harvest hosts locations span across North America, providing members a diverse range to choose from.
You could be parked alongside historic war birds at an aviation museum one day and wake up amidst lush vineyards the next.
This assortment of locations guarantees that there's something to please everyone – whether they're passionate about history, knowledgeable in wines or adore the outdoors.
A Closer Look At The Types Of Locations Available
In addition to farms, wineries, and museums, many other types of businesses are part of this network. These include breweries, dairy farms, and even golf courses with golf and more plan.
Pet-friendly spaces abound as well, so your furry friends can join in on your adventures too.
Harvest host farms usually offer their fresh produce and gifts right on site, which you can purchase and stay true to your commitment to supporting local small businesses.
Breweries offer tastings directly from the source – it doesn't get fresher than this.
Golf Courses allow you not only to park overnight but also enjoy a round or two during daytime hours.
Farms let visitors experience life on the farm firsthand – letting kids interact with the animals if they are lucky, making these spots perfect family destinations.
For JULY 2023: Save 15% off the cost of your annual membership.
Check out these Five Unique Harvest Host Locations I Experienced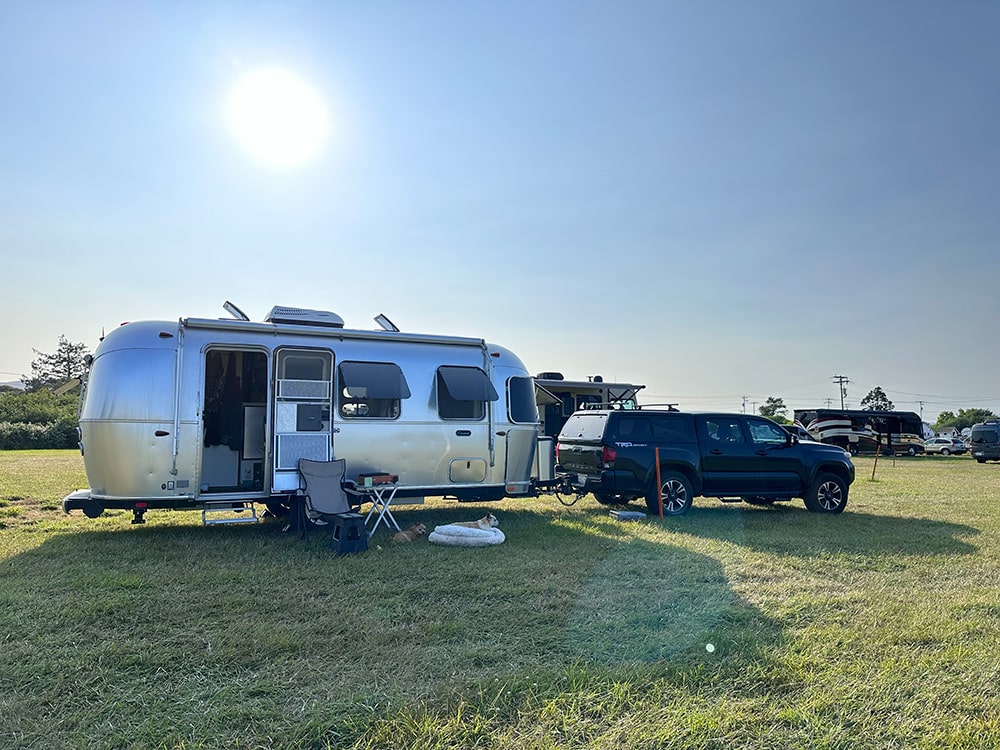 Stay at a Cheese Company near Tillamook, Oregon
This Harvest Host location had a huge grassy field where you could pick your spot to camp and then walk to the cheese store to buy lunch from their grill and all kinds of tasty treats. We parked our rig facing a vast expanse of farm fields with mountains in the distance.

Such beautiful experiences compared to some private RV parks, which are more like parking lots with no space from your neighbors. Even though this isn't a long-term arrangement, nor does it have hookups, I find staying at these Harvest Host locations a wonderful treat.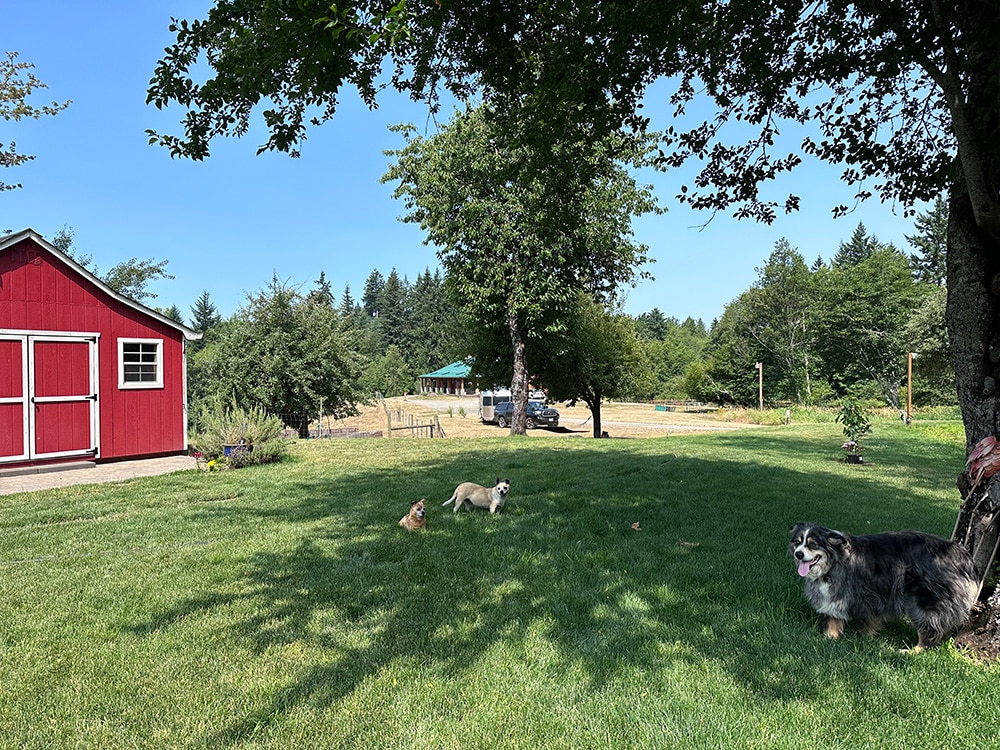 Camp at a Small Animal Farm near Olympia, Washington
Outside of Olympia, Washington, this harvest host location is a little farm with dogs, chickens, goats, sheep, and a cow roaming the pastures. They provide their Harvest Host guests an awesome firepit with Adirondack chairs and complimentary firewood. The dogs and I could wander the grounds, luxuriate in the lush grass and listen to the frogs in their pond and use the picnic tables and charcoal grill.

Plus, they offered Goat Yoga on the weekends, but I arrived on a Monday, so I didn't experience that this time. The best part of the Harvest Host experience is that the next time I come through this part of the country on my way to the Pacific Northwest, I will know where to stop for the night. Once you have camped in a beautiful slice of someone's home and met them personally, and they provide such a welcome to you, you will understand what draws people to the Harvest Host world.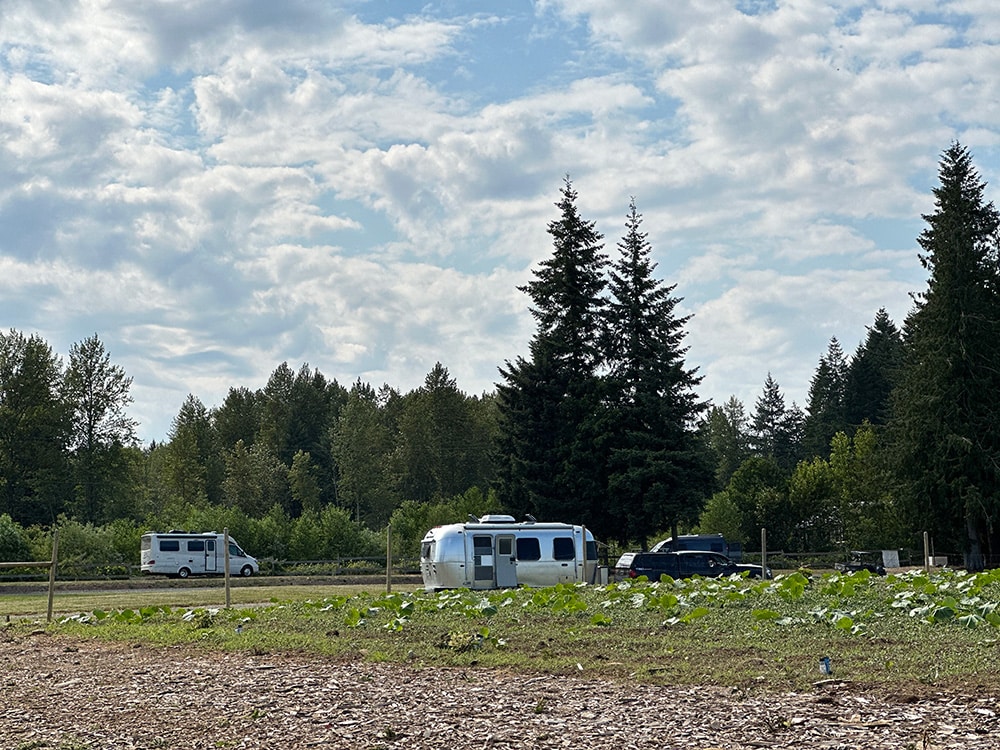 Stay at an Estate Winery near Campbell River, Vancouver Island, BC
I parked my Airstream in a front garden of this fruit wines, mead, and cider estate. I walked over to taste and purchase delicious estate-made drinks in their tasting room. The ciders were my favorite because they were dry sweet fruity flavors made with local raspberries, blueberries & blackberries. Vancouver Island is a fantastic place to travel. The bounty of nature here and the access to outdoor sports and water activities are genuinely part of their DNA. This island, surrounded by water, with so many inlets and bays to explore, is a water person's paradise.

The pups and I enjoyed a quiet night watching over a vast pumpkin patch they had planted for their fall festivities. I love the quiet, peaceful camping spots that are close to nature.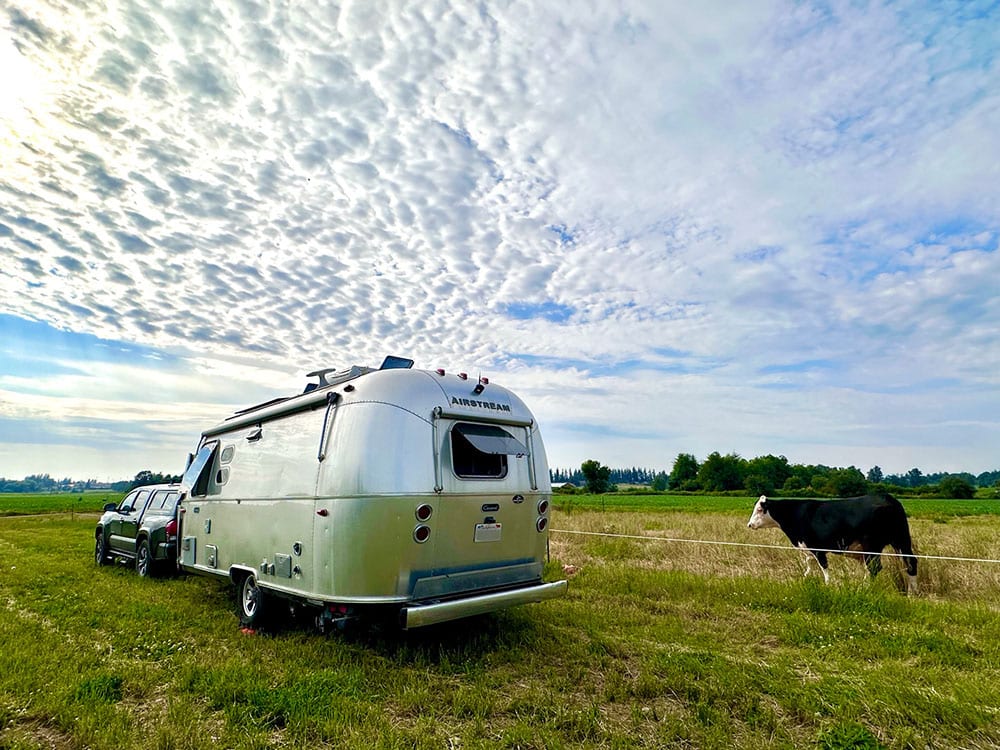 Camp on an 117-acre Farm near the Historic Town of Lynden, WA
We camped amidst the sprawling raspberry fields and farmland full of delightful Wagu cattle who kept coming to check us out. The pups didn't seem to mind, and the cows were curious. This retreat was a perfect blend of relaxation and adventure.

It's so awesome to leave the hustle and bustle of driving behind and arrive at an intimate camping spot on private property, just like we are an old friend coming by for a visit. This camping spot, in particular, is a place to immerse yourself in the breathtaking beauty of the countryside.

Harvest Host guests can immerse themselves in the charming gardens, stroll through the bountiful berry patches and taste the fruits, and interact with the friendly cows, chickens, and pigs.

At sunset, the pups and I relaxed outside the Airstream, enjoying the dazzling clouds of the evening sky, the birds soaring overhead, and the bullfrogs' evening chorus in the distance. I agree that this Farmstead promises an unforgettable experience.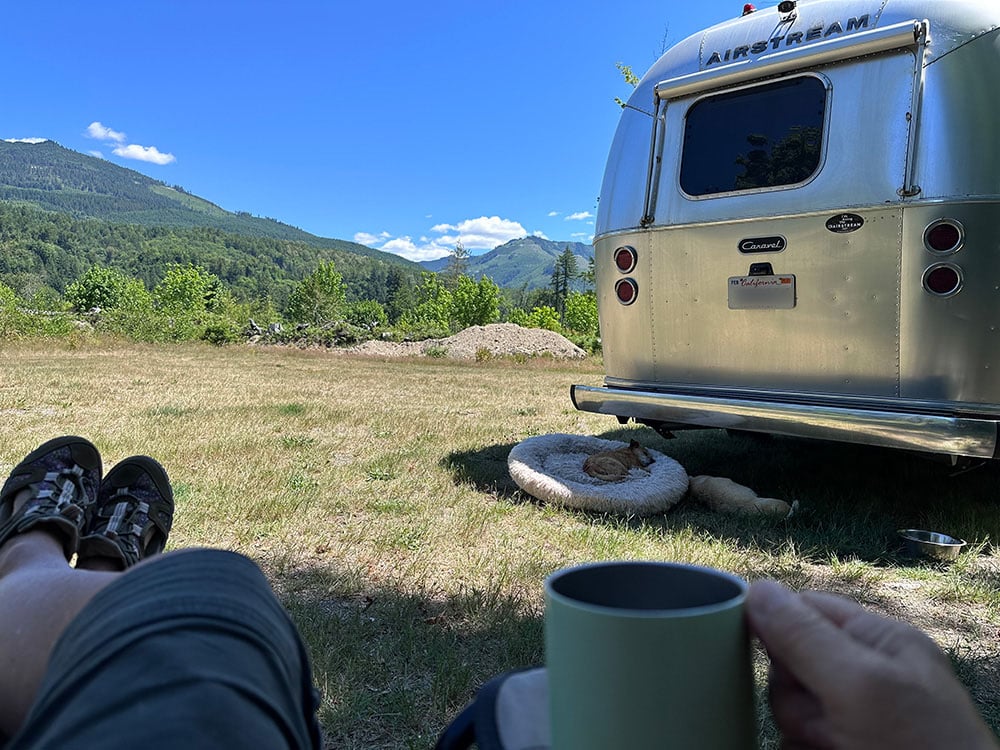 Camp on an Historic 580-acre Cattle Ranch in the Cascades, WA
We arrived at this ranch and were given a map of our camping area down by the Skagit River in the foothills of the Northern Cascades Mountains. This four-generation family has conserved their property as a nature and wildlife refuge, with their cattle roaming the woodlands in between.

The pups and I drove to our spot, set up camp, and saw no one else nearby. We walked down a dirt road to the cold glacier-blue riverfront on the wild and scenic Skagit River. We found an eddy so I could safely dip the dogs in to cool them off after the long drive. They loved rolling the sandy beach afterward. It was a delight to become part of this hidden ranch, even if it was just for one night.

Harvest Host guests here are welcome to walk, bike, fish, view wildlife or relax along the river and on their property. The pups and I watched the daylight hours slowly fade and give a mountain light glow to the surrounding Mt. Baker and the Cascades. This Harvest Host location was one of our all-time favorites. We didn't want to leave.
For JULY 2023: Save 15% off the cost of your annual membership.
Navigating Through Member Portal For Best Experience
The easy-to-use member portal makes finding the ideal host location a simple task.
Your search can be filtered based on the type of business (winery,brewery,farm, etc.) and availability of amenities like electric hookups and water access, among others.
Reading reviews left by previous guests will help you gain a better understanding of what to expect at each harvest host location.This transparency helps ensure a satisfactory stay every time.
Tips To Maximize Your Stay With A Local Business: Use Reviews And Codes Wisely
To make the most out of your membership, remember to support hosts by purchasing at least $20 of their products or services offered. It's a wonderful way to give back to local communities, plus it often leads to memorable experiences.
Also, remember to use special discount codes available through the member portal to save some bucks off purchases and partner sites.
Key Takeaway:
Discover a wide range of unique RV camping options with Harvest Host. Choose from over 4,600 locations across North America, including wineries, museums, breweries, farms, and golf courses. The member portal makes it easy to find the perfect spot based on your preferences and amenities. Support local businesses by purchasing their products and services while enjoying memorable experiences.
Supporting Small Businesses through Harvest Host Experiences
The Harvest Hosts program offers more than just unique RV camping options. It's a platform that bridges the gap between travelers and small businesses, creating an environment of mutual support.
Patronizing Local Farms through Your Travels
An integral part of this experience is parking your RV at local farms across North America. This gives you access to local fresh produce, handmade products and gifts, and pet-friendly RV camping and contributes significantly towards supporting these farming communities.
A stay at a dairy farm, alpaca, cattle ranch, or vineyard provides insight into the hard work behind our daily consumables, from fresh milk and cheese to handcrafted wines, beers, and cider. It's all produced right there on-site.
You're not merely parked alongside herds of cattle or amidst vast berry patches or lush green vineyards; you contribute directly to these establishments' livelihoods by patronizing their products during your stay.
Bolstering Community Economies with Every Visit
Your presence as Harvest hosts members boost community economies too. By shopping for groceries from local markets around host locations, dining out in nearby eateries, and purchasing fuel locally – every dollar spent aids these smaller towns' economic growth.
Fostering Connections & Building Relationships
This engagement goes beyond financial transactions; it fosters connections between people from different walks of life while building lasting relationships based on shared experiences and stories told over campfires under starlit skies. This symbiotic relationship enriches each travel story, adding depth and meaning beyond typical tourist activities. You arrive as guests but leave as friends with unique and special memories.
"Travel far enough you meet yourself," said David Mitchell in "Indeed the Journey," which becomes even more rewarding when we can give back along the way.
Intrigued? Let's dive deeper into how reading reviews before choosing destinations play a crucial role and selecting the best Harvest Host location for you.

For JULY 2023: Save 15% off the cost of your annual membership.
FAQs about Harvest Host Locations
Where are Harvest Host locations?
The host locations page on the Harvest Hosts website will show you each Host's general locations and an icon showing the type of business they are. Zoom into the map to get a better idea of the location on the map. The exact location of the hosts is hidden out of respect for the hosts and the fact that they might abuse the info and assume they are RV locations. Because of that, complete details and the ability to book are reserved for Harvest Host members.
Harvest Hosts does have a 3-month 100% money-back guarantee if you find that this program doesn't work for you.
How many locations does the harvest host have?
Harvest Hosts boasts over 4,600 unique locations across the United States and Canada for its members to explore.
What types of vehicles are allowed?
All classes of RV's are allowed (Class A, Class B, Class C), including motorhomes, fifth wheel trailers, travel trailers, toy haulers, camper vans, truck campers, and schoolies. All vehicles must be self-contained, so your RV must have an interior toilet and built-in holding tanks for wastewater. Vehicles towed behind RVs are also allowed at our Host locations.
Prohibited camping vehicles include traditional pop-up campers, folding camping trailers, ground tents, or car rooftop tents, and sleeping in cars, trucks, or minivans.
Do you make money as a harvest host?
Hosts pay nothing to join the Harvest Hosts program. As you attract multiple RVers to your business you have the potential to make thousands of dollars annually.
Are Boondockers and Harvest Hosts the same?
The Harvest Hosts and Boondockers Welcome platforms merged in 2021. Now members of both communities to have access to the 5,000+ host locations on one easy-to-navigate location map.
What is the benefit of joining harvest host?
An annual Harvest Hosts membership can quickly pay for itself as private RV campgrounds and campsites in national & state parks often cost upwards of $30 -$90 per night. With a Harvest Hosts membership, campers can stay at an unlimited number of host sites.
Are Pets Allowed?
Over 90% of the Hosts are pet-friendly locations permitting pets on a leash at your vehicle site. Each Host information page will give you specific instructions for that Host, and you filter your search by pet-friendly.
Is Harvest Hosts legit?
Absolutely. Harvest Hosts is a reputable RV membership program that provides access to a network of businesses offering overnight stays for RV travelers.
What is the maximum stay for a harvest host?
The standard stay at a Harvest Host location is typically 24hrs, but hosts may allow longer stays at their discretion.
Is Harvest Host All Access worth it?
If you plan on frequent travels and want access to all types of hosts, including golf courses and dump stations, then the All Access Plan can offer great value.

Conclusion
If there's one thing clear about harvest host locations: they're not just places but gateways into America's heartland.
My solo female journey airstreaming across America invites you along for the ride! Experience how supporting small businesses through Harvest Host can create rich travel experiences filled with freedom and adventure. Let's hit the road together!
For JULY 2023: Save 15% off the cost of your annual membership.