Top 5 Best RV Water Filters for Clean and Pure Drinking Water [2023]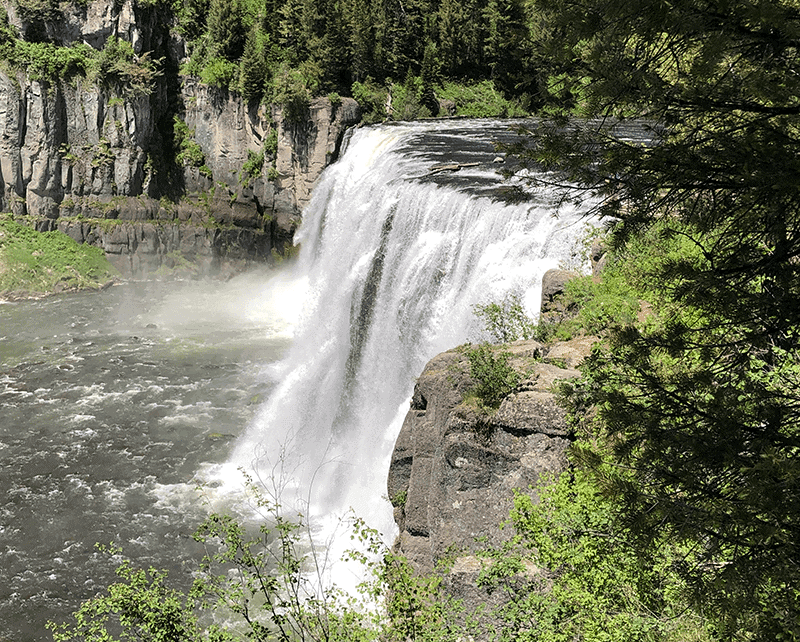 Attention, RV adventurers! Picture this: you're embarking on an epic road trip with your new RV, and maybe your cherish pups and you're ready to conquer new horizons. But wait, here's the twist: your thirst for adventure shouldn't come at the cost of clean and healthy water.
Bid farewell to questionable campground water sources and say hello to crystal-clear, pure hydration on your journeys. So pack your sense of adventure and get ready to drink in the wonders of nature, one filtered droplet at a time.
When starting my first cross-country solo RVing journey, I knew I wanted a consistent source of clean water. After doing this research, I now have two different water filters in my Airstream.
But with so many different RV water filters on the market, how do you know which is best?
After researching these RV water filters for my own use, I created the list below to give you the 5 best RV water filters on the market today. Hopefully, by the end of this post, you'll have a better idea of which water filter is right for you.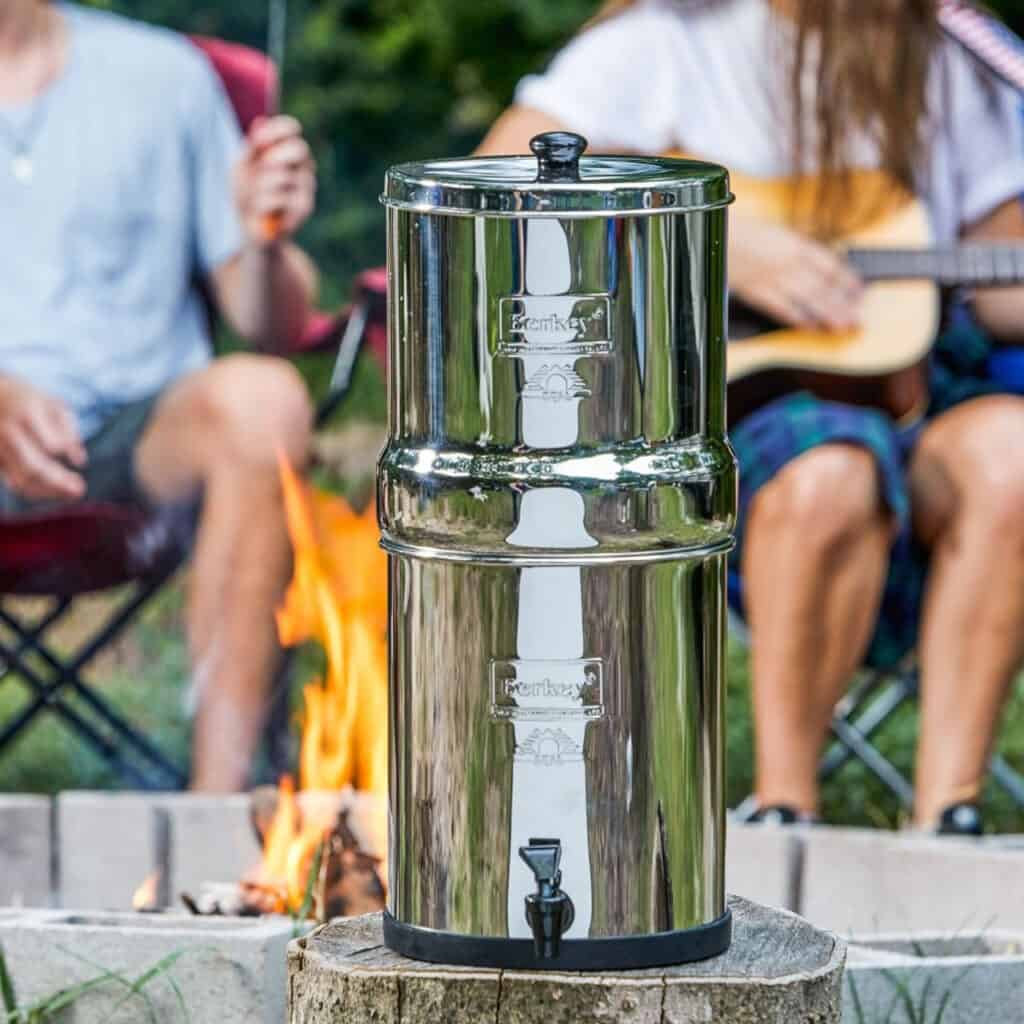 The Travel Berkey Water Filter System
On Techo RV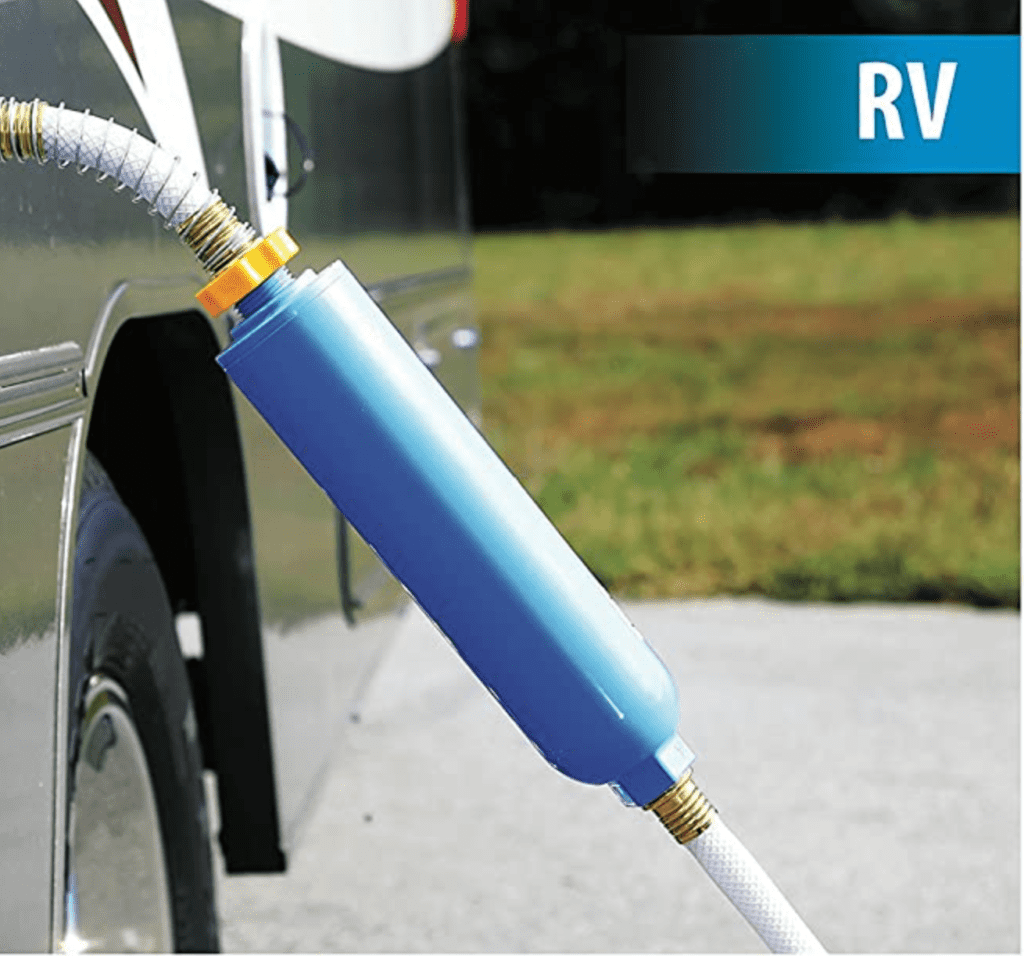 Camco TastePure RV Water Filter
On Amazon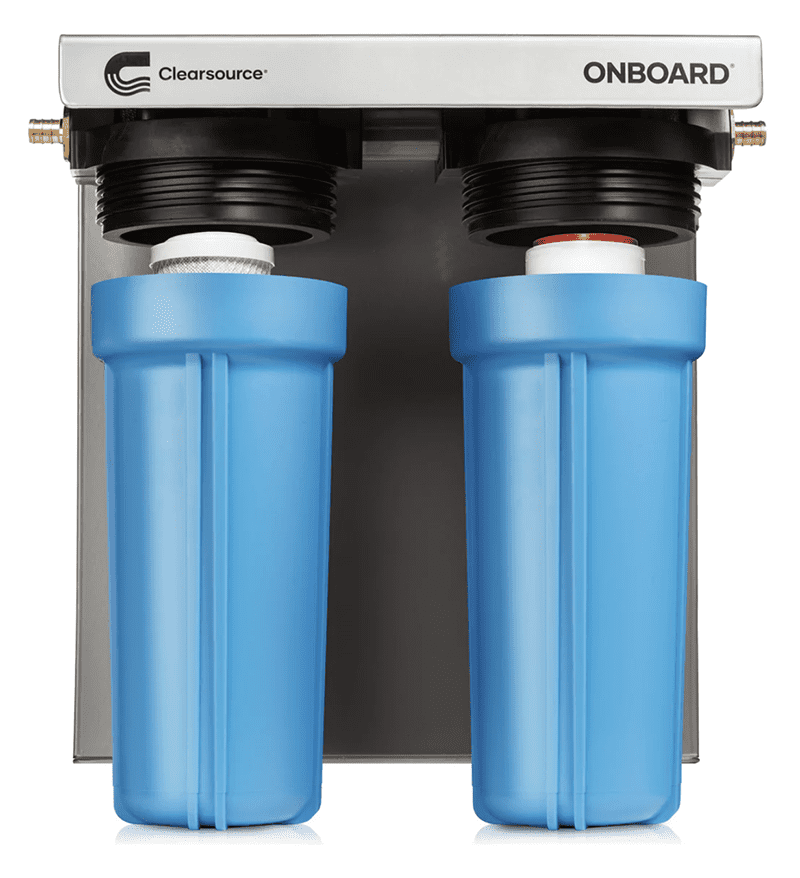 Clearsource 2 Water Filter System
On Techo RV
If you purchase through our partner links, we get paid for the referral at no additional cost! For more information, visit my disclosure page.
What Are the Best RV Water Filters For 2023?
#1: Best Reverse Osmosis RV Water Filter
The Travel Berkey Water Filter System's small size makes it ideal for fitting into areas with limited space. This filter system can be used straight from the tap or connected to an existing water tank for continuous filtration. With its long-lasting filters and easy installation, the Travel Berkey Water Filter System will provide unbeatable peace of mind on the road!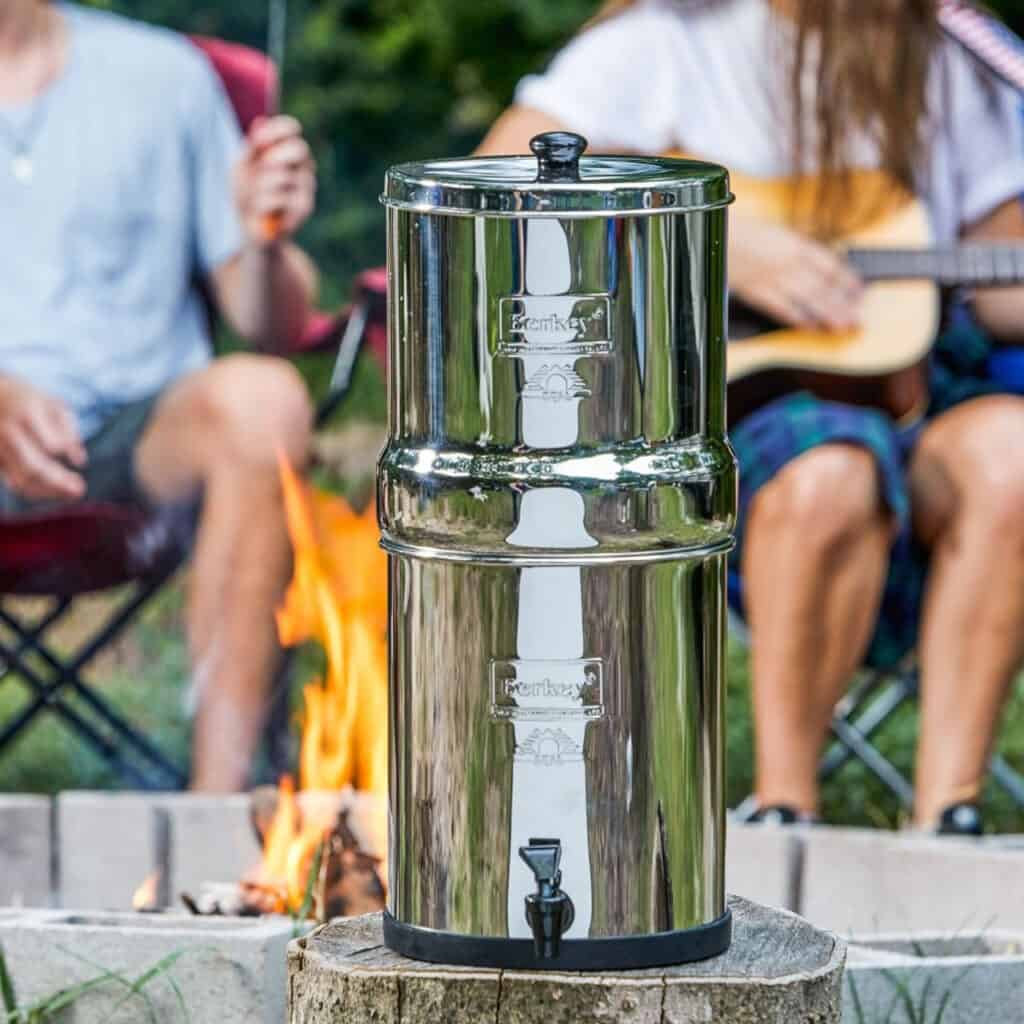 The Travel Berkey Water Kit
Hands down this travel size water filter system was by far my first choice for many reasons. This is the perfect water filter system for RVers especially when Boondocking because it is gravity fed and does not require water pressure or electricity to operate. This is the same system used by the Red Cross when going into areas with non-drinkable water.
Key Benefits
A most technologically advanced type of filter
Capable of producing nearly 100% pure water
Very effective at removing arsenic, fluoride, perchlorate, hexavalent chromium, and nitrates
Adding a carbon element can also remove chlorine.
Gravity-fed and does not require water pressure or electricity to use.
Pricing
#2: Best Inline RV Water Filter
The Camco 40043 TastePure RV Water Filter is my choice of the least expensive inline of the best RV water filters. This inline water filter is a less expensive alternative to keep sediment out of your RV water tank and improve the taste and smell of your drinking water for about three months. I use this with the Travel Berkey Water Filter to ensure the best-tasting & most purified water for all my needs.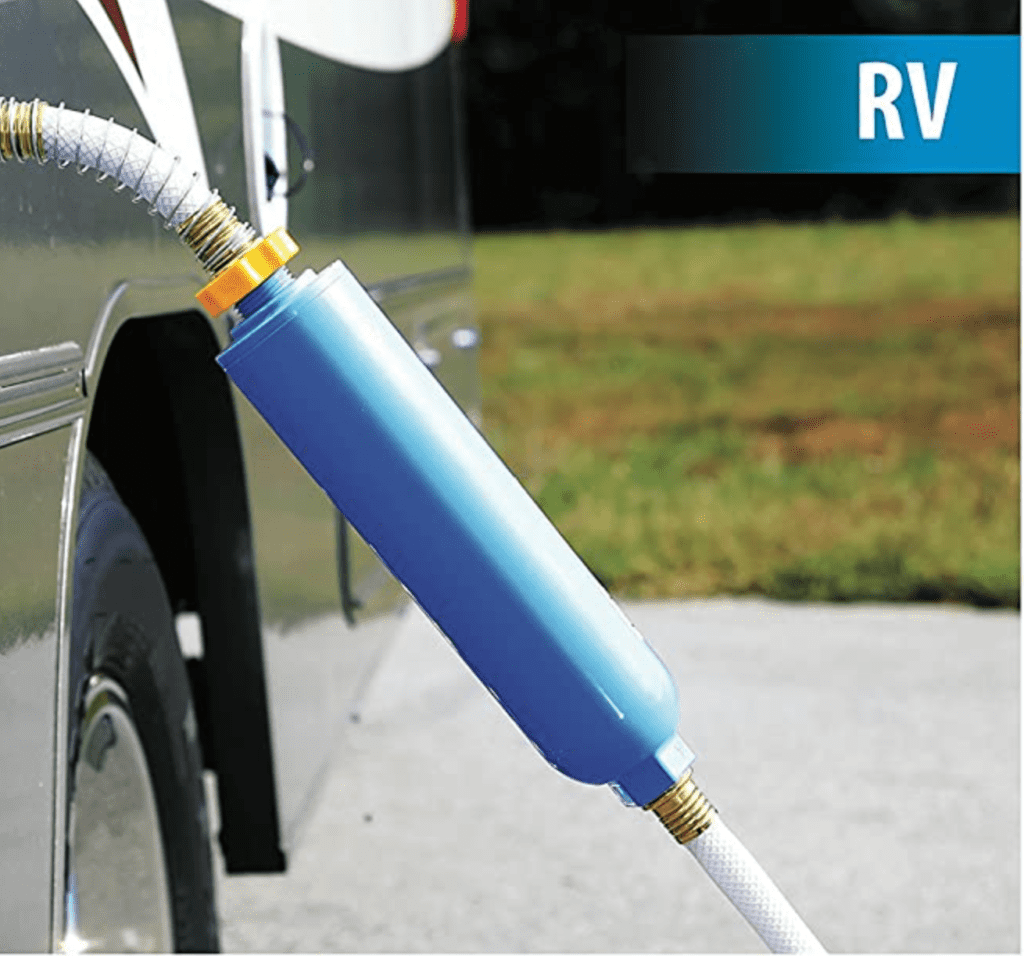 Camco 40043 TastePure RV/Marine Water Filter
Camco's TastePURE RV/Marine Water Filter comes with a Flexible Hose Protector, which reduces bad taste, odor, chlorine, and sediment in your RV water supply. It is equipped with a 20-micron sediment filter to prevent undesirable bacteria growth when the filter is not in use. It has a durable in-line, exterior wide-body mount filter for increased flow. The flexible hose protector reduces the strain on connections that could impede water flow.
Key Benefits
Protects Against the Growth of Fungus, Bacteria, and Mold
Reduces Bad Taste & Odors
Eliminates Chlorine and Sediments
Durable Activated Carbon Filter
20 Micron Fiber Barrier
Pricing
#3: Best Premium RV Water Filter System
The Clearsource 2 Canister Onboard Water Filter System is my choice of best premium of the best RV water filters. A two-stage canister filter is attached between your RV and the city water connection to filter all water coming into the RV. The first-stage 5-micron filter improves taste and removes or reduces sediment, chlorine, VOCs, and other contaminants. Then, the hospital-grade 0.2-micron filter removes or reduces bacteria like Legionella and E. Coli and cysts like Giardia.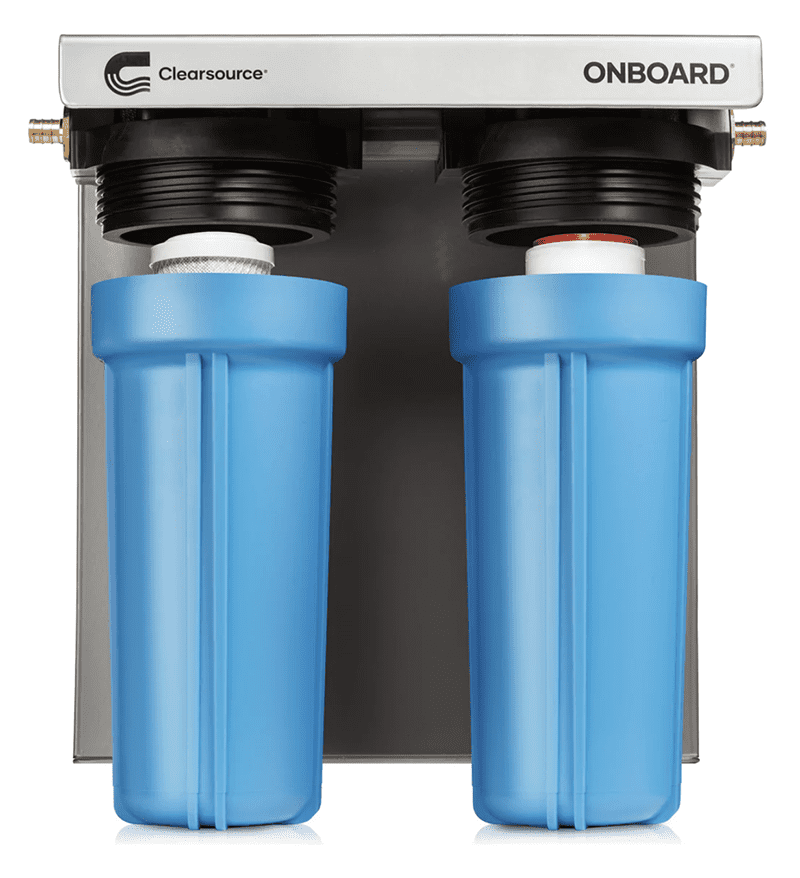 Clearsource 2 Canister Onboard RV Water Filter System
The Clearsource OnBoard RV water filter system is built for RVers and easily installs under your sink or utility bay inside your RV. It delivers better water quality and better water flow than most systems.
The unit has built-in PEX fittings, which keep things sanitary, and will stand up to years of use.
The Clearsource Premier system is engineered from the ground up specifically for the RVer. The powder-coated standalone chassis durable construction has changed the industry. Built for optimal water flow, the Clearsource oversized canisters are, and the stainless-steel fittings for the best in class for the ultimate sanitary plumbing for your RV.
Key Benefits
Industry Leader: the size and quality of their filters, which traps more contaminants.
Hospital grade 0.2-micron filter captures contaminants other systems miss.
It uses a coconut shell carbon block filter to improve taste and smell.
Oversize canisters for maximum water flow.
Stainless steel fittings for durable, sanitary plumbing.
Pricing
Clearsource Premier™ RV Water Filter System – on Amazon: $39999
—————————–
Clearsource Ultra™ RV Water Filter System – on TechnoRV: $49999
#4: Best Budget Inline RV Water Filter
The Culligan RV-800 is the least expensive option for your RV water filtering needs. This inline filter reduces bad taste and odor, chlorine taste and odor, and sediment. It comes complete with a flexible 12-in. connector hose. Easily attaches to the exterior of RVs, campers, trailers, motor homes, and boats.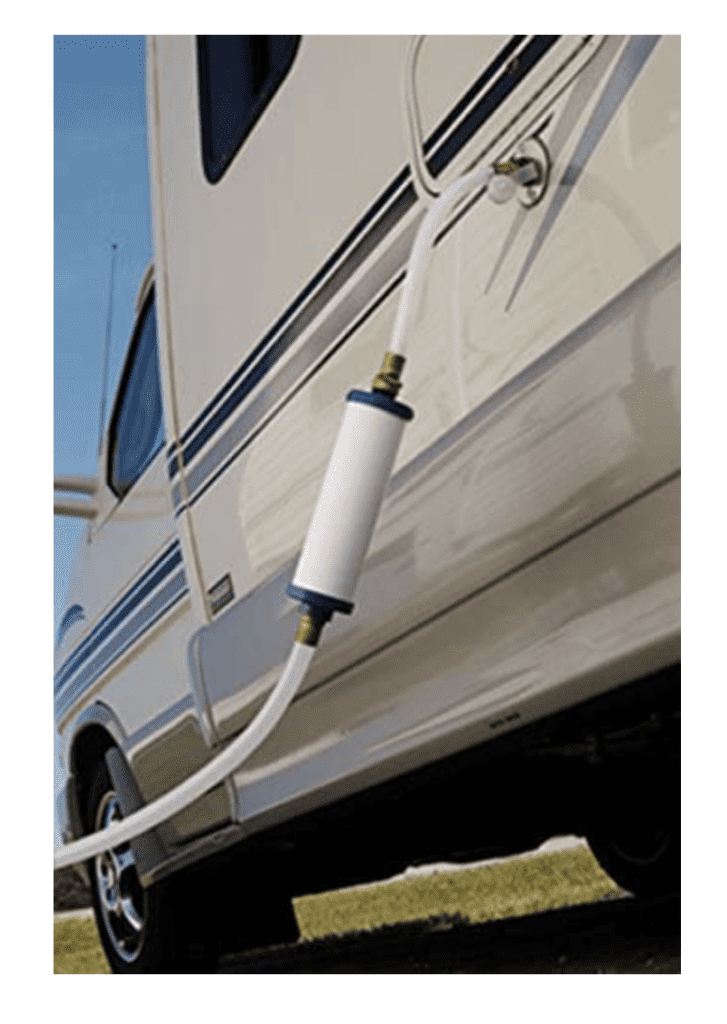 Culligan RV-800 Exterior Pre-Tank Recreational Vehicle Water Filter
The Culligan RV-800 recreational vehicle water filter connects easily to campers, trailers, motor homes or boats with its 12 in. flexible hose and slim design. With the high flow rate and quick fill this filter will reduce chlorine taste and odor, sediment and bacteriostatic. Fits standard hose fittings and has a filter cartridge life of up to 2,000 gal.
Key Benefits
Includes a flexible 12 in. connector hose
Compatibility, Easily attaches to exterior of RVs
Granular activated carbon filter is included
Certification: IAPMO Certified; Genuine OEM product
Pricing
Culligan RV-800 Exterior Pre-Tank RVWater Filter with Hose – on Amazon: $26.99 $31.99
#5: Best Tankless Reverse Osmosis RV Water Filter
The iSpring RO500AK-BN Tankless RO Reverse Osmosis Water Filtration System is used effectively in thousands of homes and RVs. It's easy to install and delivers great-tasting water at a fraction of the cost of buying bottled water.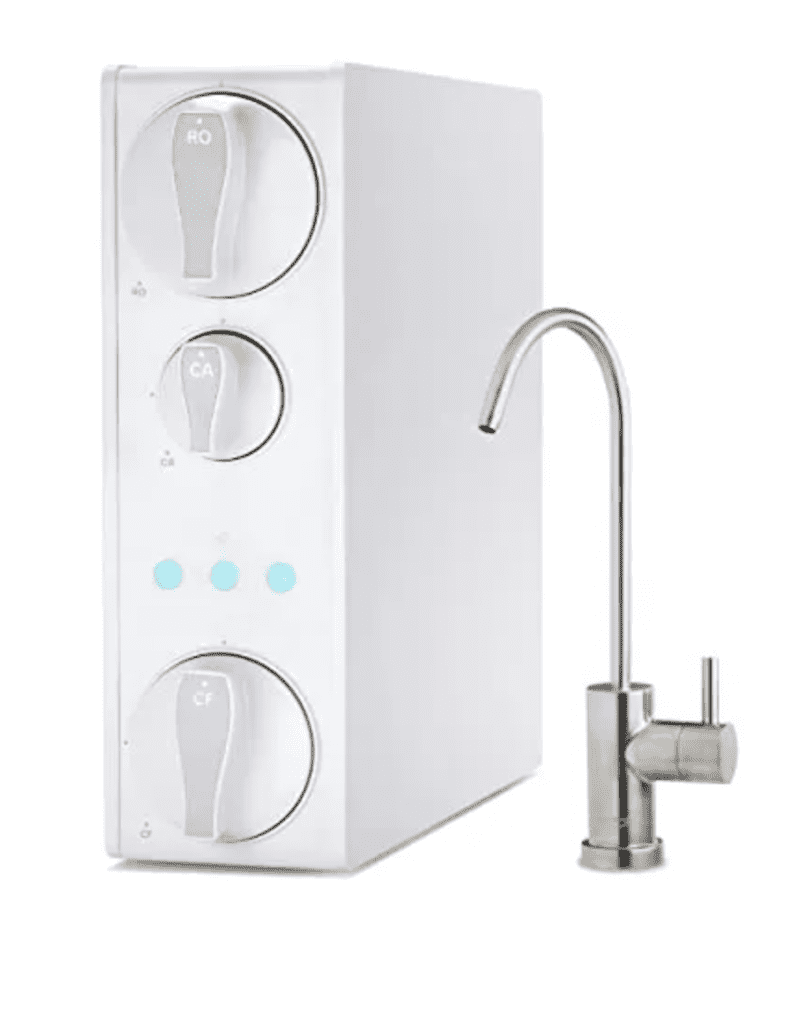 iSpring RO500AK-BN Tankless RO Reverse Osmosis Water Filtration System
The iSpring Tankless Reverse Osmosis Water Filtration System has everything you need to set it up. It includes the faucet, all hoses, pipes, filters, and hardware you'll need to hook it up to your existing faucet.
iSpring RO500AK-BN is the next-generation reverse osmosis filtration system. Experience less waiting time when you fill up your cup, pitcher, or cooking pot with clean and tasty water. With a fast flow rate of up to 0.4 gallons per minute, this RO system can satisfy the water needs of large families in RVs.
Fantastic Filtration Performance came standard with this 3-in-1 composite Sediment, Carbon Block filter, and advanced R.O. Membrane. This unit easily & effectively removes up to 99% of over 1 000 contaminants, including lead, chlorine, fluoride, arsenic, asbestos, calcium, sodium, and more.
Because of its reinforced integrated water route design, and leak-free DIY installation, filter changes are effortless—no need to shut off the water supply when changing filters. Backed by a 30-day money-back guarantee, 1-year manufacturer warranty, and extended warranty upon registration.
Key Benefits
Experience less waiting time. Fills an 8oz cup with water in 10 seconds
Effectively removes up to 99% of over 1,000 contaminants
Additional Carbon Alkaline Filter made with quality coconut shell activated carbon and minerals
Saves water waste by up to 400% compared to traditional R.O. systems.
Produces 500 gallons of filtered water per day
Pricing
What is the Best RV Water Filter?
The Travel Berkey Water Filter System is my top choice of the best RV water filters. Many RV owners turn to the Berkey as a reliable and robust option for purifying their drinking water. It uses reverse osmosis technology to remove particulates, bacteria, and even some heavy metals from your water supply and also includes additional activated carbon filters for extra protection.
What are RV Water Filters?
RV water filters ensure clean and safe water during recreational vehicle adventures. Water filters for RVers are designed to remove impurities, sediments, and contaminants from the water source, providing fresh and potable water wherever you go.
RV water filters typically contain multiple filtration stages that eliminate contaminants, including chlorine, bacteria, viruses, heavy metals, and unpleasant odors or tastes. The best RV water filters employ a combination of activated carbon, sediment filters, and sometimes even advanced technologies like reverse osmosis or ultraviolet sterilization to deliver superior water quality.
These filters not only enhance the taste and odor of the water but also protect your RV's plumbing system by preventing clogs and buildup caused by sediment or other impurities. They come in various types and models, offering different levels of filtration and features to suit different needs. With these filters installed in your RV's water system, you can have peace of mind knowing that you and your family are consuming clean and healthy water on your travels.
How Can RV Water Filters Benefit You?
Finding Quality Water Sources for RVs
When you visit a State or National Park campground, a private RV campground or even a Harvest Host location, they typically have a water source for your RV to hook into to have a direct water flow to your interior faucets. In traveling around the country, I know from personal experience and research that not all water sources are equal. Water quality varies a bit and, in some places, can even be toxic.
How to Choose the Best RV Water Filter for You
When searching for the best RV water filters, it's essential to consider factors such as filtration efficiency, filter lifespan, and ease of installation. Look for filters capable of removing a wide range of contaminants with a long-lasting filter cartridge or replaceable elements. Additionally, opt for easy installation and maintenance filters, as this will save you time and effort on the road. Some popular options for top RV water filters include brands like Camco, Culligan, and AquaCrest, known for their quality and reliability.
Investing in the best RV water filter for your needs ensures that your water supply remains clean and refreshing throughout your RV adventures, promoting a healthier and more enjoyable travel experience.
Buyers Guide: How I Conducted My Research
As an experienced RVer, I've covered thousands of miles in my Airstream travel trailer and clean fresh water is one of my biggest concerns when I'm on the road. I explored each of these products and many more in detail before selecting the ones that best cater to my needs. Let me share with you how I considered various factors while making these choices.
I have a US Pure Water Filter at home, a reverse osmosis (RO) process. So in my research, I was looking to duplicate that system for use in my Airstream while traveling. That led me to find the Berkey travel filter and understand all the different systems out there. Naturally, As a newbie RVer, I certainly wanted a similar unit for my RV.
Pricing
When conducting my research to find the best RV water filters, I started by considering pricing as a crucial factor. As an avid traveler, I understand the value of getting the best bang for my buck. I looked for options that offered a balance between affordability and performance. While some water filters may come with a higher upfront cost, I took into account their long-term value and durability. Additionally, I read through customer reviews and expert opinions to ensure that the filters I chose were not only reasonably priced but also had a reputation for reliability and effectiveness.
Features
Next, I delved into the features offered by each RV water filter. Every traveler's needs are unique, and so are the features required in a water filter. I sought filters that offered multiple stages of filtration, as this helps to eliminate a broader range of contaminants. UV sterilization features were also a plus, as they provide an extra layer of protection against harmful bacteria and viruses. An essential consideration for me was the filter's flow rate, as some models may have slower filtration speeds, which can be frustrating when you need water quickly. I also looked for filters with easy installation and maintenance processes, as I prefer hassle-free solutions during my travels.
Potential Negatives
While evaluating the products, I made sure to take note of any potential negatives associated with each RV water filter. This included considering any limitations in terms of filtration capacity, filter lifespan, or compatibility with various RV setups. Some filters might require more frequent filter replacements, adding to ongoing costs. Additionally, I weighed the physical size of the filters to ensure they would fit comfortably in my RV's designated storage area. Understanding the limitations of each product allowed me to make informed decisions, avoiding potential disappointments down the road.
Final Considerations
By conducting comprehensive research based on pricing, features, and potential negatives, I was able to select the best RV water filters for my needs. I now travel with confidence, knowing that I have a reliable water filtration system that provides my Airstream with clean and safe water throughout my journeys. Whether I'm camping in a remote wilderness area or parked at an RV resort, I can enjoy a refreshing glass of water, cook with peace of mind, and maintain the plumbing integrity of my beloved travel trailer. As an experienced RVer, I can't stress enough the importance of investing in the best RV water filter to enhance your overall travel experience.
Wrapping Up
After traveling over 20,000 miles in my Airstream Travel Trailer and using these water filters I can honestly say that I've had very few issues with either the Berkey or the Camco. I write down my usage and change the filters based on the manufacturer's specifications. It's a small price to pay for having clean water while I'm on the road!
Frequently Asked Questions
Are RV water filters necessary?
Water pipes degrade over time since water quality varies across the country and in different RV parks and campgrounds. Hence, you need to know the water quality at any campground you visit. A primary inline RV water filter hooked up to your intake hose can make water suitable for daily chores and drinking. High-end water filters can even prevent health-related issues.
Should you drink the water directly from the tap?
Though you can drink tap water at RV campsites, over 30% RVers polled used some filter before they drank the water in their RV.
Where do you attach an RV water filter?
It is recommended that Inline RV water filters should be connected closest to the city water inlet. Most inline water filters come with a hose attachment to attach the filter to the channel.
How long do RV water filters last?
Most RV water filters will last about three months, depending on your use, and a high-quality filter could last up to 12 months.
What is a Micron Rating?
Micron ratings are the size of the openings in the filter. The larger the number, the more it allows through. Bacteria range from 0.2 to 2 microns in width/diameter and 1 to 10 microns in length, and viruses range from 0.004 to 0.1 microns. Insecticides can be 0.5 to 10 microns, and mold ranges from 10 to 30 microns.
What is Reverse Osmosis?
Reverse Osmosis is a very popular way to filter water, and combined with UV lighting, it can remove the majority of all impurities. A downside is that Reverse Osmosis also removes some beneficial minerals, like calcium and magnesium, from the water.
How do I select an RV water filter?
Selecting the right one for you & your RV comes down to several factors, such as your budget, how clean you want the water to be, and what contaminants you want to filter out.